We left Fox's Marina in Ipswich, seven days ahead of the planned departure. Having finished the work on Mehalah, and having done the final food stocking we wanted to take advantage of the good weather. The first day was a bit of a drag… no wind so no sailing, poor visibility and mostly overcast. But we witnessed an amazing sunset on a glassy sea.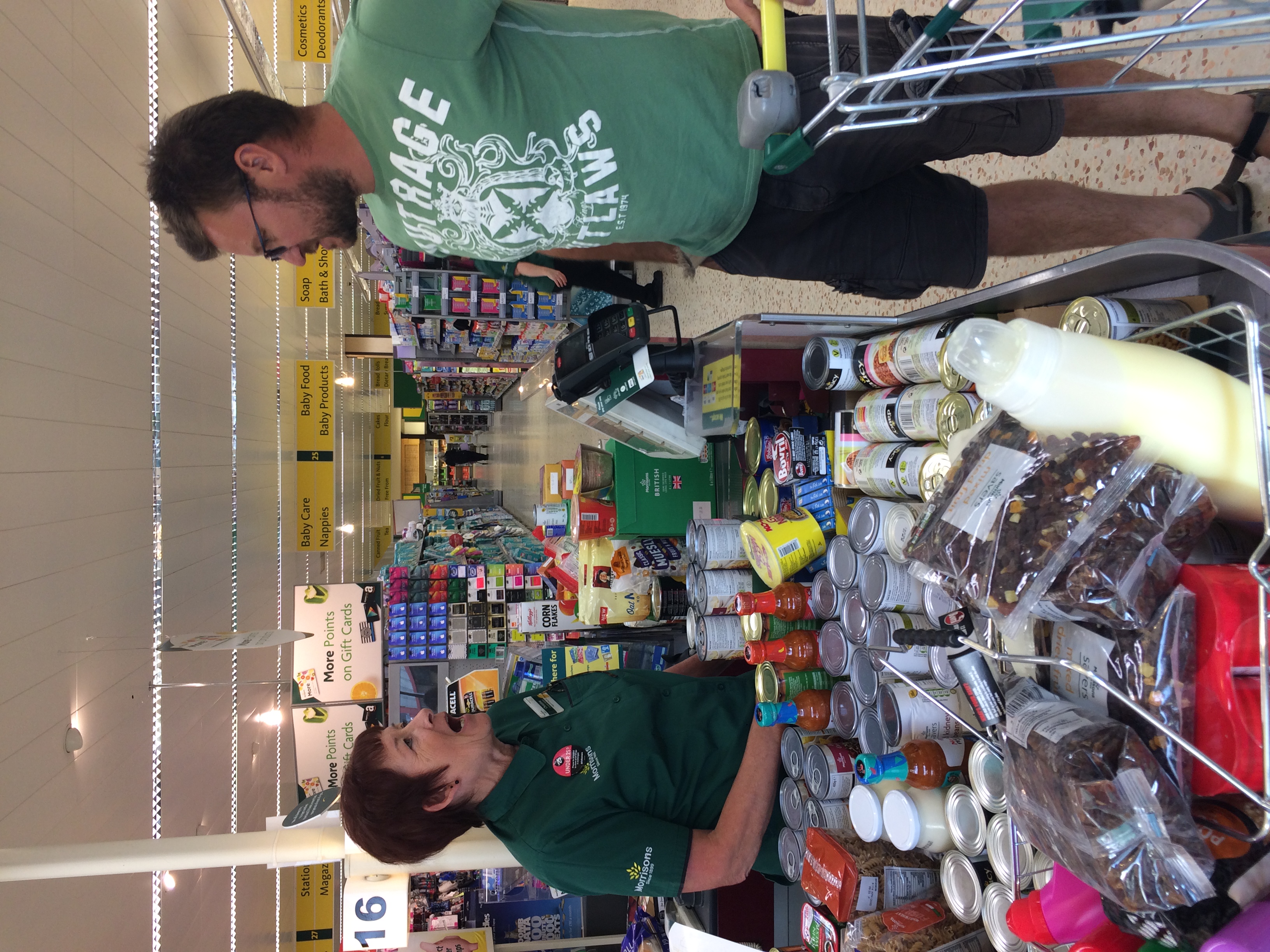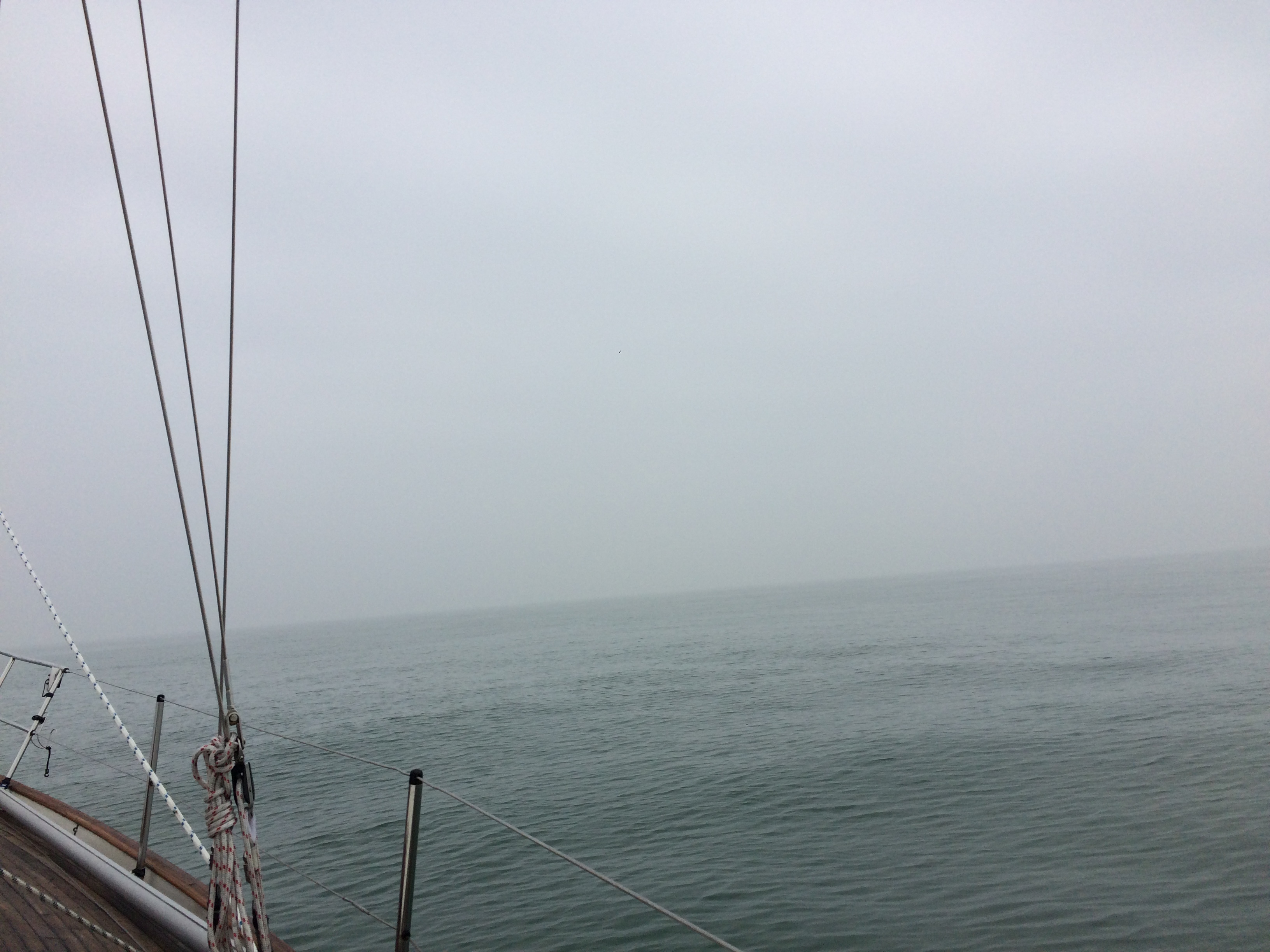 Motoring for more than ten hours was exhausting so we decided to abandon our plan to reach Dover and stop overnight at Ramsgate Marina. By that time frustratingly our newly installed autopilot had stopped working again! 
We woke up at 5am the next morning to catch the tide for a 3 hour sail to Dover. It was raining (apparently it had been raining all night!), so it was not with a smile that we set off; but at least it was windy enough to sail and the mist from the previous day had cleared. Happy days!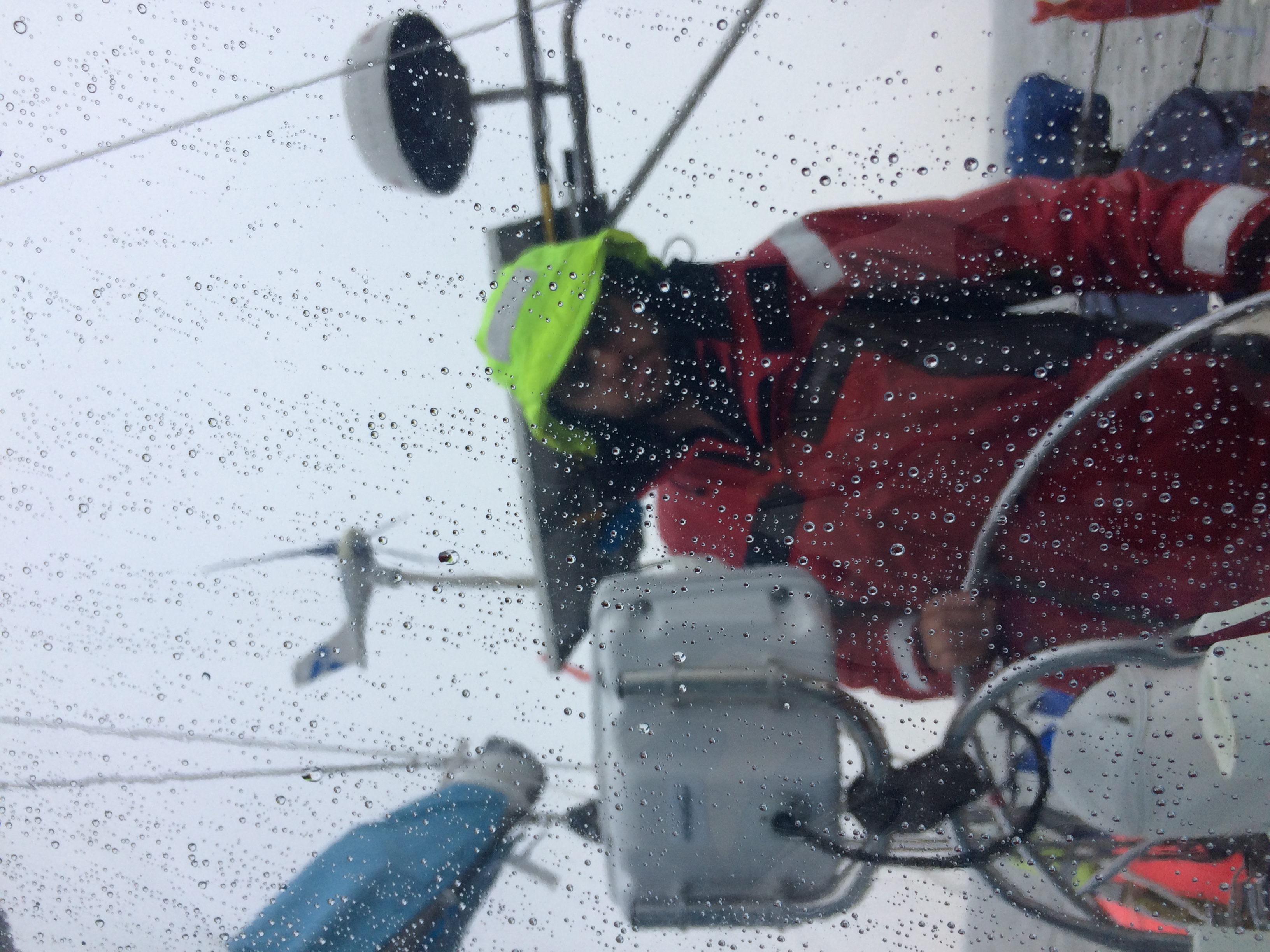 It was nice when at the horizon I saw for the first time the beautiful white cliffs of Dover from the sea! From the sea, we also admired St. Margaret's Bay (hugged by the cliffs) where we had spent a weekend with our friends not long before leaving Limehouse.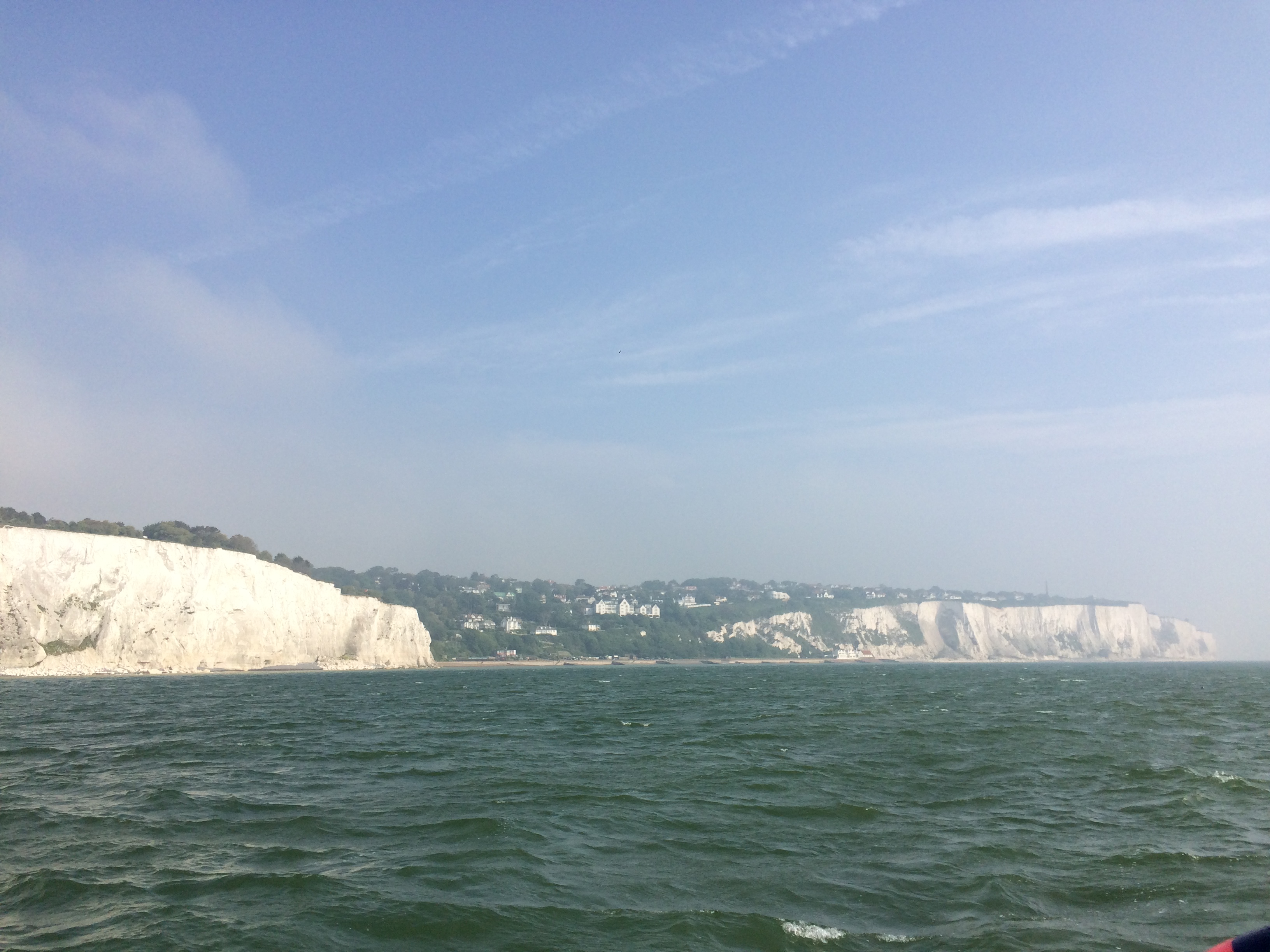 Whitest approaching Dover, after a long deliberation we decided not to continue another 50 nautical miles or so to Seaford, but to drop anchor as initially planned in Dover Harbour. Good decision (we thought then!) as by the time we abandoned our failed attempts to take a nap on arrival, the sky cleared to let a full gorgeous sun shining; and after a barbecue for lunch, I laid in the sun with a shandy and started writing this.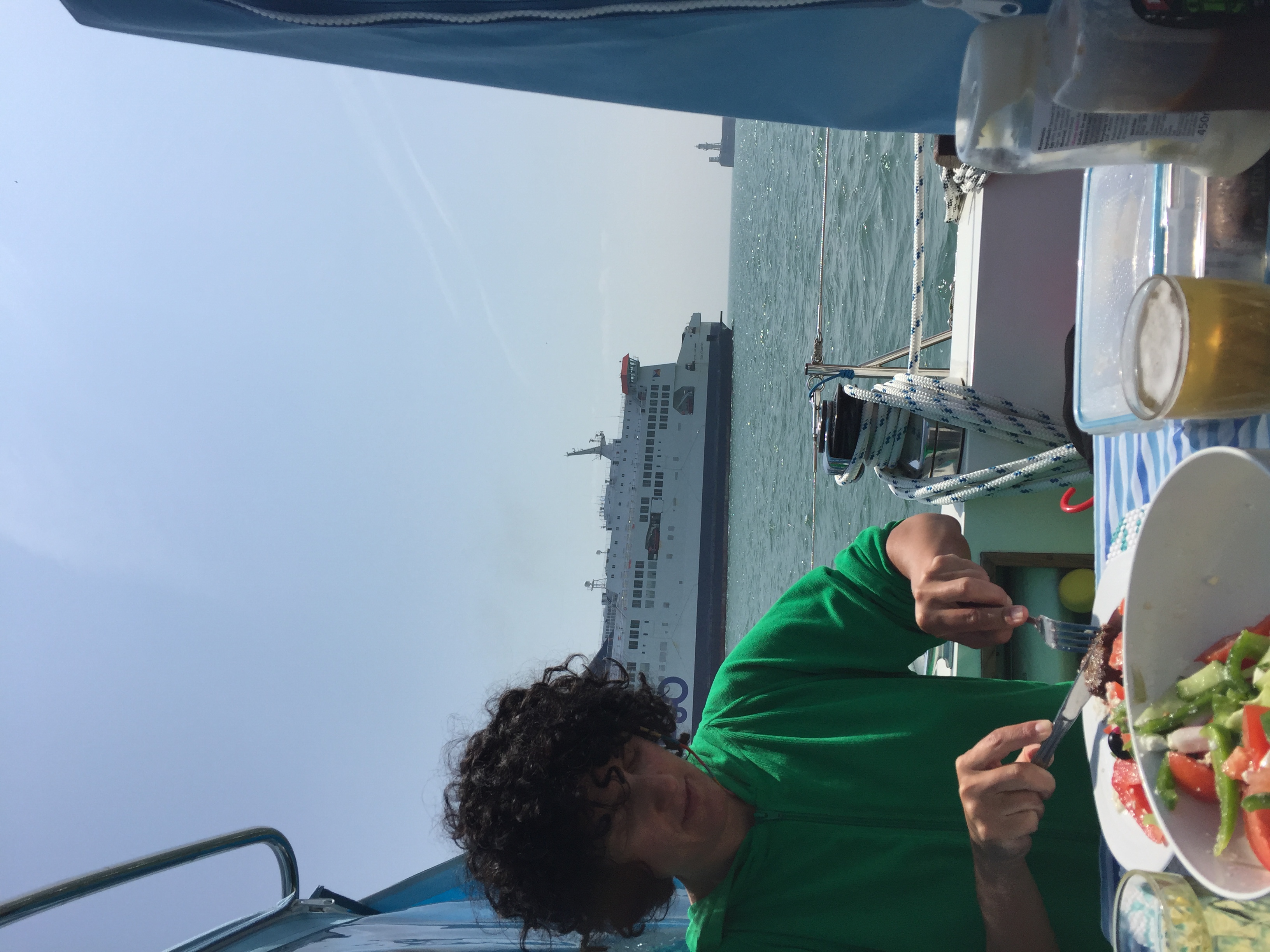 Meanwhile Sorin took everything out of the utility room to investigate the issue with the autopilot. Next to the autopilot motor Sorin found a little pin. He guessed that this might have been the reason why the autopilot was not working. When he found its slot and placed it back, to his delight the autopilot was working again. 
Satisfied, Sorin joined me on the deck with a drink to enjoy the beautiful afternoon, neither of us having a clue of what was going to follow that night. As the evening was settling in, the wind picked up to force 6 and the harbour anchorage spot was becoming rougher and rougher. We only felt the full extent of it when we went down below and we could not stand up and walk around unless we were holding onto something. Since we where very tired we went to bed early. 
At the beginning we found it hard to fall asleep. I was tortured by worries that the only other boat at anchor (testimony that we are not the only crazy people out there!), may bump into Mehalah if their anchor would drag. We fell asleep eventually. Sorin woke up during the night a couple of times to check on things. All good! Whilst asleep my upper buddy muscles were contracting every time Mehalah was pushed in a jerking motion my the confused water. Sorin whispered in my ear reassuring me that everything was fine, and apparently my buddy reaction eventually subsided. 
Early next morning, from the bed, I could hear Sorin getting ready to set off. He had woken up at 4:30am and left at 5am to take advantage of the tide. When I eventually woke up (at around 8:30am) I was welcomed by Sorin's loving smile from the deck. It felt so reassuring after such an awful night! And the day continued so beautifully – sailing in the sun to Beachy Head in Eastbourne where we anchored over night.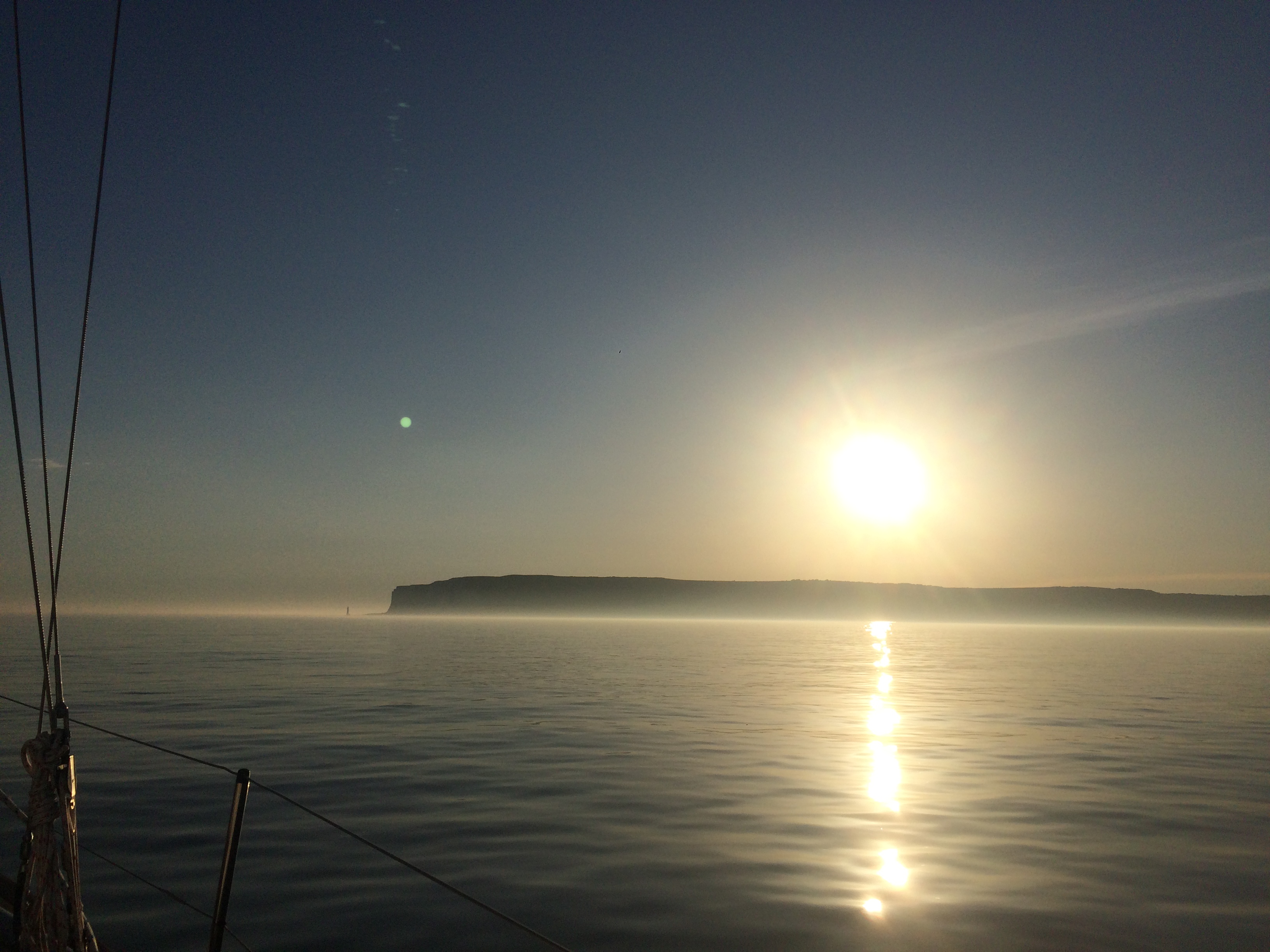 This time in the anchorage, the sea was like a milk pond as the anchoring spot was sheltered from northerly winds – so, a totally different experience  at anchor than the night before! Whilst having dinner on deck, we witnessed a lightning show on shore that luckily did not move in our direction!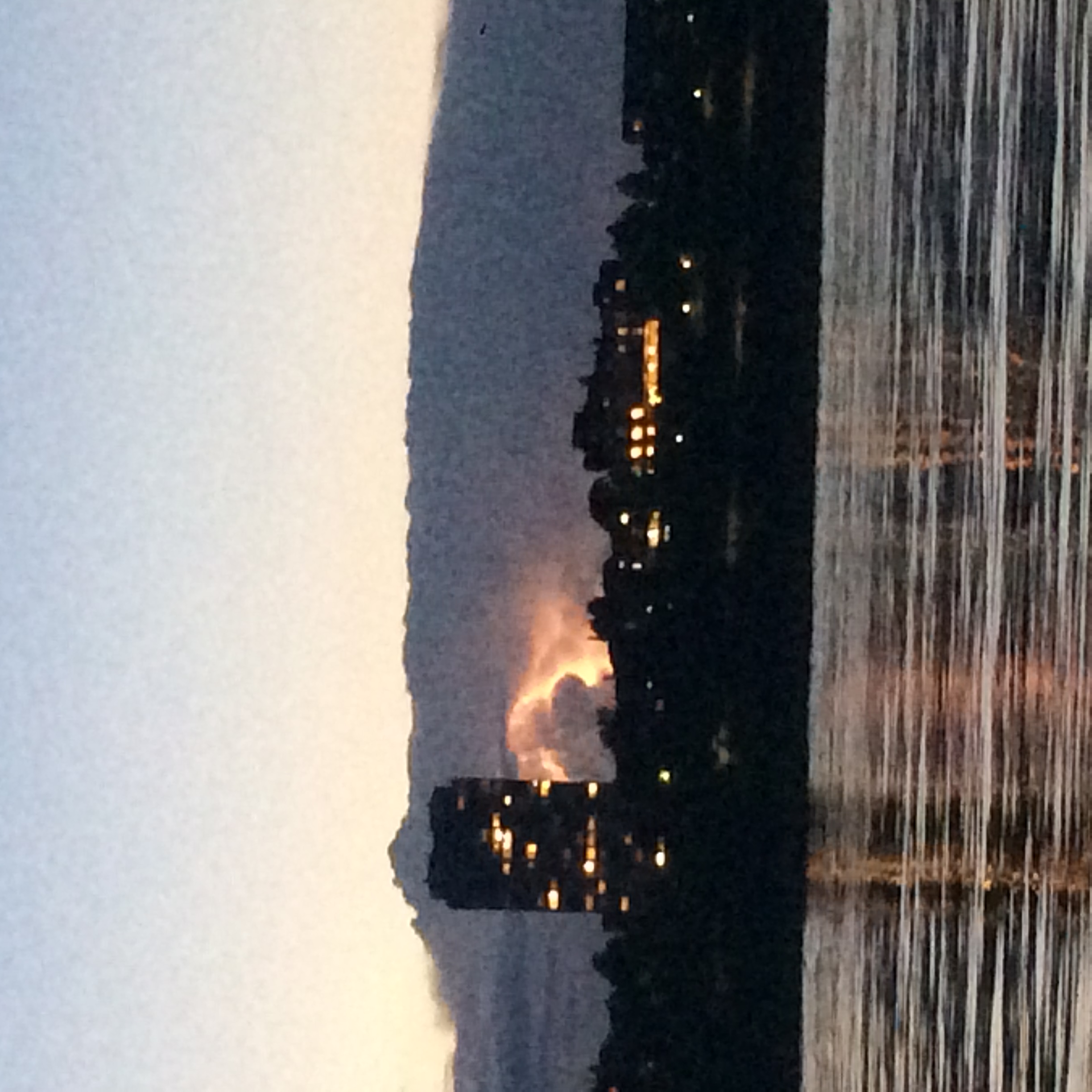 We continued making progress the next day (after a great night sleep) towards west. The day was beautiful again. The winds were light and after a combination of motoring and sailing (having taken the spinnaker out – huge colourful and light foresail that sailing boats put up in light winds – for the first time) we arrived in Littlehampton Bay where we dropped anchor again. The end of the day was so beautiful and the bay so calm, that I felt compelled to do my second yoga session on Mehalah, whilst Sorin was taking a dip.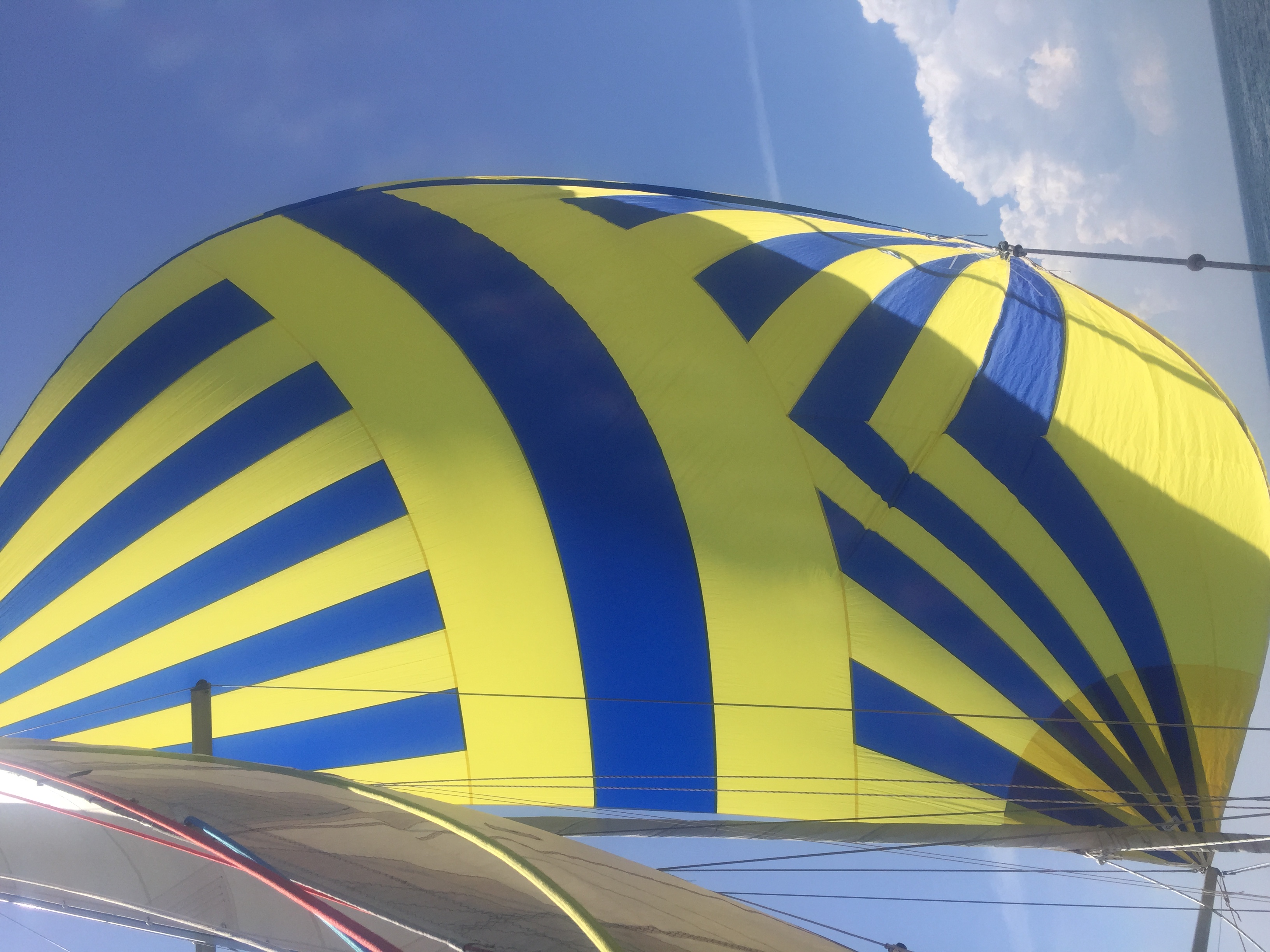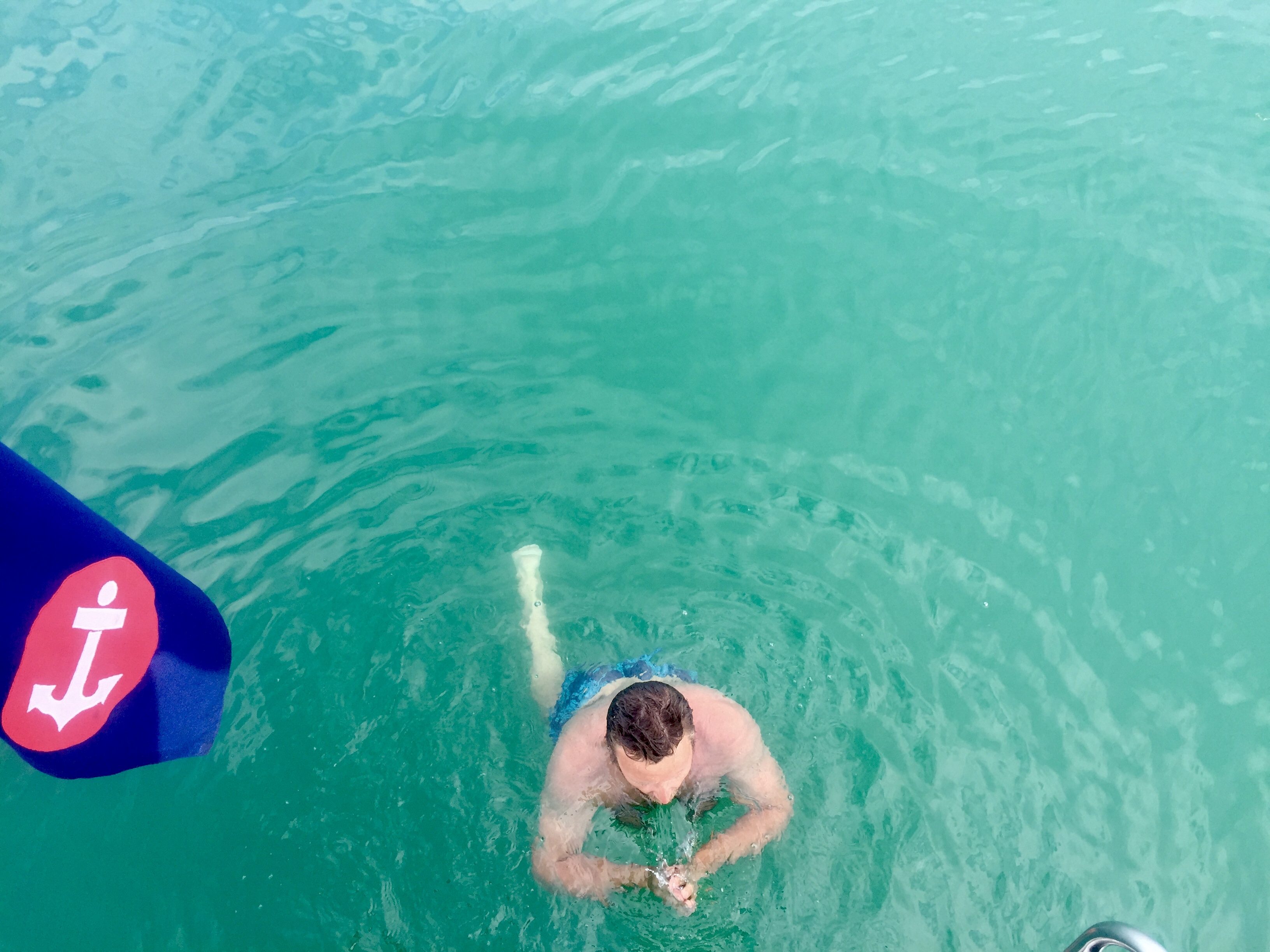 The next morning we woke up to a grey day, but the winds had picked up over night, so it was just right for sailing. We left the bay at around 9:30am and we sailed the entire day, reaching a speed of over 10 knots and an average speed of 7 knots over 8 hours sailing to Poole (testimony to a great sailing day). We rounded Isle of Wight on the outside. It was nice to leave behind the waters where Sorin began his sailing journey in 2009 with Hamble School of Sailing.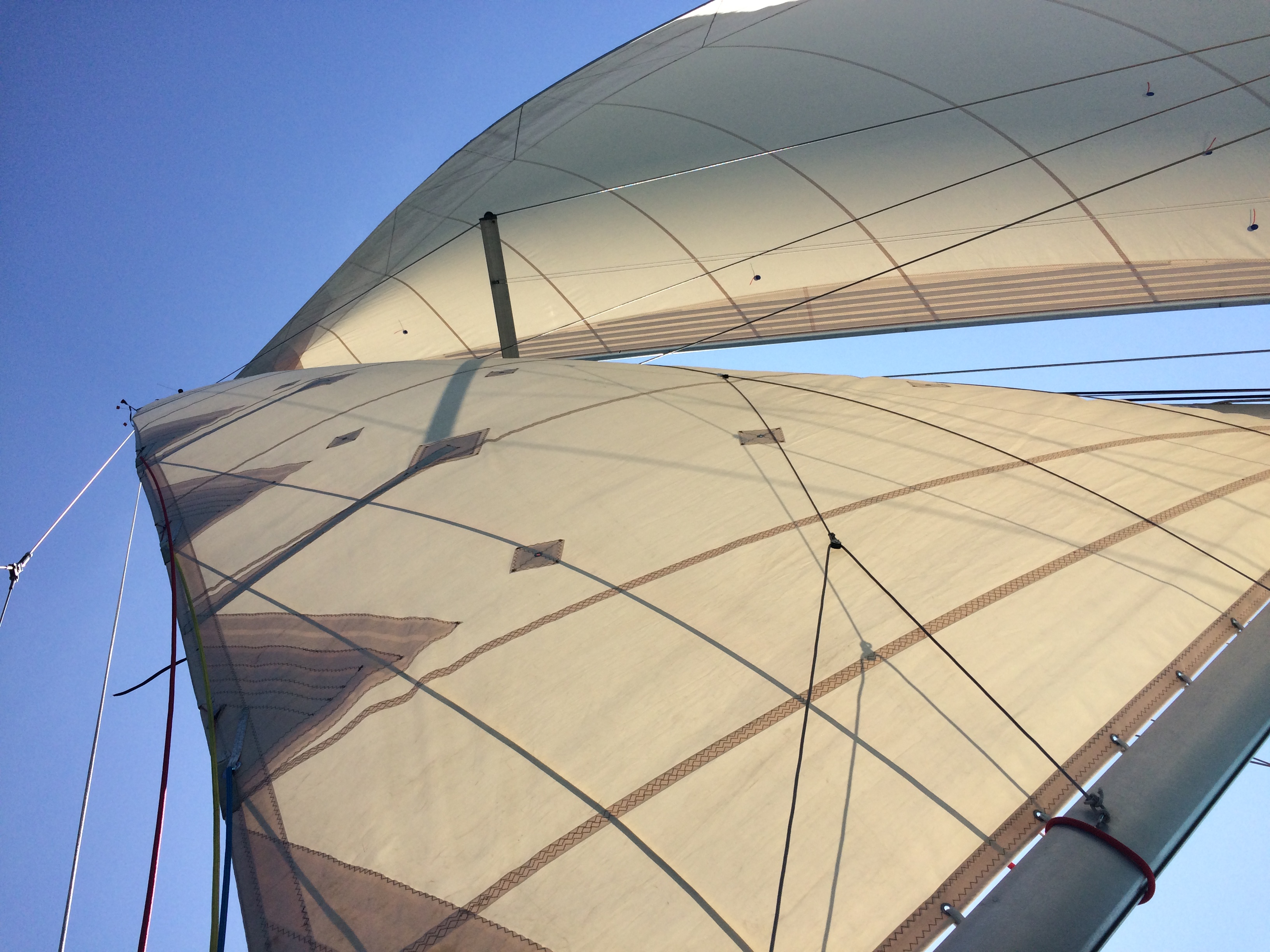 Once in Poole Harbour, we picked up a buoy to spend the night and we started making arrangements for the following day. We had two main objectives: meeting our friends and re-stocking with fresh food for the week. The following day we moved Mehalah to the town key. We did our shoppings (plenty stores were in walking distance) and we spent a really lovely time with our friends, fellow sailors.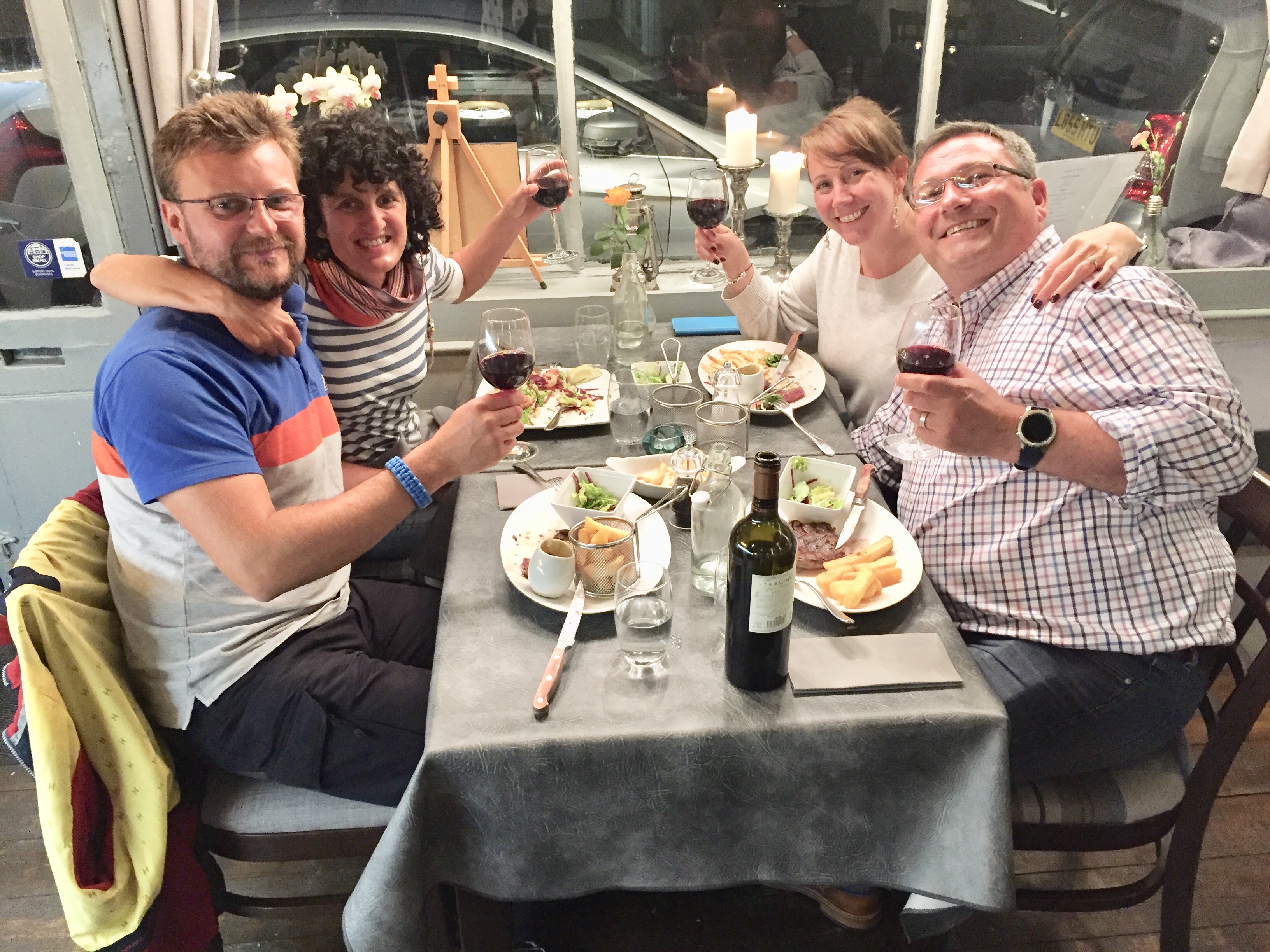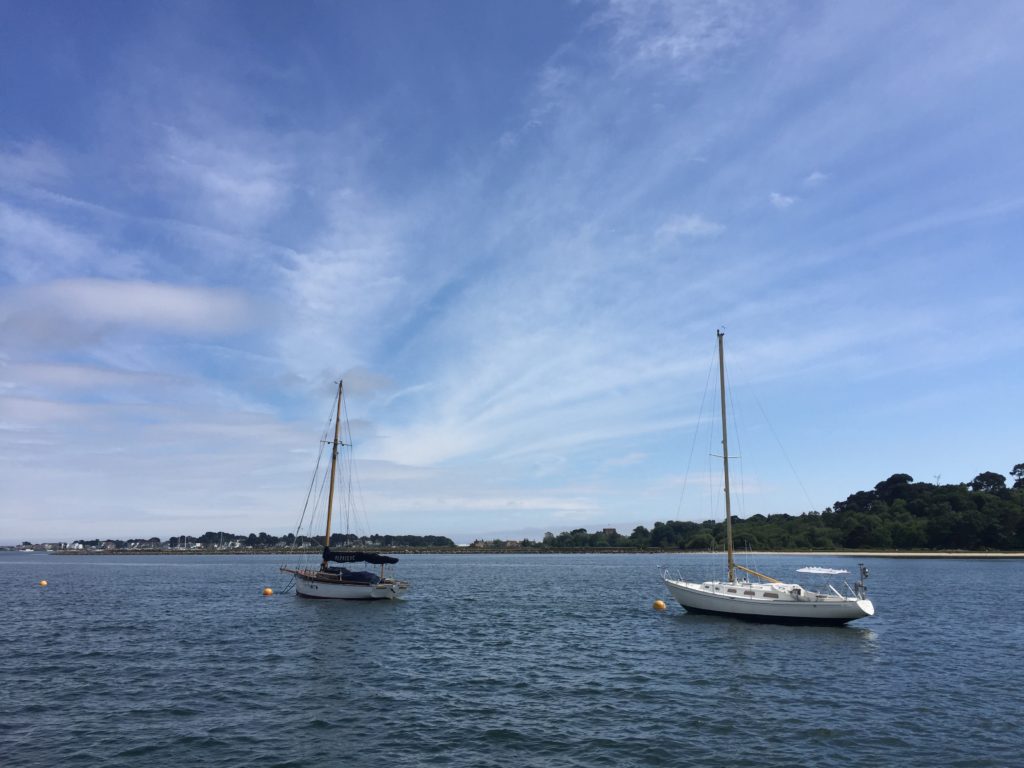 We stayed in Poole Harbour for a couple of days, waiting for the mist to clear. We eventually set off on Friday afternoon. As soon as we left the harbour behind, the skies darken, the wind picked up and the mist settled in again. We riffed in and we continued for around eight hours in quite uncomfortable conditions taking shelter eventually in Portland Bay at midnight.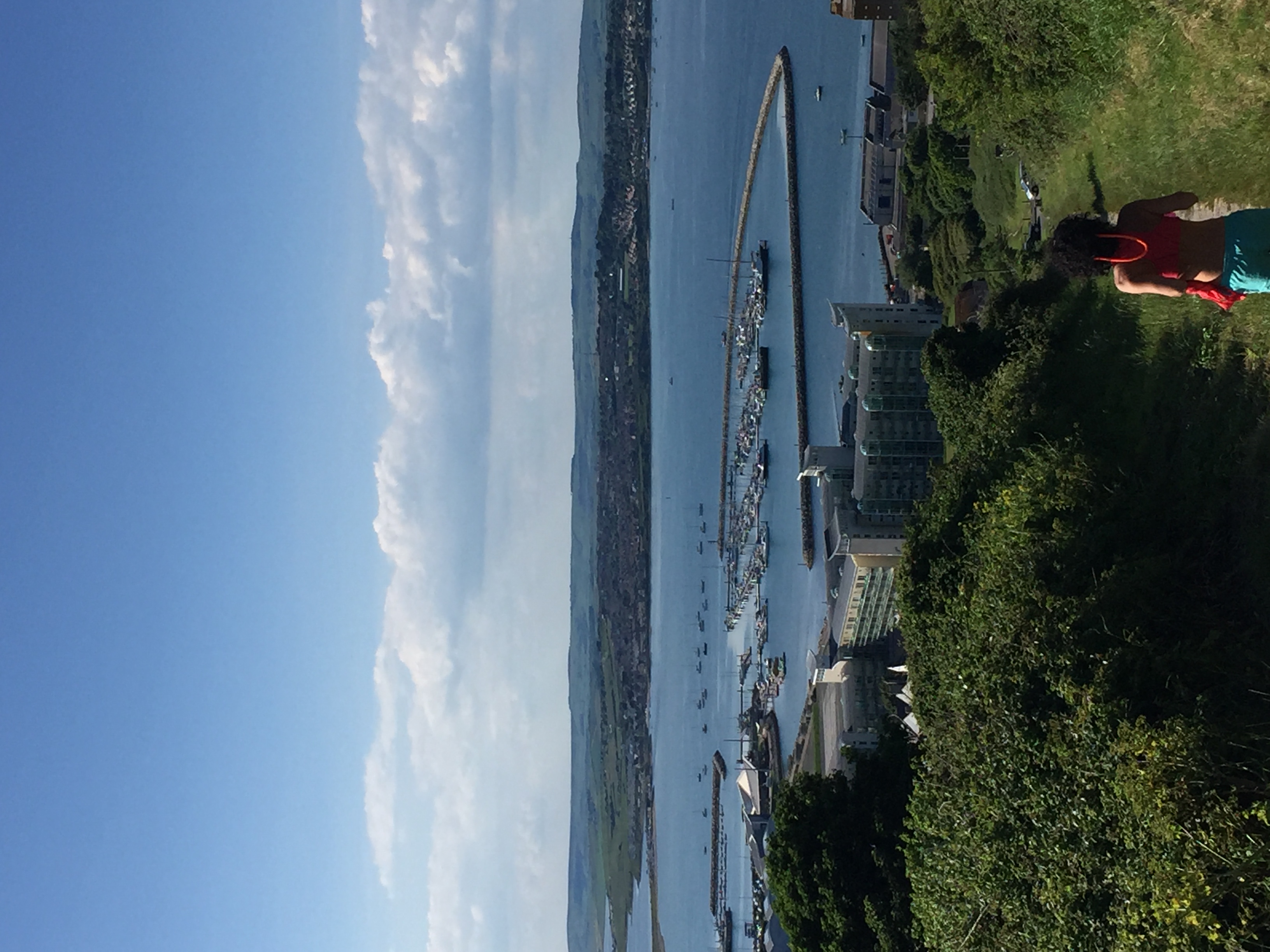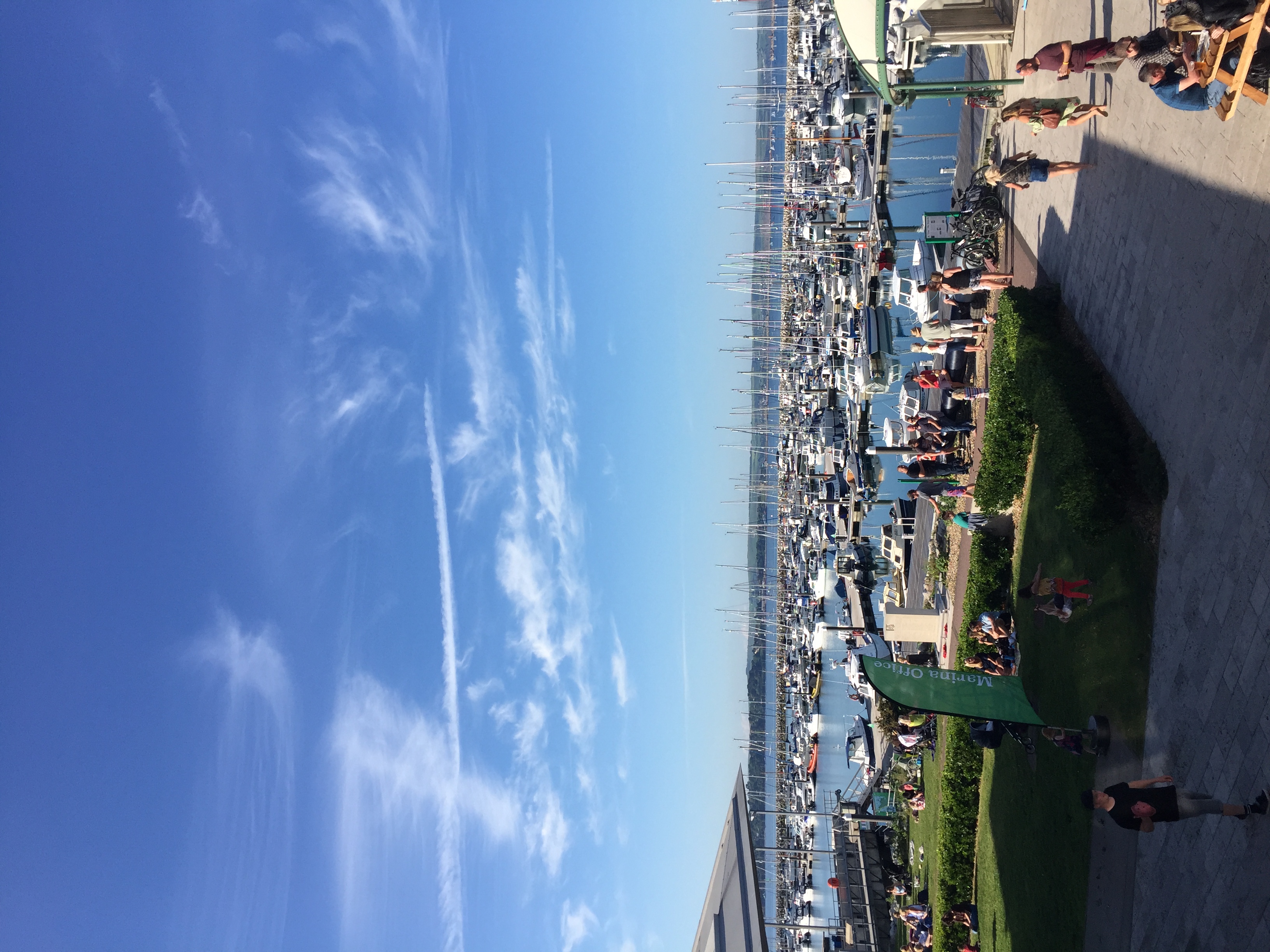 We are now here and by studying the forecast, the earliest we could set sails again is Monday. Days after we should be reaching Falmouth when we hope to post again. Meanwhile you can check on our progress and current position on the 'Our voyage' page www.outwiththewind.com/ourvoyage