Cruising in New Zealand has its challenges, which we had a taster of.
We cruised the North East coast of New Zealand for about a month before we stored Mehalah on the dry for 6 months. In 5 years of ownership Mehalah had not been out of the water for longer than 2 weeks every 1.5 years. A break was most welcomed. Besides, New Zealand's waters are rich in marine life and not great for boats. Mehalah being left afloat whilst we were spending time on land wouldn't have been a good idea…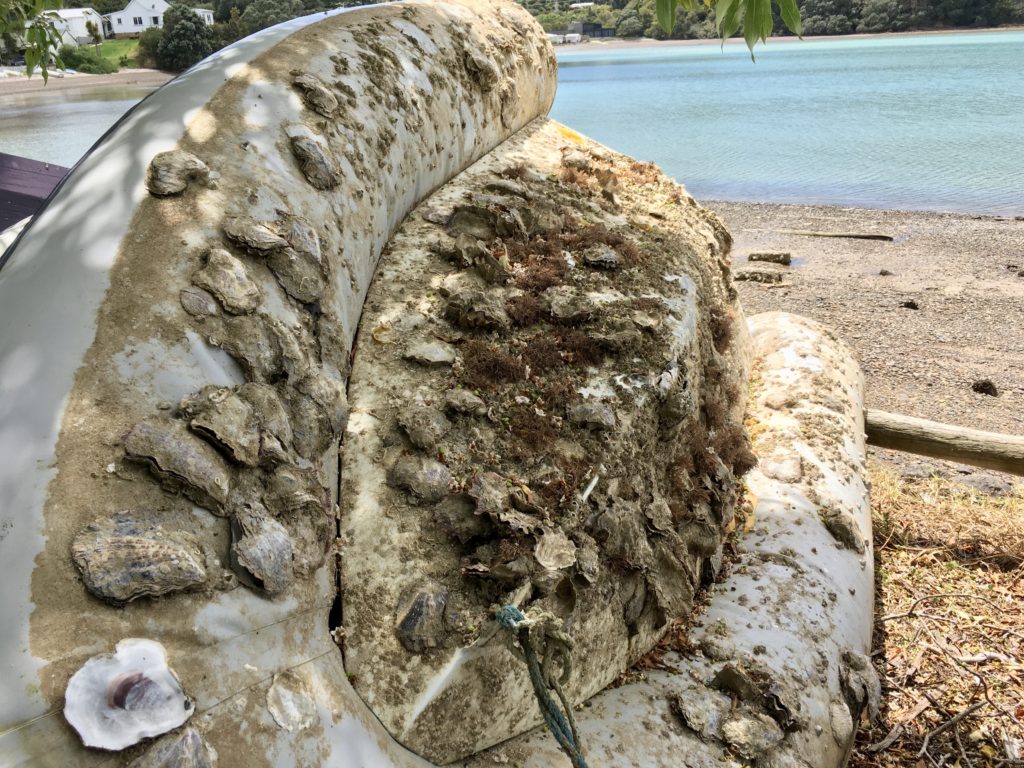 The cruising in Aotearoa New Zealand was spectacular: – beautiful green islands, secluded bays where we were welcomed by pods of dolphins, long sandy beaches, steep rocky cliffs concealing small lost villages and gracious sea birds gliding the sky before plummeting under for fish.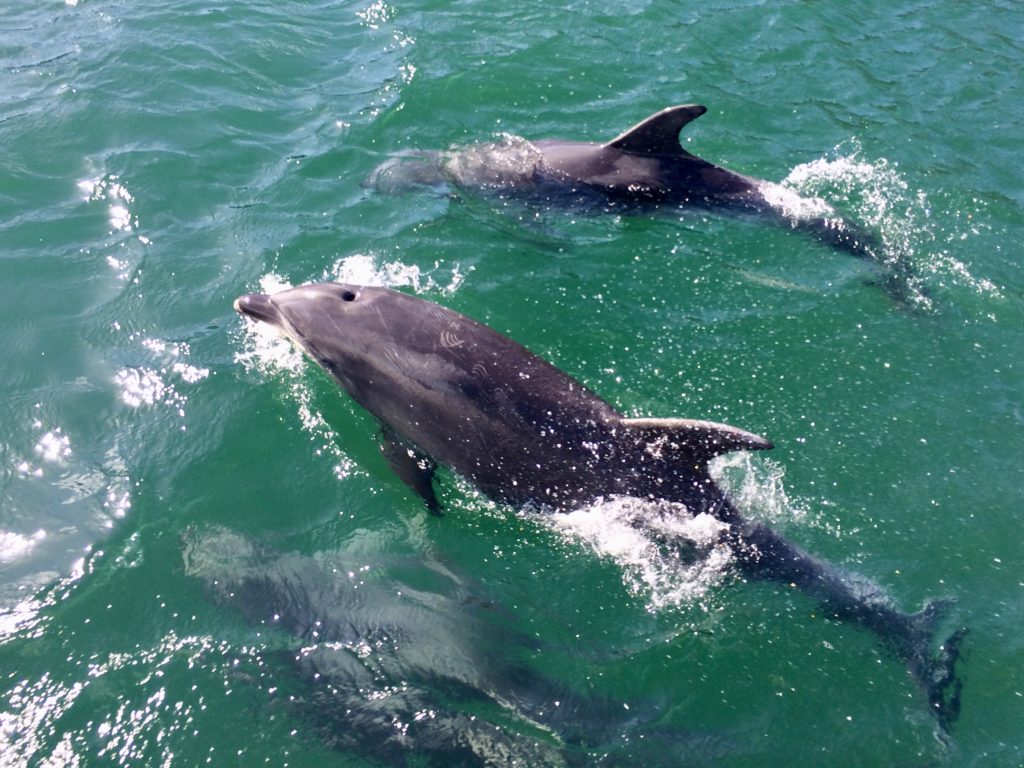 Sea life is abundant. One morning on Great Barrier Island, Sorin spear fished a Kingfish from the boat. That was an opportune catch, especially that the water is not as warm as in the tropics.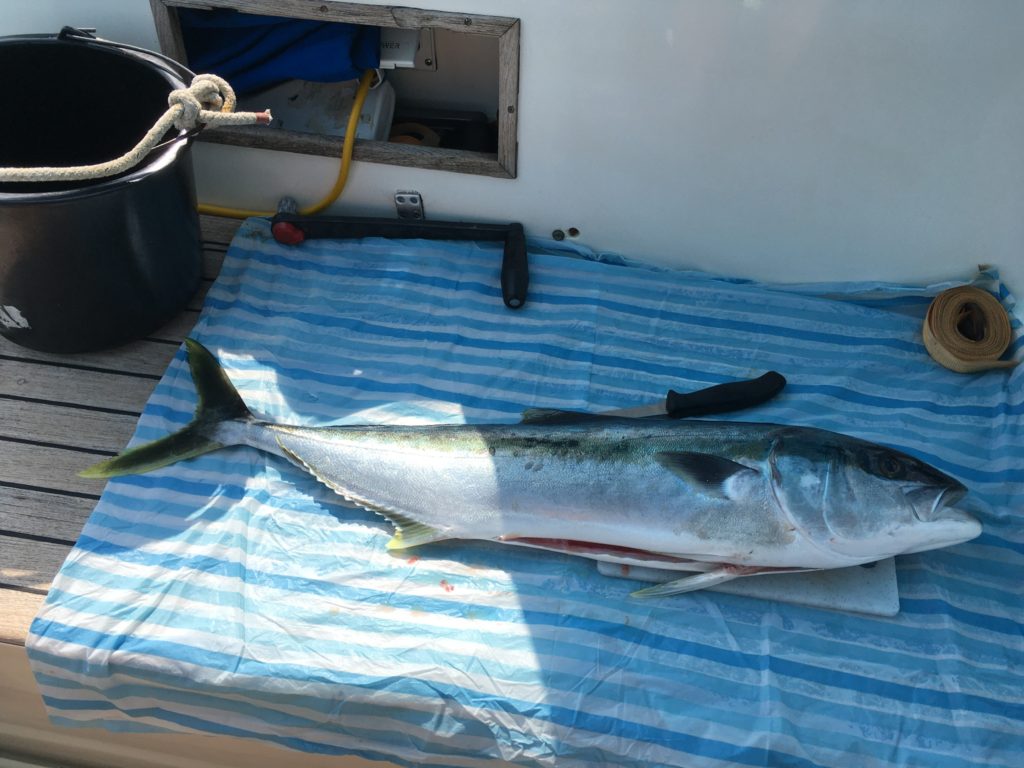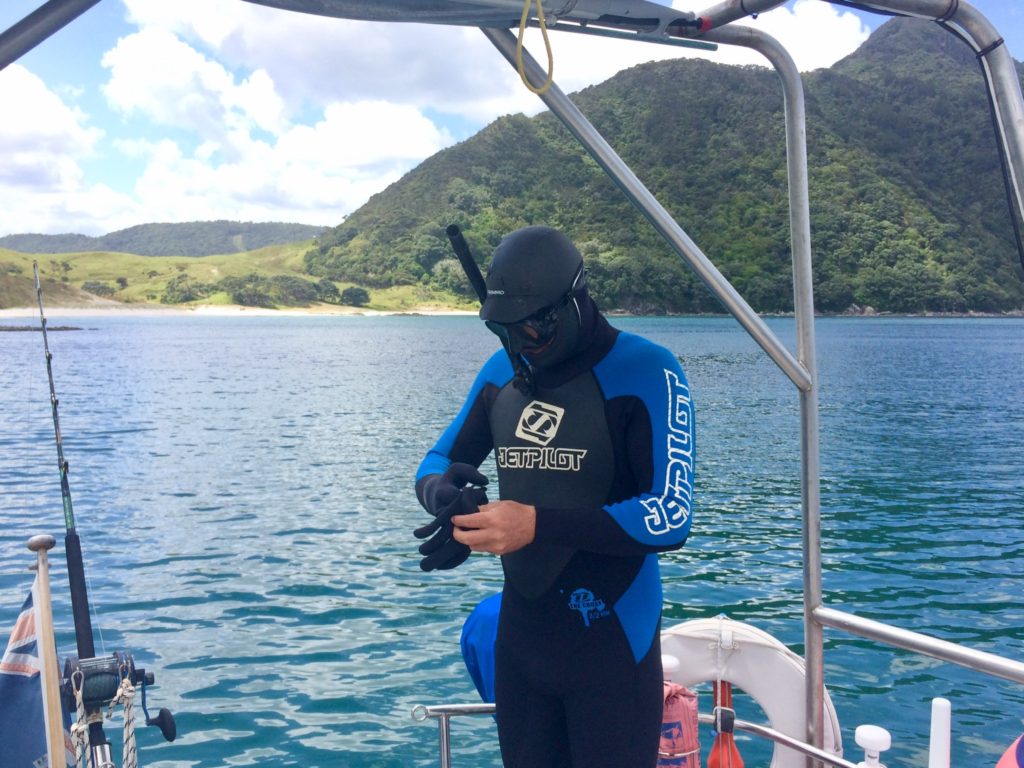 Sailing to Great Barrier Island was far from being pleasant: – despite a favourable forecast we had strong winds on the nose with everything that this entails on a small boat…however, once we were there it felt like it was all worth it: – wilderness under great starry skies, green mountain peaks, rushing rivers and waterfalls and only over 500 inhabitants.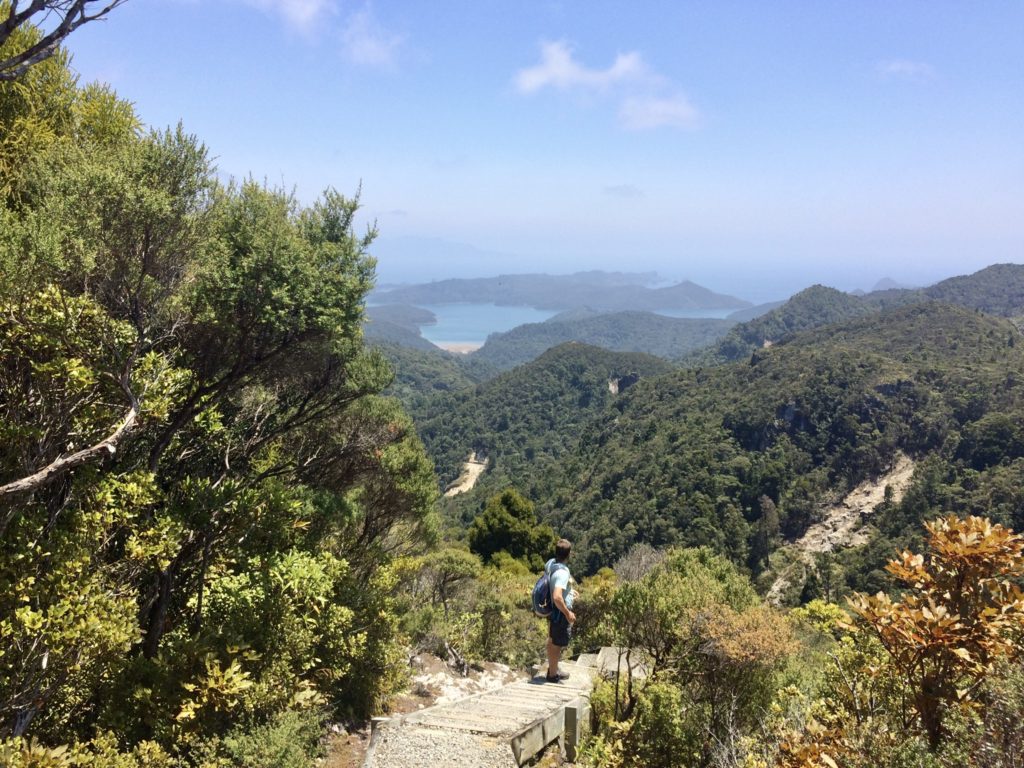 Just before lifting Mehalah out, we were anchored on Hatea river, in front of the boatyard. We were hoping to spend there the few days left ahead of our lift out. But the plan did not work out. The river is tidal and the wind was blowing hard when we anchored. As usual, we took our visual references to ensure we were not moving. We weren't. We had lunch. Checked again. All looked good.
Since our dinghy had been punctured in a shell the previous day, we rowed our kayak to the boatyard to have a look around. Minutes after making landfall, as we were wondering around, someone asked us if we rowed in a yellow kayak. When we answered affirmatively, he told us worryingly that our boat is dragging anchor down the river.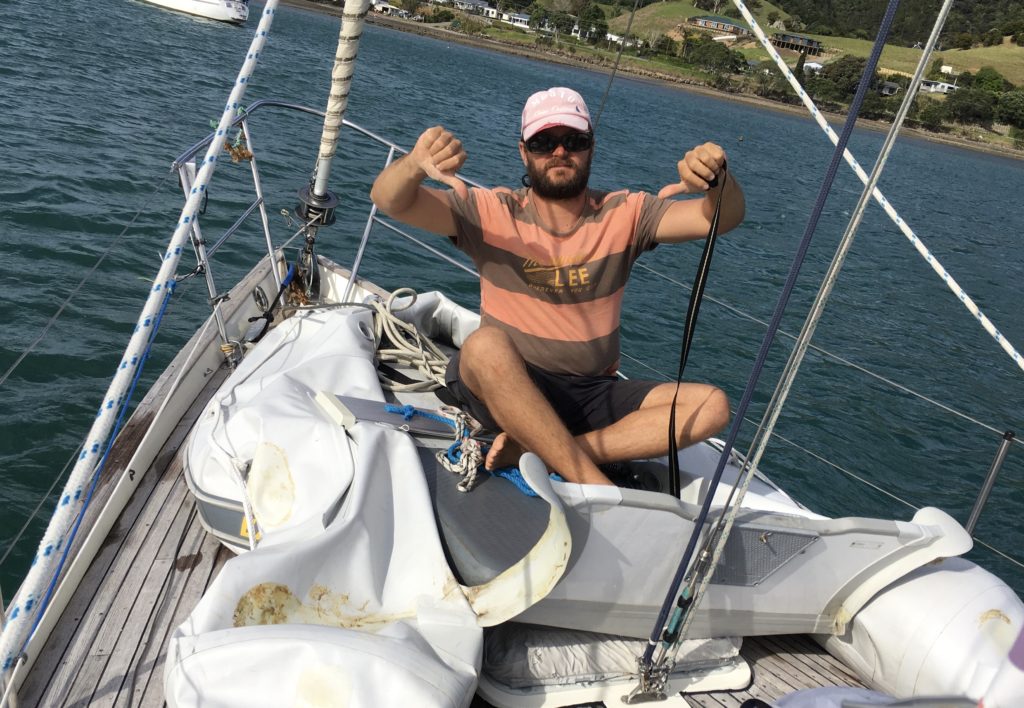 With his usual composure, Sorin rowed back trying hard to catch up with Mehalah. She was making her way down the river amongst the other boats at anchor. Sorin caught up eventually. Despite my protests we re-anchored, dropping 30 metres of chain in 2 metres of water. I was not going to leave Mehalah for the rest of our stay there.
Later on we noticed that our ensign was missing – snapped off by another boat while Mehalah was drifting.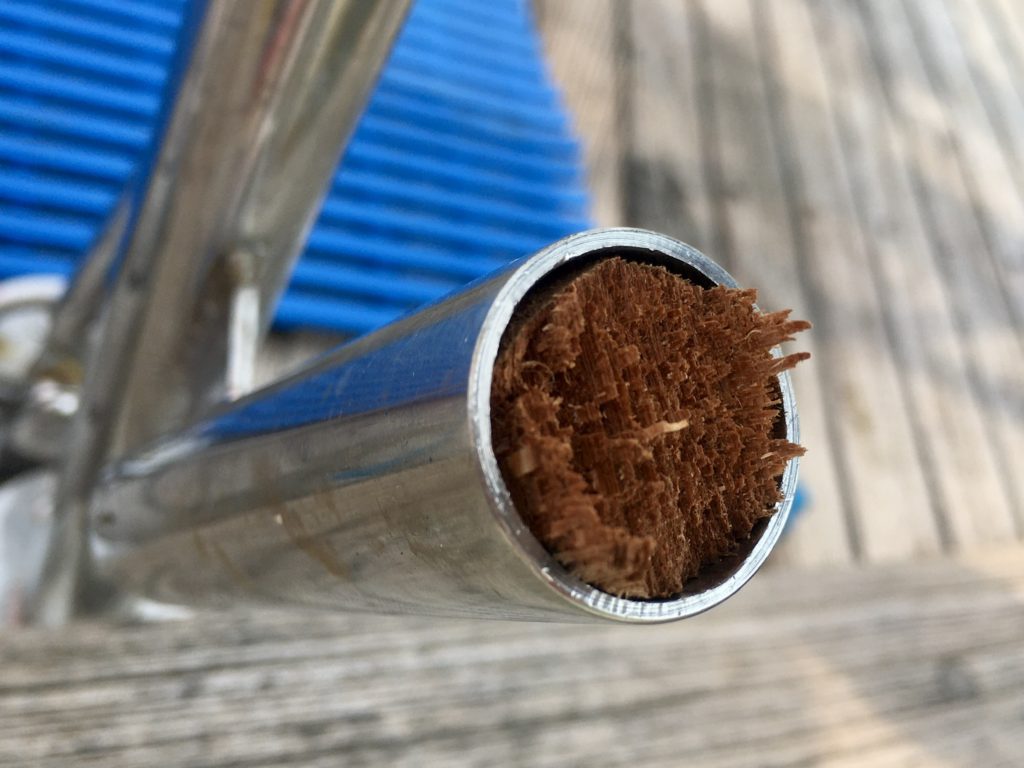 The following day, whilst still in pyjamas Sorin heard a noise and went in the cockpit. To our surprise we were on the move again. That was it! We booked a place in Whangarei Town Basin Marina and we stayed there until we were due to come out.
With Mehalah on the dry we flew to the South Island to pick up 'Road Runner', our new mobile home – land based and much smaller than Mehalah!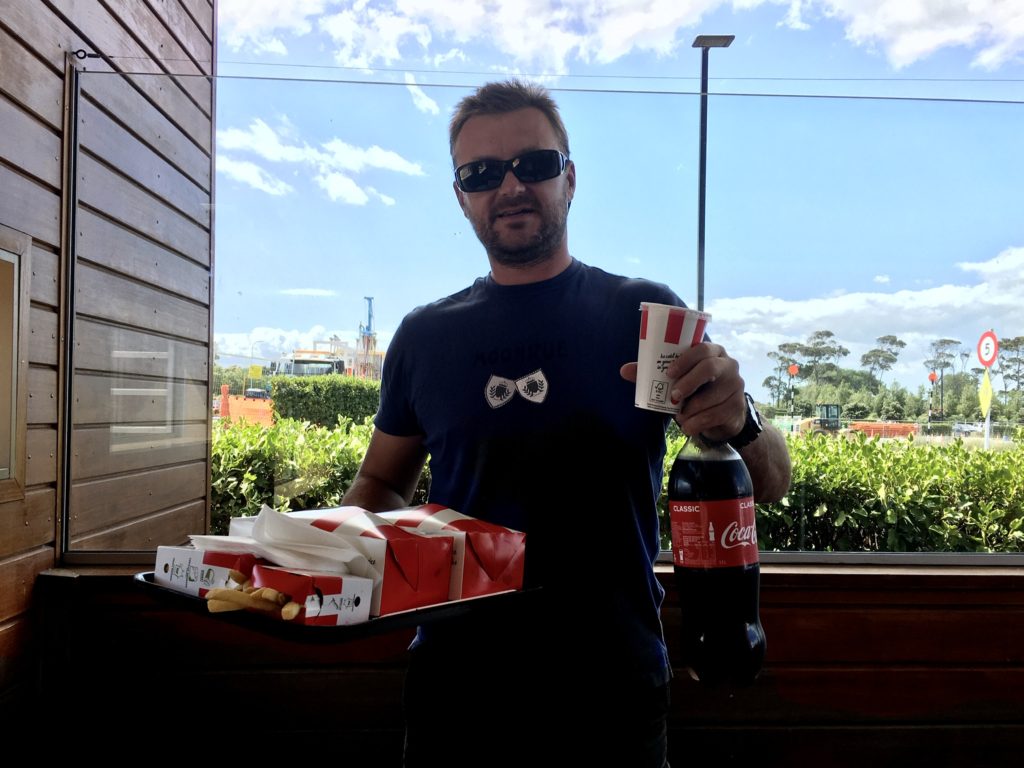 Touring New Zealand was a unique experience. Very rich from all perspectives.
We would be driving on a winding road in the Southern Alps toward a waterfall, leaving on one side a meandering stream by the mountains and on the other side a lake. Depending on the riverbed, the source and the speed of the water flow, river colours range from rusty red, light blue to turquoise and grey. Lakes' colours are as enchanting.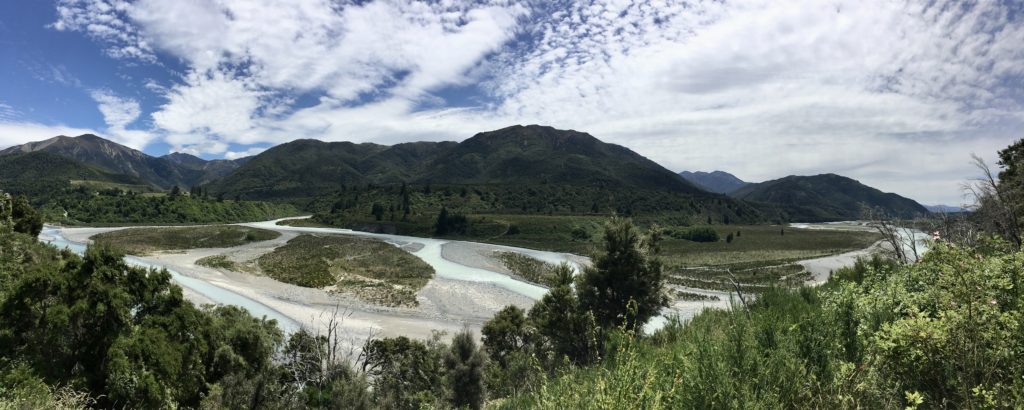 We toured the South and North Islands for about 3 months and we loved it. Even though, space wise, we had downsized from Mehalah to less than half of the space we felt no pain in doing so. Waking up everyday to a different landscape, stoping to lunch wherever and whenever we were pleased is a A feeling like no other. Pure freedom. Pure enchantment.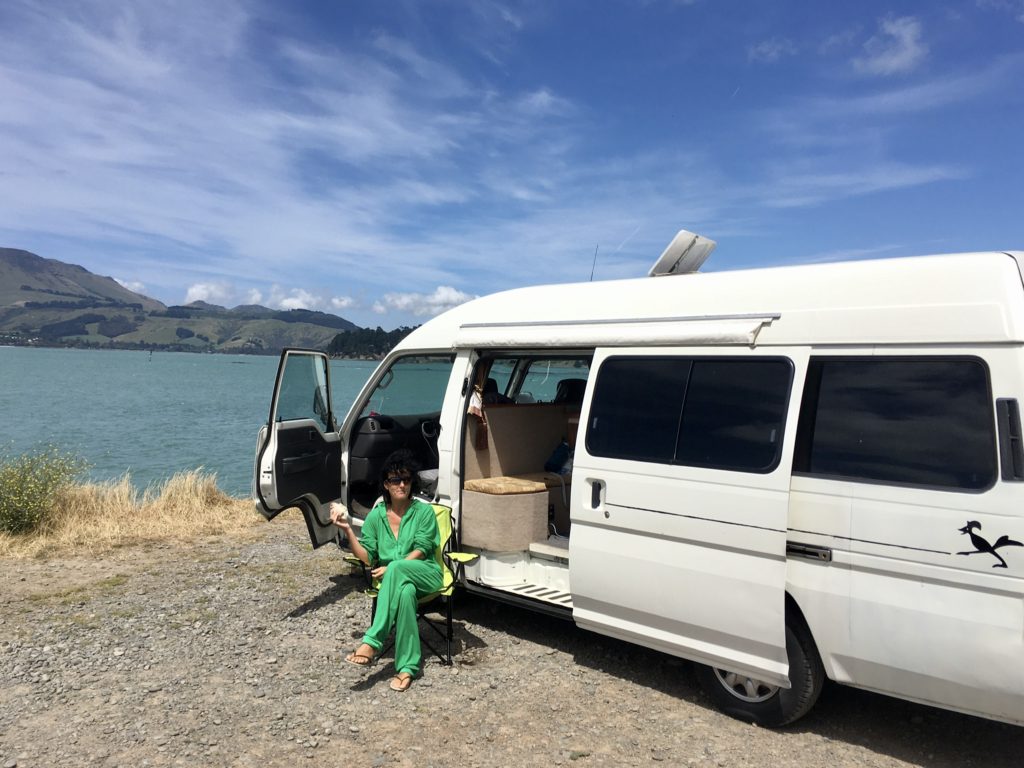 Our days were filled with driving from a campsite to another, racing other campers, stopping on the way for lunch, visiting villages, museums, walks, swimming, hunting, treasure hunting (shells, drift wood), chatting with locals (sometimes for hours…), food shopping, fire cooking, getting lost, spending time with old friends, etc.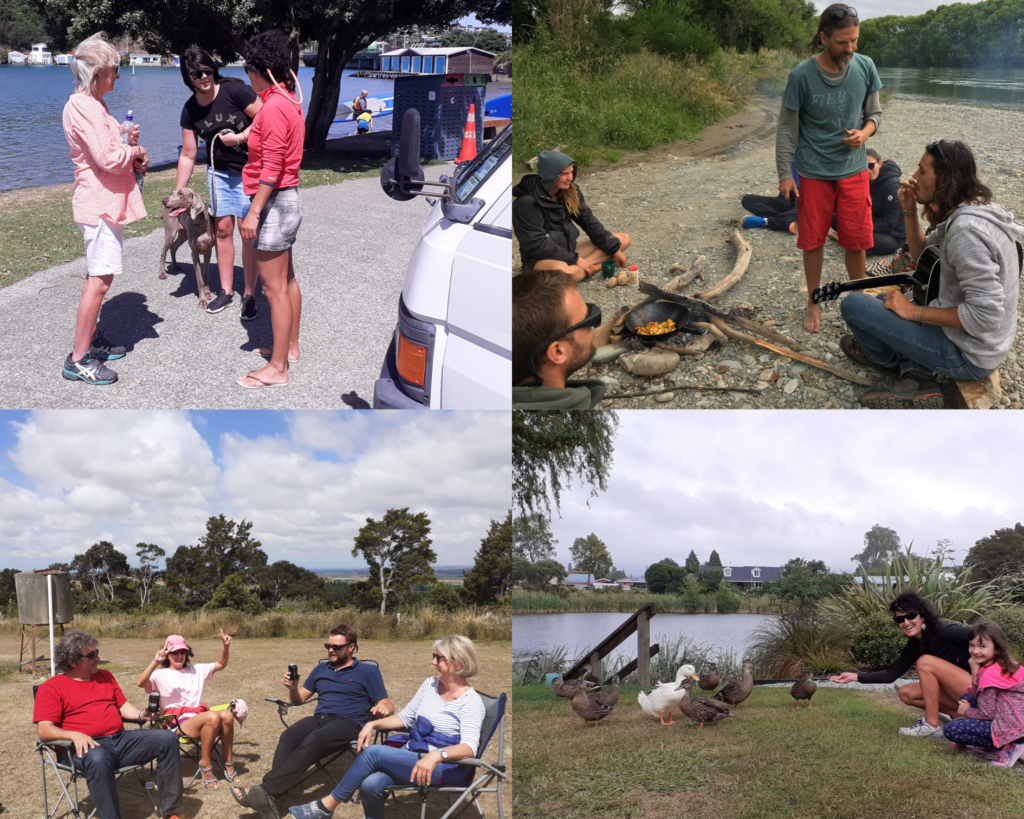 On 14 January 2020, we were camping near Franz Josef at Docherty Creek. At around 23:00, whilst by the fire, we observed a convoy of moving objects high in the sky: – around 25 moving equidistantly in South Easterly direction. These were followed by similar objects moving in the same direction but with lower frequency. It eventually stopped after about 15 min.
When reporting this unusual sighting to the Royal Astronomical Society of NZ, we learned that we unknowingly witnessed an historical event: – around that time a string of STARLINK satellites were being launched by the US https://en.wikipedia.org/wiki/Starlink_(satellite_constellation)
We enjoyed soul feeding landscapes and pure nature wherever we went. Sometimes, we over experienced the power of nature…On the way to Mount Cook (Sir Edmund Hilary's 'playing ground') we spent one night by an incredibly beautiful lake. We were one of the four campers parked on a cliff by the lake. As the night was falling the wind picked up to a degree where it was continuously pushing and pulling Road Runner, whilst I was trying to sleep. No chance! I worried all night that we were going to be thrown off the cliff – this is how strong the wind was…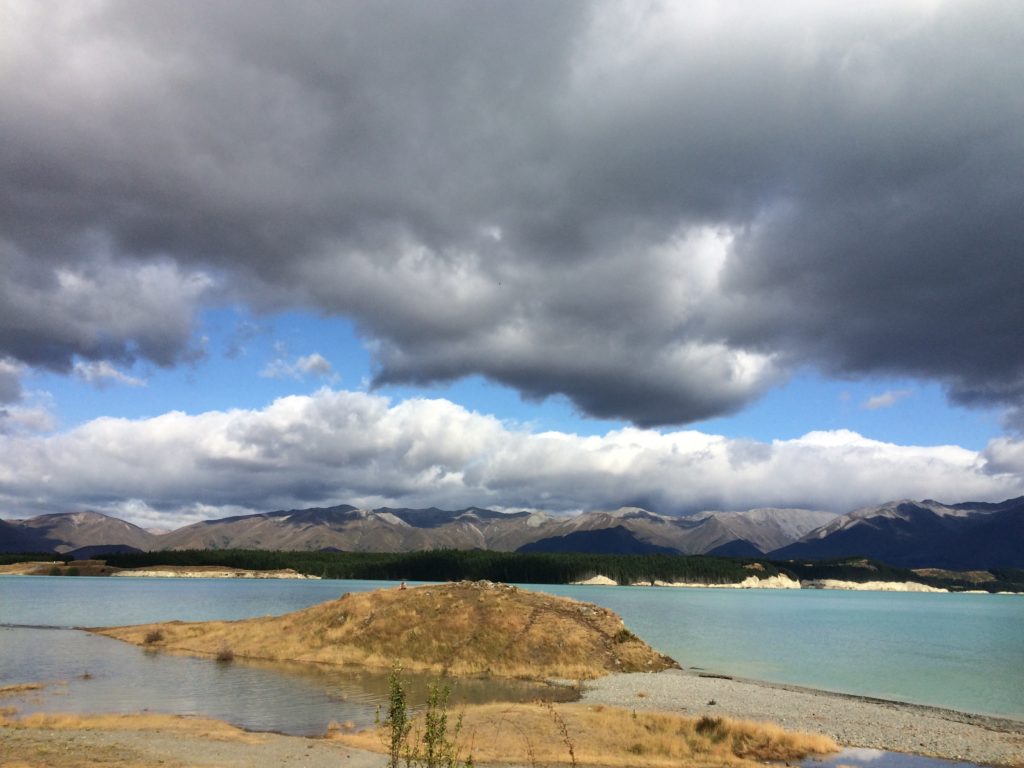 When we spent a day in Queenstown, we forgot that we were in New Zealand. Equally breathtaking, Queenstown is incredibly vibrant, edgy and colourful. In complete contrast with the dormant rest of the South Island. Every outdoor activity stretching your imagination is available in Queenstown. As Sorin puts it, it feels like Queenstown is the Las Vegas of outdoors. From pioneering commercial bungee jumps from Kawrau bridge (the birthplace of commercial bungee jumping in 1988) to despising gravity in an oxygen tube or racing bob slays down the slopes, everything invites a jump out of your comfort zone.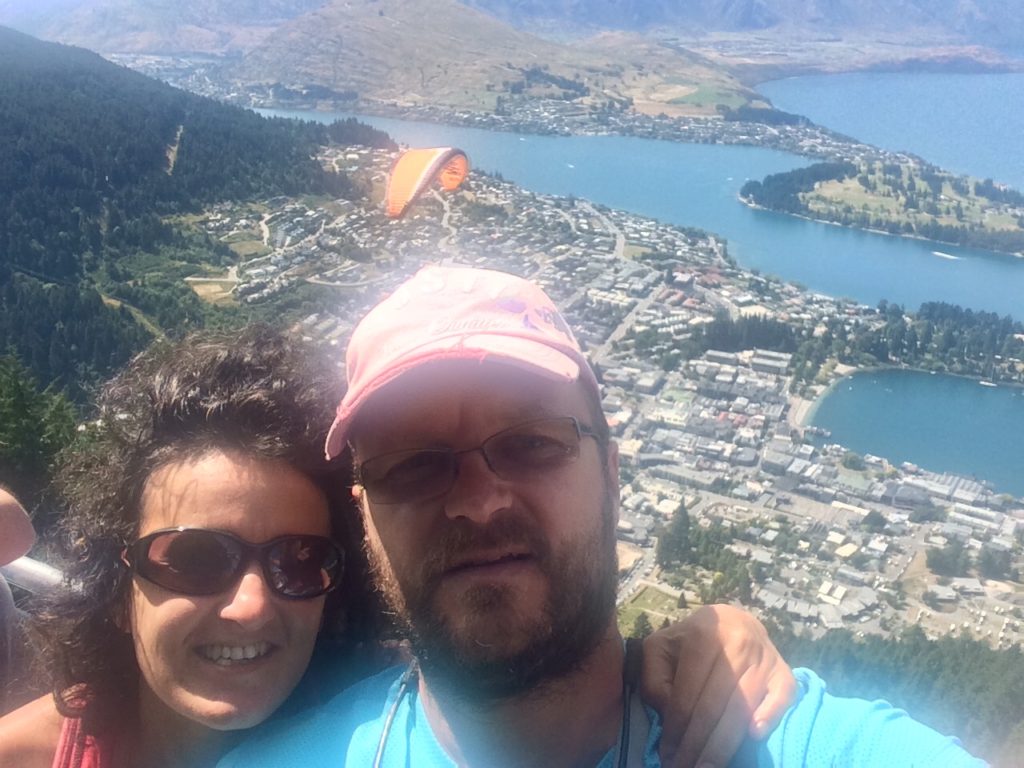 If Queenstown on the South Island is the Las Vegas of outdoors, then Rotorua on the North Island is a geothermal paradise. Mother Earth is booming with life under your feet in Rotorua and the waters are of heavenly colours as a consequence…

The Department of Conservation (DoC) is the non-governmental body founded in 1987 that is charged with the conservation of New Zealand's natural and historical heritage.
New Zealand lies at the boundary of Earth's tectonic plates, which explains the astonishing beauty and diversity of the landscape. Fourteen diverse national parks, managed by DoC, are spread across the country. They offer all sorts of natural wonders from huge lakes to high white mountain peaks, wetlands, rushing rivers, astonishing rock formations, waterfalls and tidal golden beaches.
New Zealand has the highest rate of endangered species on Earth: – 4000 threatened species, in addition to the extinct ones (e.g. moa bird that is kiwi's ancestor).
Amongst the endangered species, Kea is an intriguing bird with a unique history and character: curious, social and cheeky. Their versatile and manipulative beaks and feet are used for all sorts of mischief when they come across anything shinny or brightly coloured. Currently fully protected, the sole alpine parrot in the world has a tragic history of persecution. Over 100,000 keas were culled in the high country between 1870 to 1970. Kea are opportunistic feeders, whose diet includes everything from berries, seeds and insects to the fat under the sheep's skin that they were feasting on, hence the bounty on their heads for 100 years.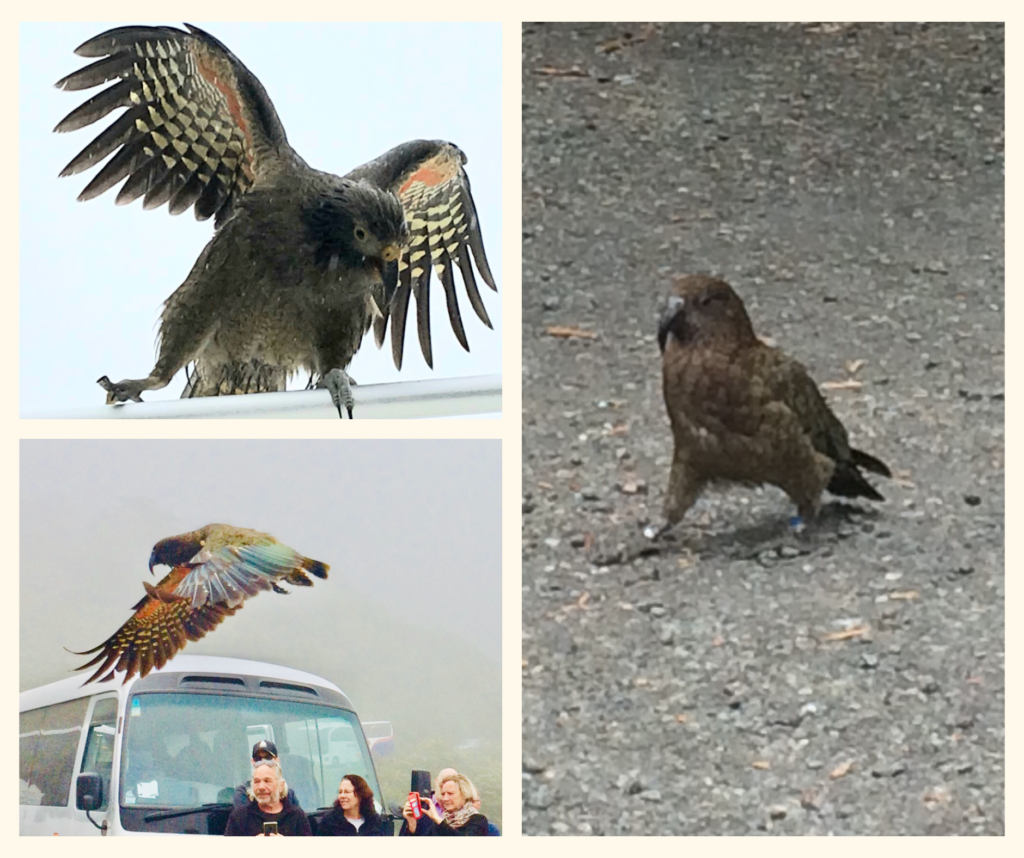 Life in New Zealand is good.
New Zealand, especially the South Island, is exceptionally rural. There are hardly any people if you stay away from the few towns. We felt inclined to do just that!
The big towns are densely populated, squashing in most of NZ population – just over 4 million.
The lifestyle is Pacific chilled even in the cities (no 'Please stand to the right on the escalators' continuous annoying prompts!). New Zealanders take a couple of weeks break for the Xmas celebrations, when most holiday accommodation including campsites are fully booked.
Albeit slightly nosy, people are generally nice and welcoming. We met friends and friends of friends, born and bread New Zealanders and we learned heaps about the culture. We've also got acquainted with the kiwi lingo like 'Good on ya!', gum boots, Beeearbara the sheep, drink hole, 'Manchester' which actually means linen and has an aisle on its own in the supermarkets, etc.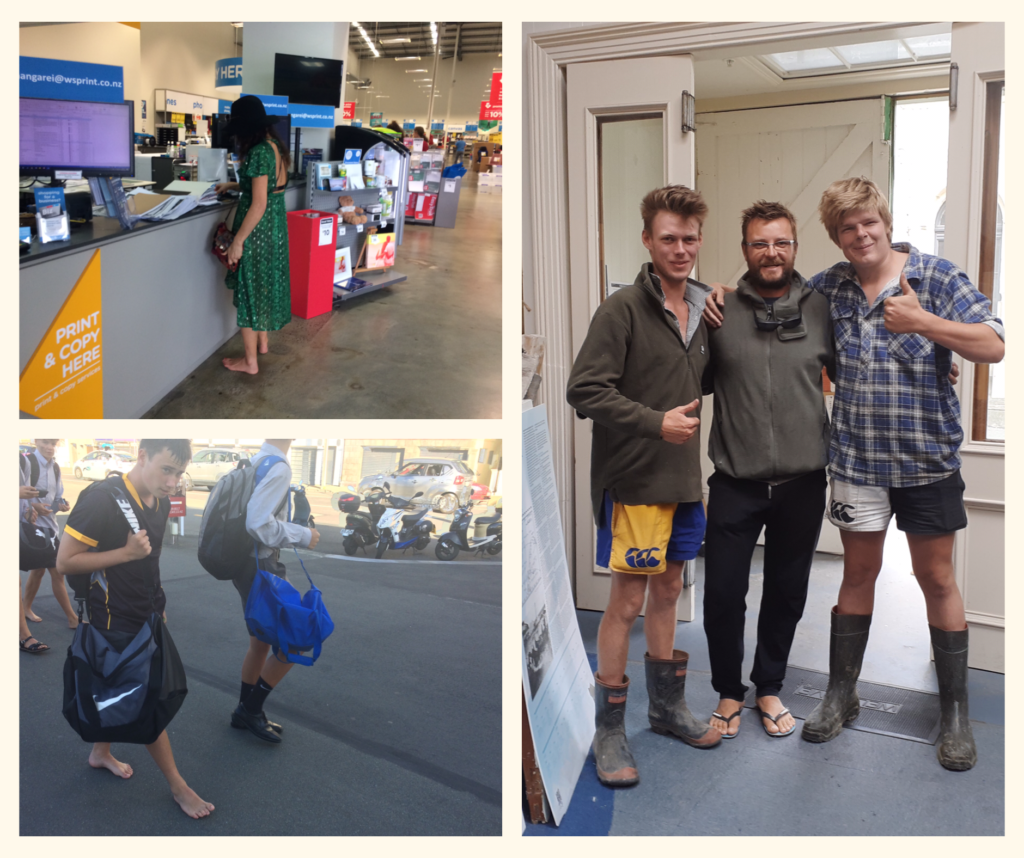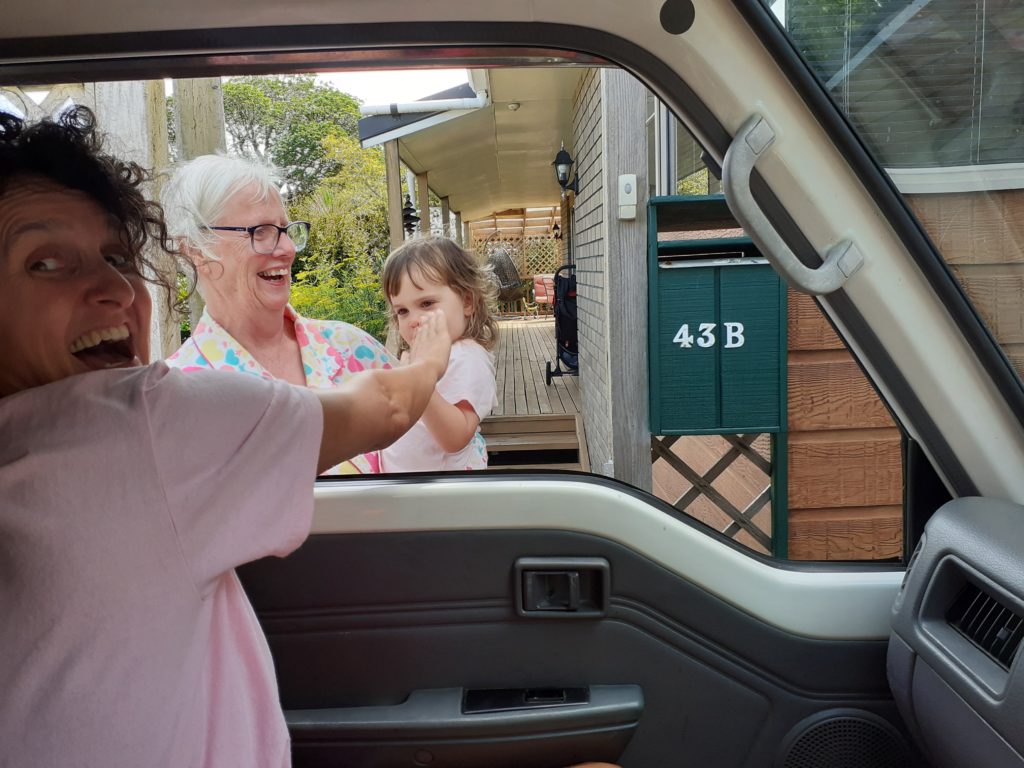 Another peculiarity of New Zealand is the siren going off, like in the times of war. We were slightly panic stricken when we heard for the first time its loud, monotonous and terrifying sound. On enquiring we found out that there is nothing for us to worry about. The siren goes off in rural areas in an emergency situation for the fire brigade, formed by volunteers, to group and respond promptly. It can also announce the approach of a Tsunami, hence our worry about Mehalah that was at anchor at the time…
Alongside the European settlers that followed James Cook's landing in Aotearoa live the indigenous population. The Maori sailed here in the early 1300s from the Society Islands and named the newly discovered land Aotearoa meaning the 'Land of the Long White Cloud".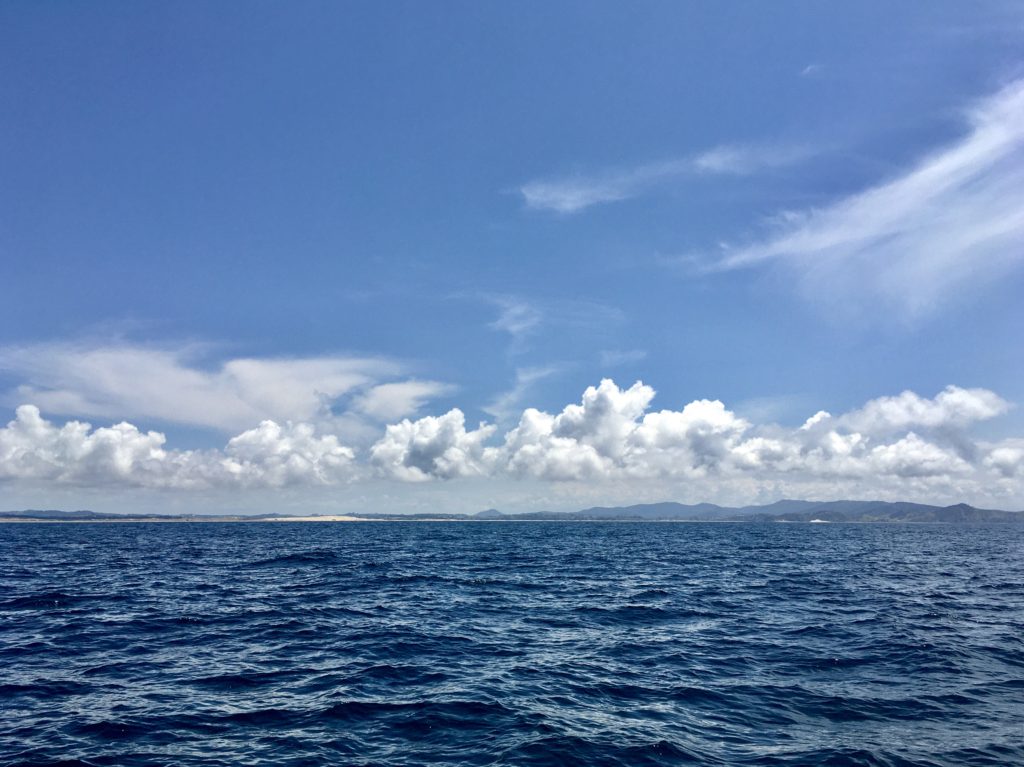 Maoris, currently only 1 in 7, traditionally have a strong spiritual connection with the land. They see themselves as guardians of the land and waters that provide them with treasures ('taonga'). This utmost respect for the land prevails nowadays all over New Zealand. The 'Tiaki promise' is an undertaking to care for the land, sea and nature, to tread lightly and to leave no trace.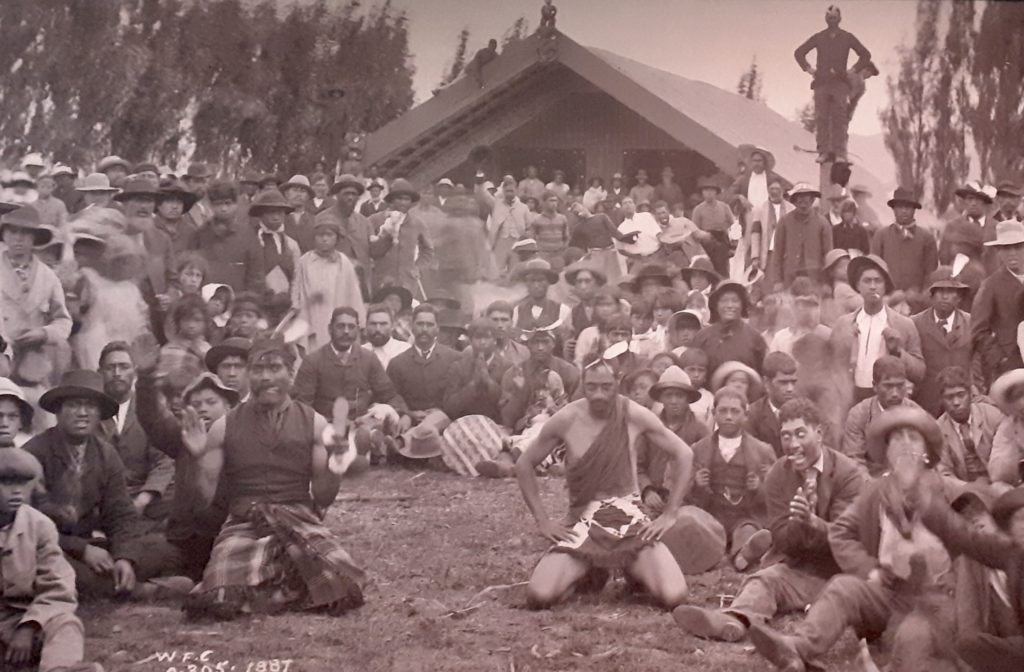 In time the Maoris have been overpowered and culturally absorbed by the European settlers. The first hand exposure to the Maori culture is nowadays available only via organised cultural experiences, mainly around Rotoroa in the North Island.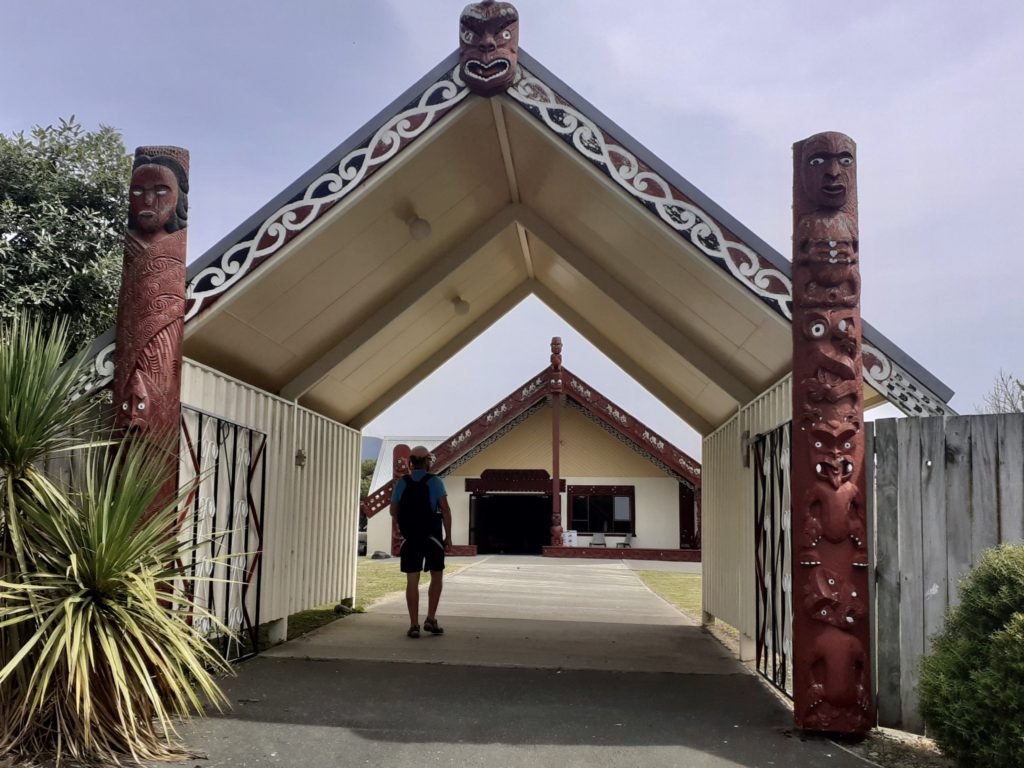 Cook was not the first European to make landfall on Aotearoa. Dutch explorer, Abel Tasman, arrived on the North of the South Island in 1642, naming the land Nieuw Zeeland, hence the current country name.
New Zealand is the world's wellbeing capital, the Mecca of outdoor activities. What better way to stay well than being surrounded by nature? From water-based sports to rock climbing, hunting, skydiving and glamping or just soaking into one of the many natural hot springs, all outdoor activities are widely available in New Zealand.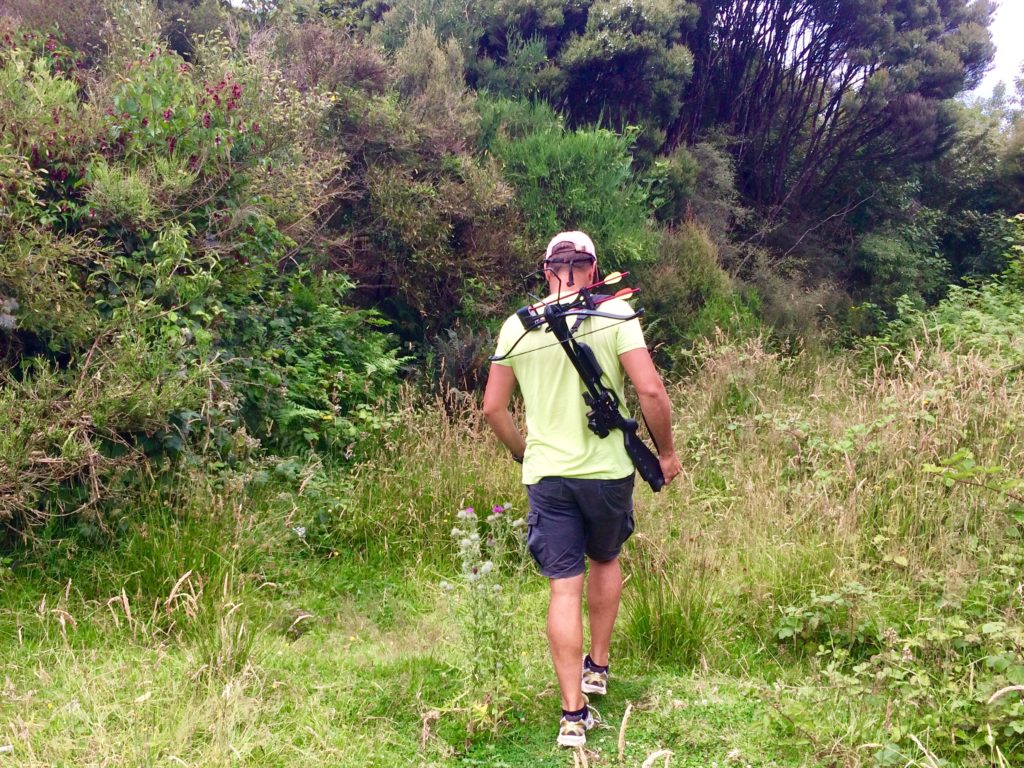 New Zealand is economically weIl off.
Agriculture and tourism are the main industries in New Zealand. Whilst the agriculture is technologically advanced with everything being done to the highest standard, the tourism is mostly rural.
New Zealanders take a great pride in branding their products as 'Made/Grown/Owned in New Zealand'. Everything, except for cars (of which they have perhaps too many!) is made here. Known as the City of Sails, Aukland has the highest number of boats per capita in the world.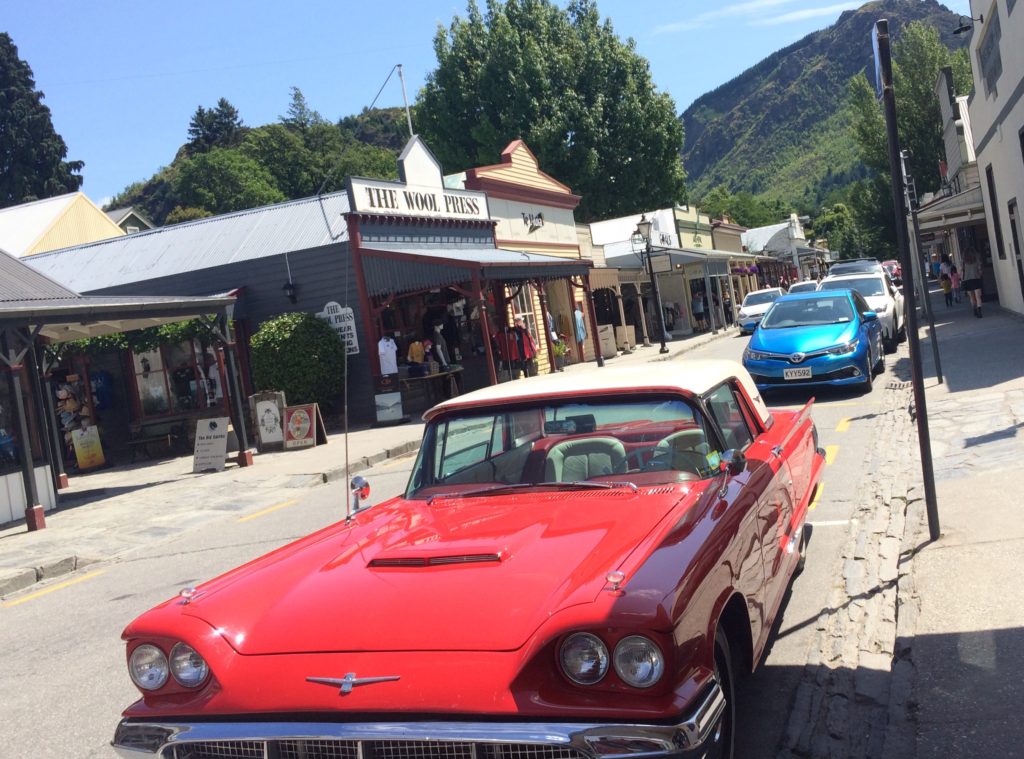 Freedom camping is, in our experience, the most cost effective way to explore New Zealand.
Depending on the time you have available (ideally at least 2 months), you can buy or rent a campervan. For anything less than 2 months it is easier to rent, but if you have more time, just buy. Best source is www.trademe.co.nz. To create an account you need to register yourself with a NZ address. The terminal's IP must be corresponding with Aotearoa New Zealand. Alternatively you can buy a campervan on www.backpackerboard.co.nz. Transferring ownership is easily done at the post office or online, but again you would need a New Zealand address.
If you want to minimise costs, consider your campervan to be self-contained CERTIFIED. This gives you the right to park overnight in designated places at no cost. It is called 'freedom camping'. However, it is not really 'free', since you cannot park and spend the night anywhere you fancy. Some councils have strict rules on 'freedom camping'. Some locals are openly against freedom campers. The rule of thumb is that if you are not on private land and there is no sign against freedom camping you could park and spend the night there. For designated 'freedom camping' areas and other useful info download the CamperMate app, also usable offline.
During the summer the 'freedom camping' designated places are super crowded. We were lucky on occasion to not feel crammed. We also did the rebels and camped when we could in the wild!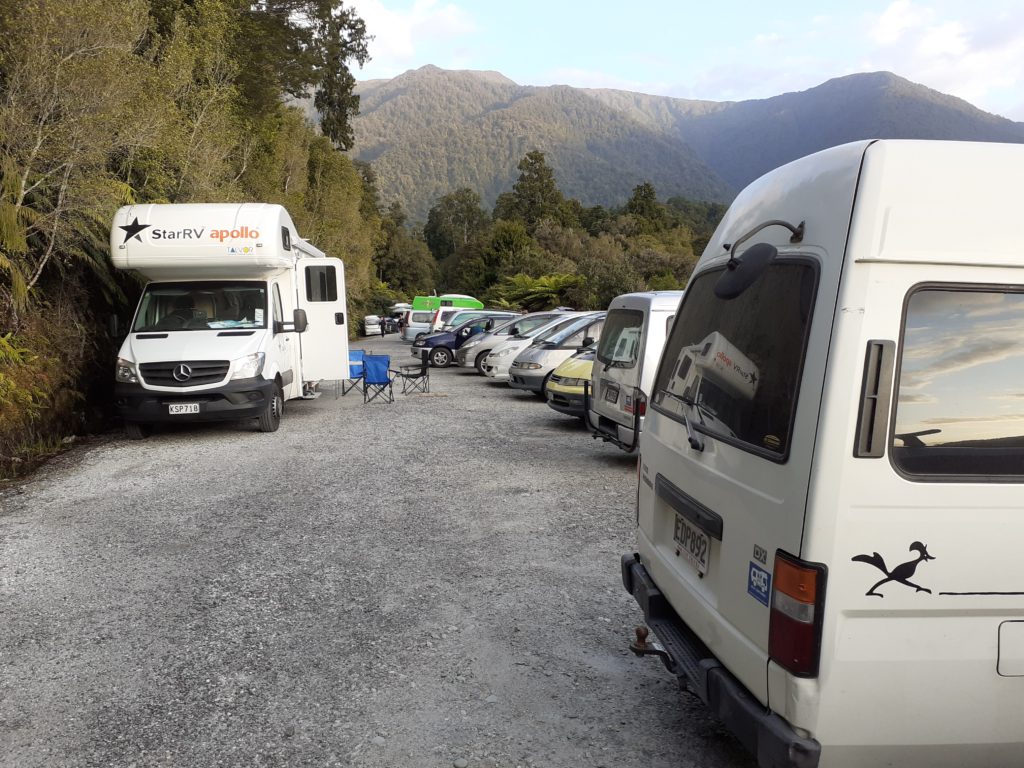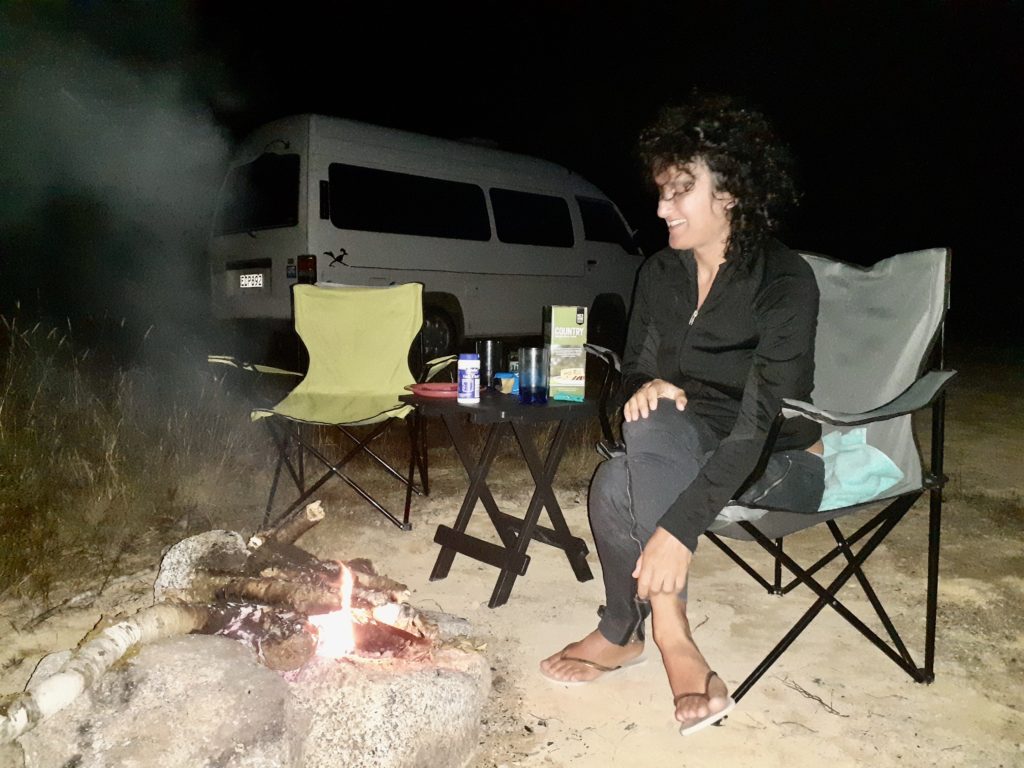 Diesel is cheaper than petrol.
A meshed vent for mosquitos and sand flies would be essential. Sand flies are omnipresent on the South Island and ferocious.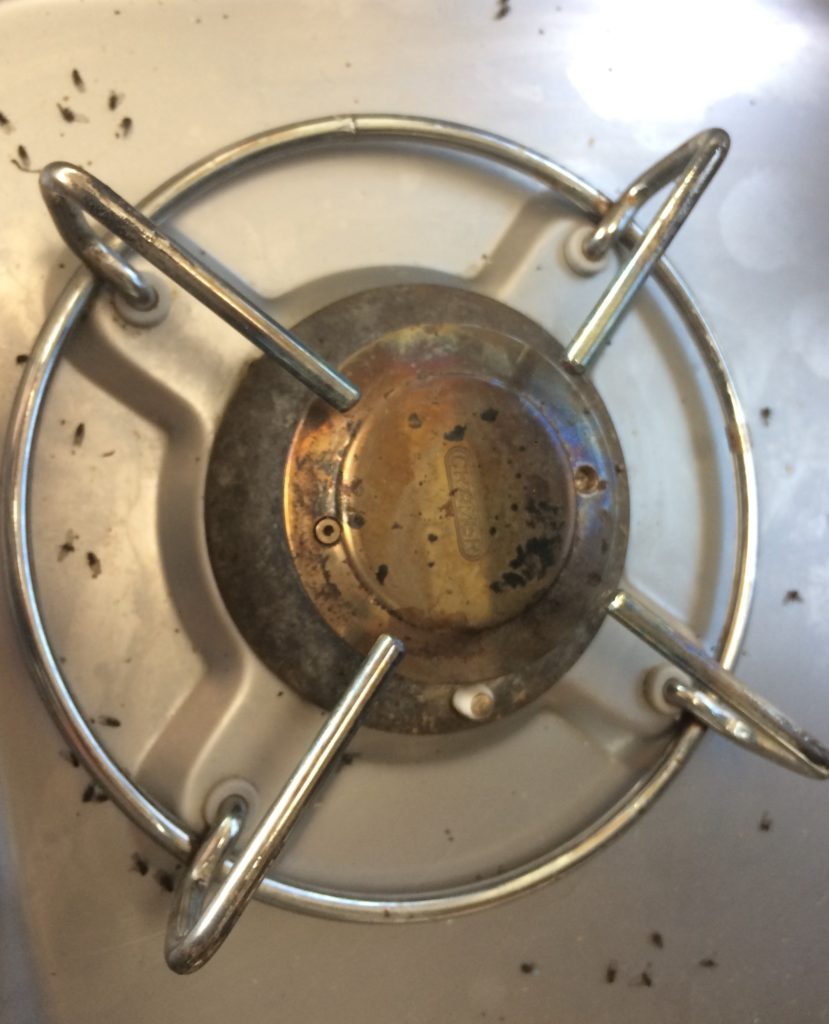 We only had a cool box, which we scarcely used. A fridge is not essential, as there are supermarkets everywhere.
A town of any size will have a 4 Squares supermarket and an I-centre with all the info available of best places to visit, walks, campsites, etc. Do not expect mobile cover everywhere in Aotearoa New Zealand. Nevertheless, you can access wifi freely in most local libraries.
In an attempt to minimise costs you may consider a camper van with rear kitchen, accessed from outside. Know that the winds in New Zealand can be fierce and it will rain in the summer too. Cooking outside in these conditions would be challenging, to say the least…let alone the omnipresence of sand flies on the South Island, especially around water! In our experience it would be unrealistic to expect to find a decent van for under NZ$10,000.
Since the South Island has much more to offer, make sure to split the available time accordingly.
Words can't possibly make justice to the natural beauty of Aotearoa New Zealand – extremely diverse, condensed and breathtaking.

What next?

We have now completed our road trip, sold Road Runner and returned to Mehalah, with the intention of undertaking all maintenance work and return to Fiji in June. However, that plan seems far-fetched right now when all borders are closed and New Zealand is being placed in lockdown for the foreseeable future…The Prime Minister lifted the coronavirus alert status to level 3, followed by level 4 in 48 hours. We are really hopeful that for the sake of us all, this evil is going to be conquered…