After seven days sailing and paying our tribute to Neptune when crossing the Equator we reached 'The Enchanted Islands'.
Galapagos was overall a hard to digest experience. On one hand you are exposed to the wildlife 'at home' and on the other hand you have to put up with a tremendous amount of financial and logistical stress to access this experience.
We would not recommend it to sailors on a tight budget. We are also on a tight budget, but we could not have beard to come all this way and sail past the Archipelago. We do not regret stopping, so I guess after all, it is a matter of personal choice.
The Archipelago is a unique natural environment made famous by Darwin in the 18th century. Darwin based the revolutionising work 'On the Origin of Species' on the observations made on the islands during his five weeks spent here, whilst on a five year voyage as volunteering biologist aboard 'The Beagle'.
Unfortunately the financial cost and strict requirements for cruisers visiting Galapagos feel like a punishment for all the damage the pirates and buccaneers caused to 'The Enchanted Islands'. Back in the days, a great number of giant tortoises (possibly more than 200,000) were removed Galapagos and were used as a source of food on ships. The poor 'gentle giants' were placed upside down for up to a year before being consumed…one could argue that it was all about survival! Sailors also brought rats, goats and pigs to the islands, further endangering the unique biosphere. It is estimated that only 10% of the tortoises population in the 1800s live currently on the islands, under strict control and supervision to avoid extinction.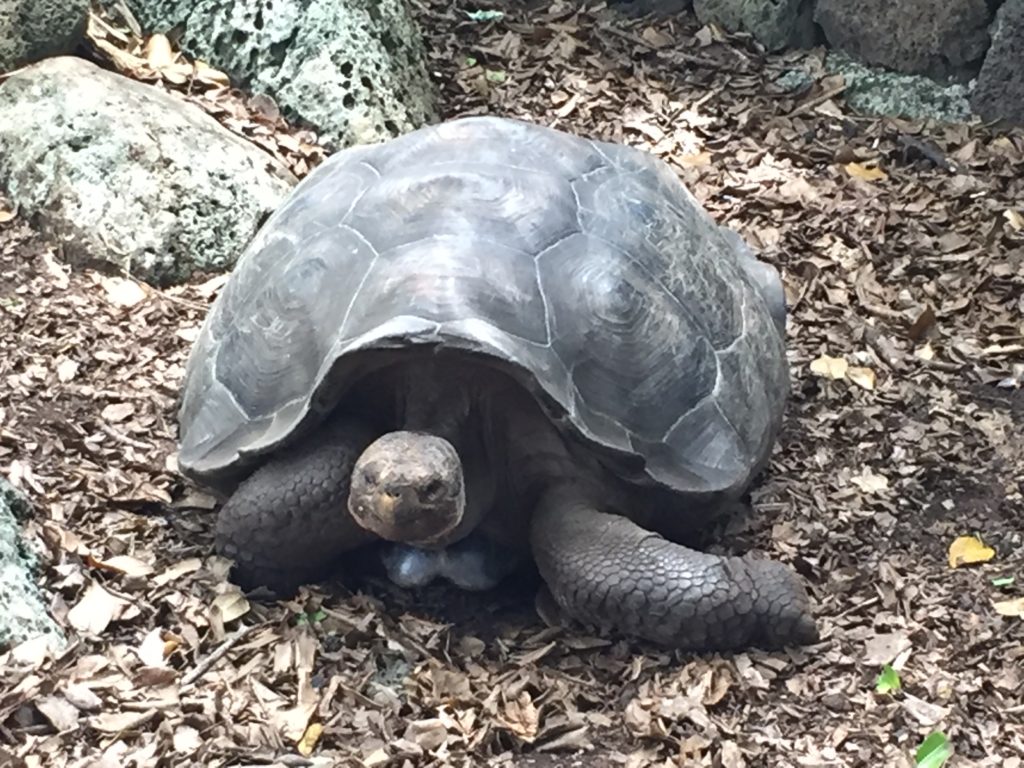 The attractiveness of the Archipelago amongst potential visitors is very high; should not ridiculous costs and tough requirements be imposed the wildlife here (some species being endemic to the islands) will be further engendered.
We opted for a 1 month permission to stay (Autografo) and to move around 3 islands – San Cristobal, Santa Cruz and Isabela. Including the agency fees (every cruiser visiting Galapagos needs an agent) the total cost was around $1,800.
Before leaving Panama we had to obtain a fumigation certificate. On arrival to Galapagos the boat's hull had to be free of any barnacles or sea grass. Before leaving Panama, Sorin spent two days underwater in Taboga Island to clean the hull. He also did another round of cleaning ahead of our arrival in San Cristobal. In order to do so, we stopped Mehalah in an incredible swell. Spending time underwater trying to clean the hull in such conditions made Sorin pretty sick…
In San Cristobal we had eight people onboard inspecting the boat and two divers inspecting the hull. No plants or animals are allowed and the garbage has to be organised in Organic/Plastic/Cardboard. This requirement feels a bit like a joke… Just because when we walked to La Loberia (a beach in San Cristobal not far from the anchorage) we saw garbage damped in a hole, like everywhere else…not sure what the WWF, who are meant to manage the waste on the islands, are doing?!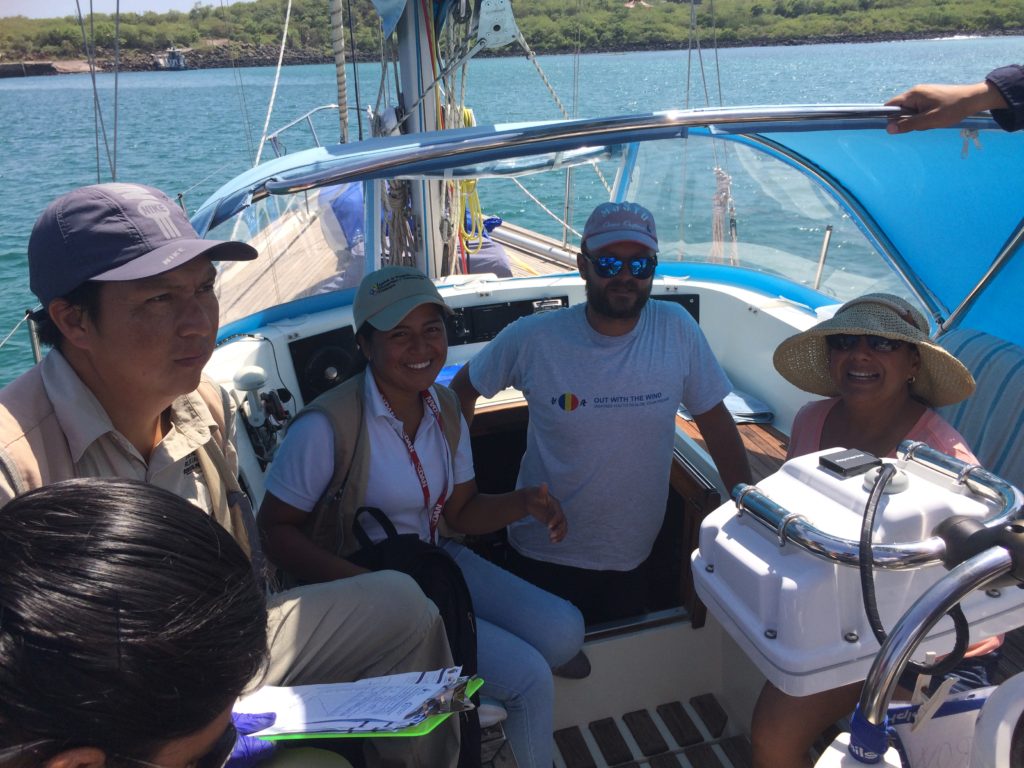 Then, it is very hard logistically and costly to access drinking water and diesel. Where available, all arrangements must be done through the agency and involve transport to the boat by water taxi at agreed times, etc.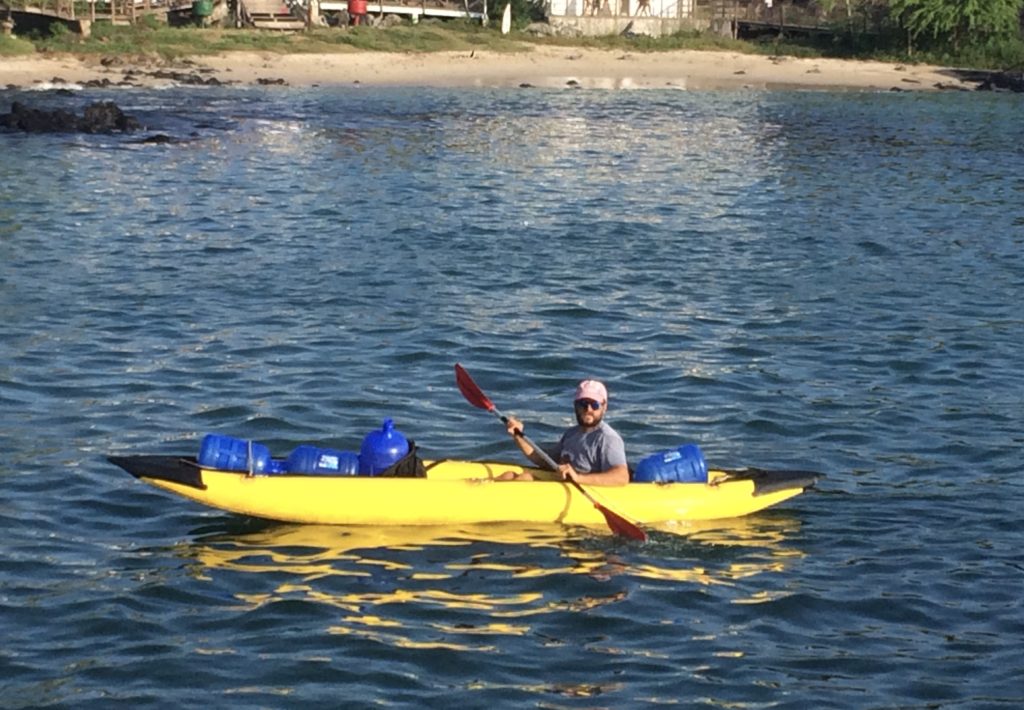 We spent a week in San Cristobal. We were surrounded by the laziest and the most playful creatures – the seals. They are everywhere and one can spend hours enjoying their show. Water iguanas are abundant too. They climb on the black volcanic rocks to be in the sun and if one is not careful one can easily step on them, as they would not move! Various birds (pelicans, blue and red footed boobies, frigates) surf the skies and feed on fish and crabs that are equally abundant. Turtles dance with the waves and they too don't seem to notice one's presence.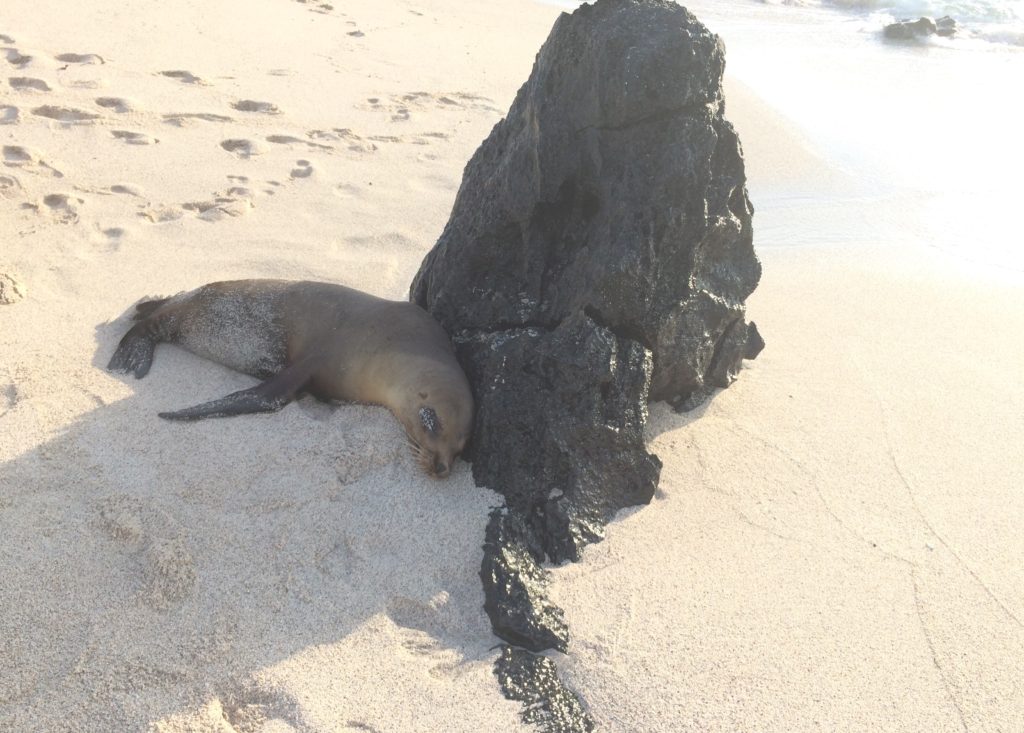 We visited the Interpretation Centre – a Galapagos Museum where a wealth of information about the history of the Archipelago is revealed. One can learn how overtime the islands were temporary home to European dreamers; they had travelled here to enjoy the Equatorial sun, but mainly to exploit the wildlife by attempting to build an oil lamp industry and a canned meat industry; some have perished in mysterious circumstances; in the Second Wold War, the island of Baltra was temporarily transformed in an American military base; the Archipelago also homed one of the most feared prisons in the world.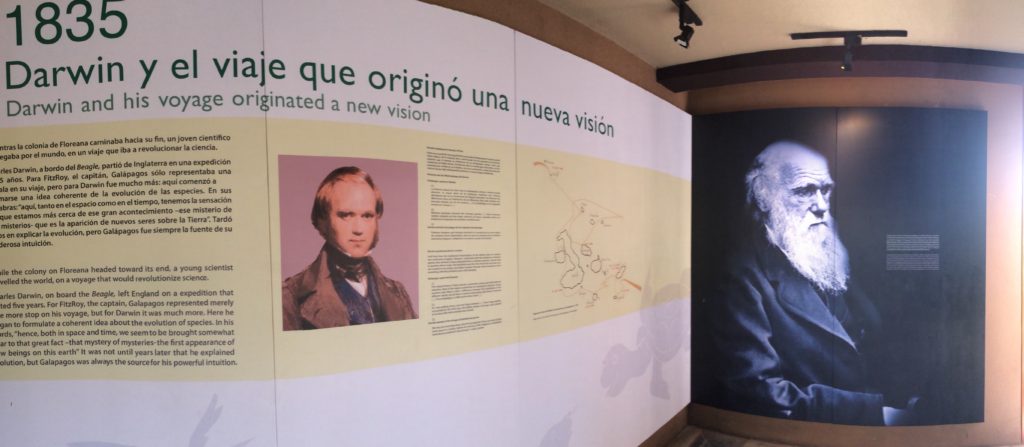 We learned how all human endeavours to exploit the natural riches of Galapagos over more than 4 centuries (since its discovery in 1535) failed sooner or later…and the wildlife currently reigns supreme. However, despite the efforts of the Ecuadorean government to control the influx of visitors to Galapagos the number of tourists is ever increasing…which is not doubt detrimental to the unique biosphere.
This fascinating natural habitat is at the meeting place of winds and ocean currents coming from the south (cold) and north (warm). These conditions determine the generally arid climate of Galapagos and the abundance of species. The islands are the tips of underwater mountains formed by numerous eruptions. Some of the volcanoes are extinct, but Isabela and Fernandina are still active.
We visited with Paul and Sally (fellow cruisers met in Panama) the Junco Lagun (a volcanic crater reached after going up 267 steps), La Galapagera (tortoises breeding centre), and the beautiful beach at Puerto Chino. A great day out in great company.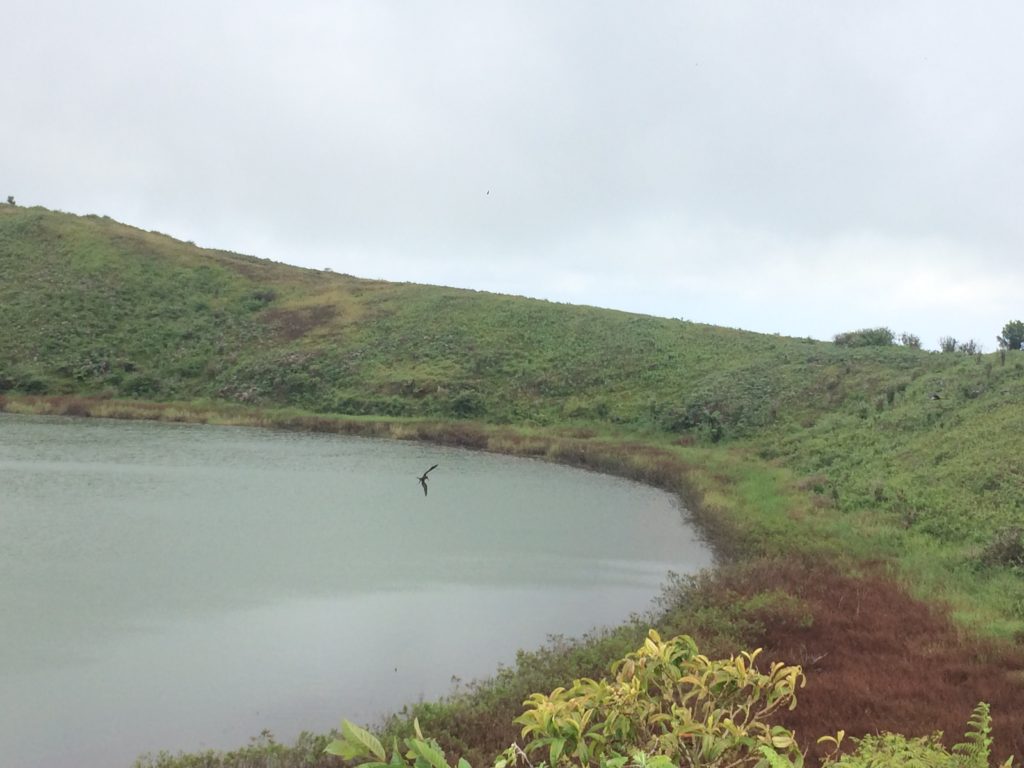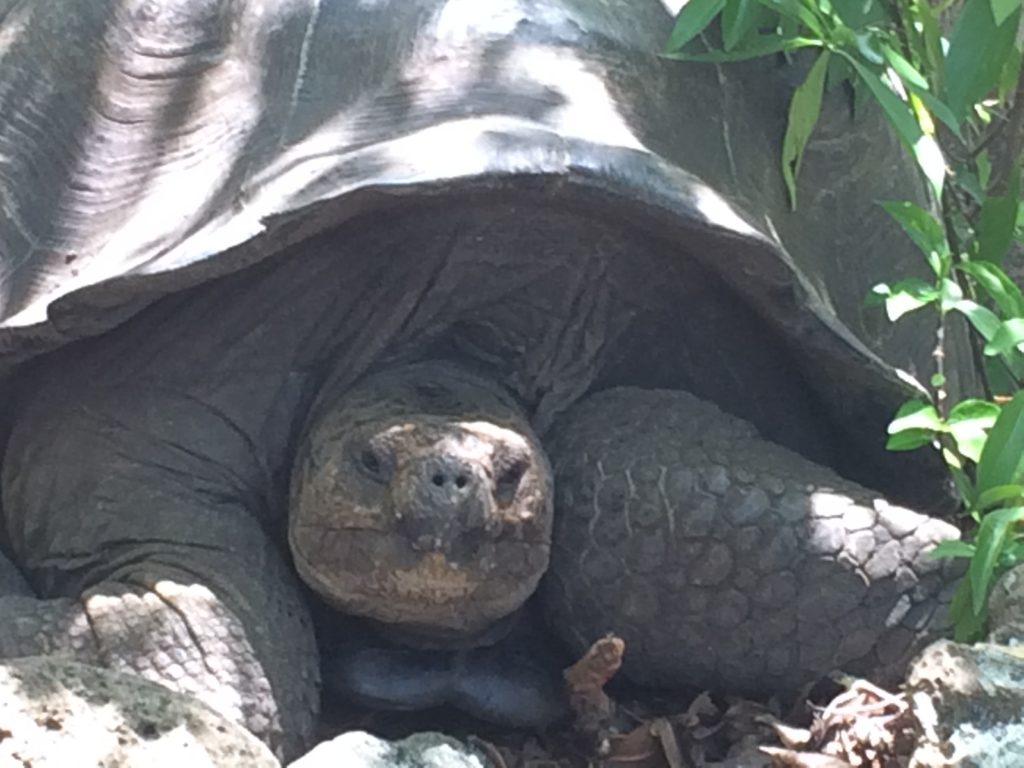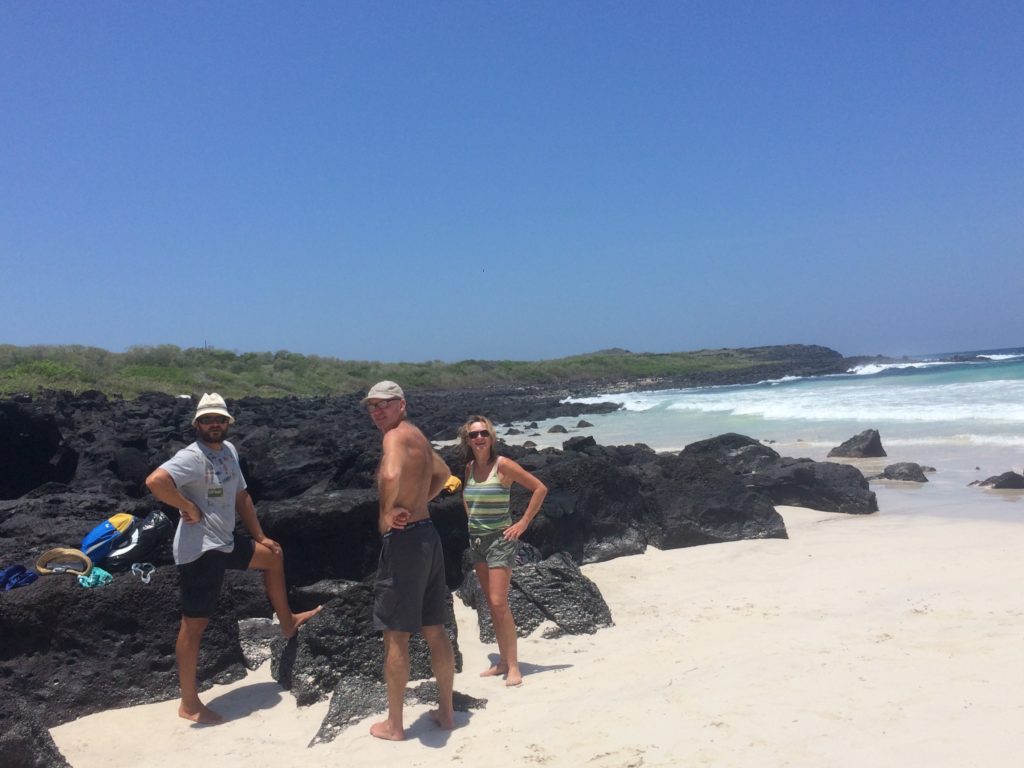 However the most impressive experience lived on San Cristobal, was reaching the top of a cliff after passing La Loberia beach and continuing on the black rock trail to its end. After an hour or so walking carefully to avoid stepping on the water iguanas enjoying the sun on the black rocks, we arrived to a bird watchers' paradise. Hundreds of birds were nesting on the cliffs, overlooking the waves that were washing tens of turtles. A wonder to behold.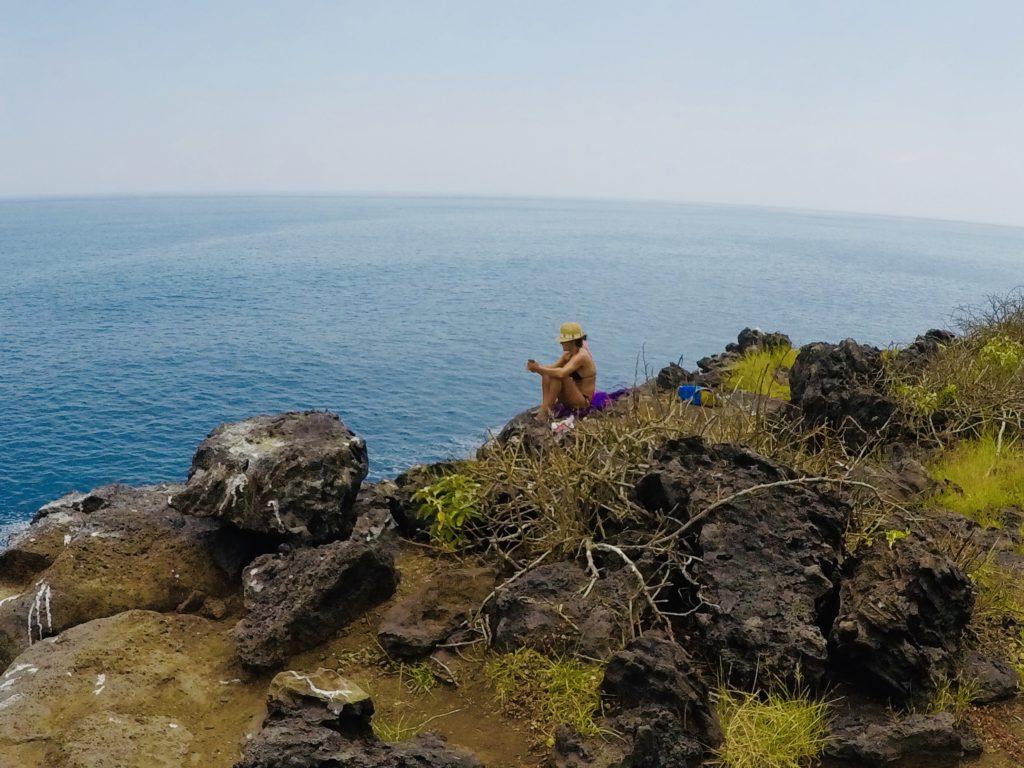 After a week we moved on to Santa Cruz. Despite other cruisers' reviews, we found Santa Cruz a delightful place – small, with quaint tourist accommodations and restaurants, good supermarkets, a pretty fish market and many well stocked 'Fereterias' where some boat related supplies were available. The only disadvantage was not being able to access diesel anywhere on the island by legal means!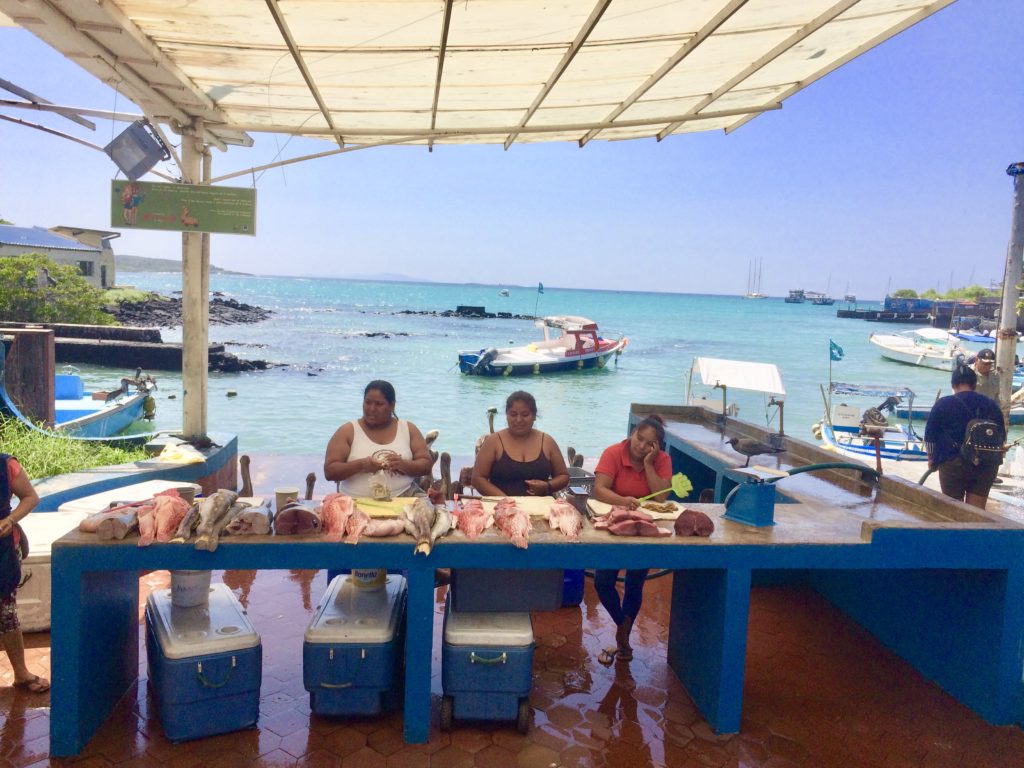 We enjoyed the beauty of Santa Cruz for almost a week. We visited the Darwin Research Centre to see more tortoises and land iguanas in a semi controlled environment. As we approached the centre we were welcomed by one of Darwin's finches (Cactus Finch) that was feeding on a cactus flower. We also learned the sad story of 'lonesome George' – a giant tortoise who spent many years in solitude in Isla Pinta (one of the islands of the Archipelago). All his peers on the island had been extinct. He died in 2012 at an impressive age of between 120 and 130 years. You can learn more about 'lonesome George' here: www.galapagos.org/George.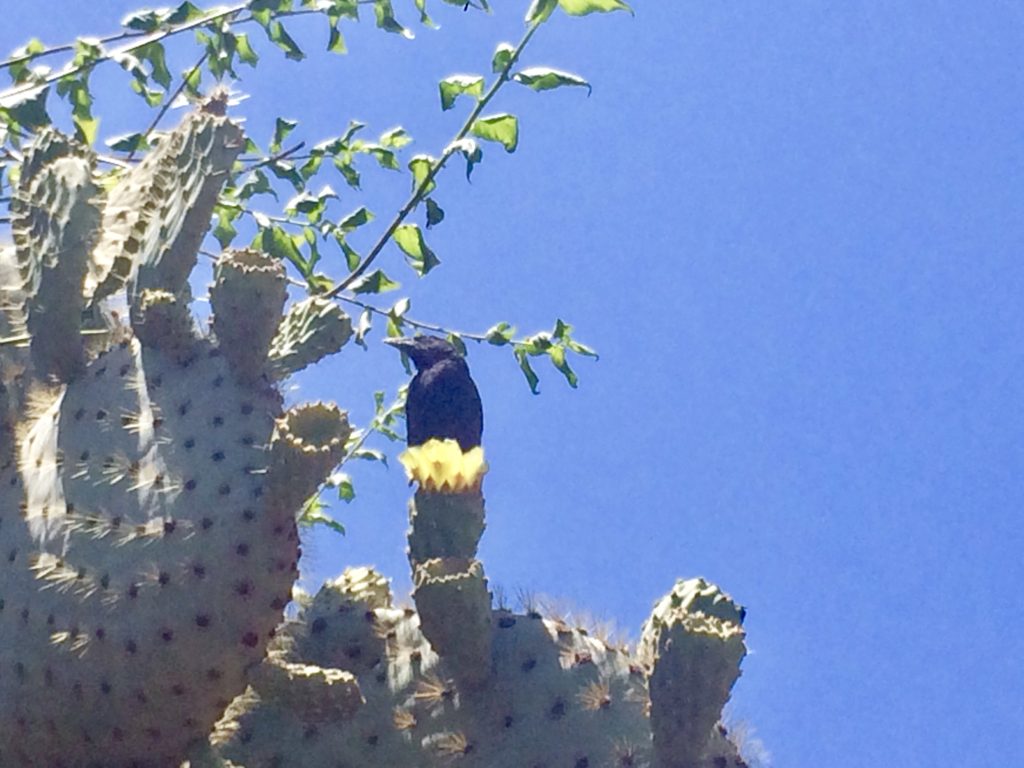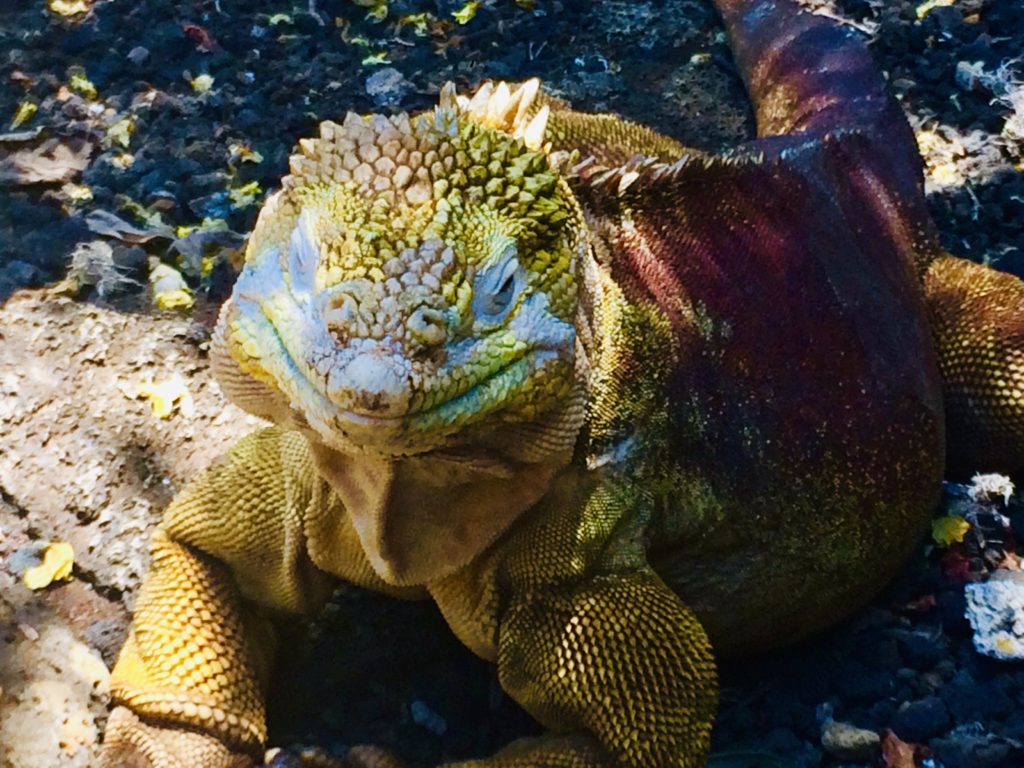 We went for a long walk to Tortuga Bay, where we strolled along the finest and longest sandy beach in Galapagos. Iguanas swam with us in the small bay by the main beach. We were disappointed not to see 'los tiburones' (small reef sharks), but on our return to the dock to catch a water taxi, the tiburones and small sting rays were hovering near the dock in crystal clear waters.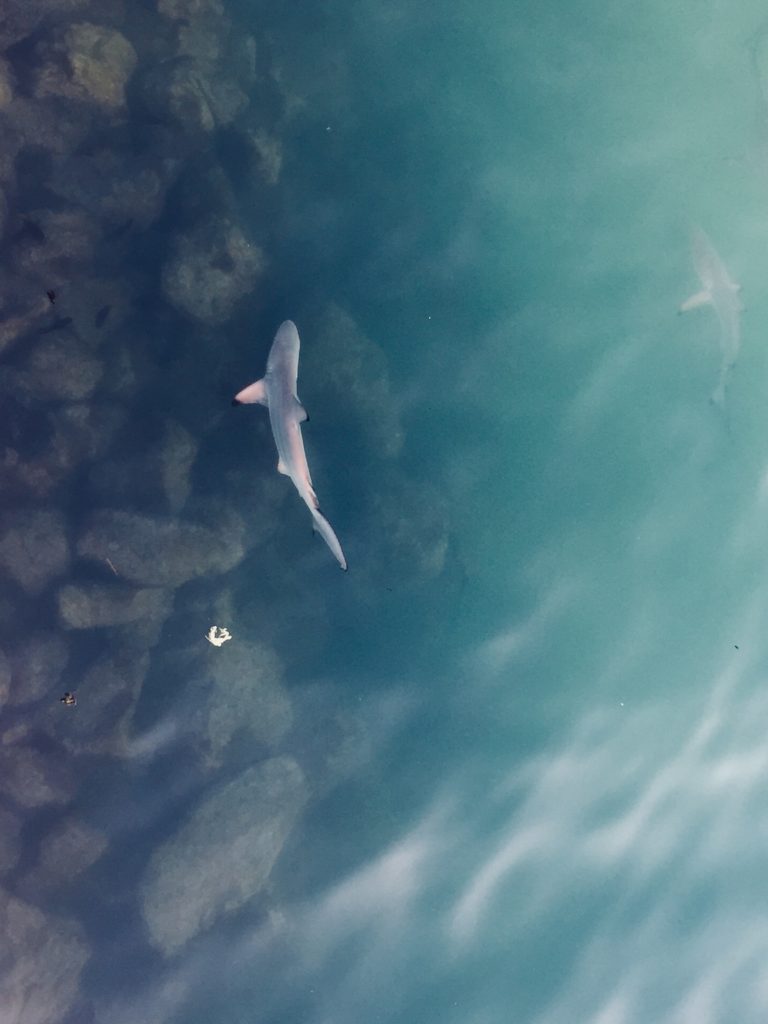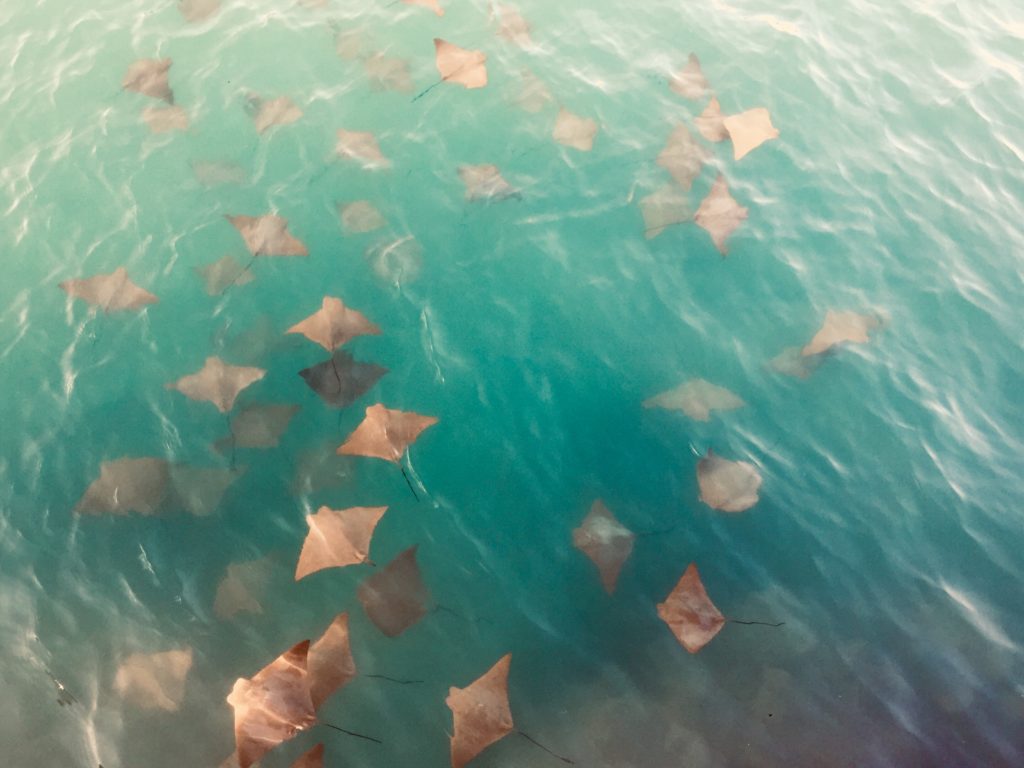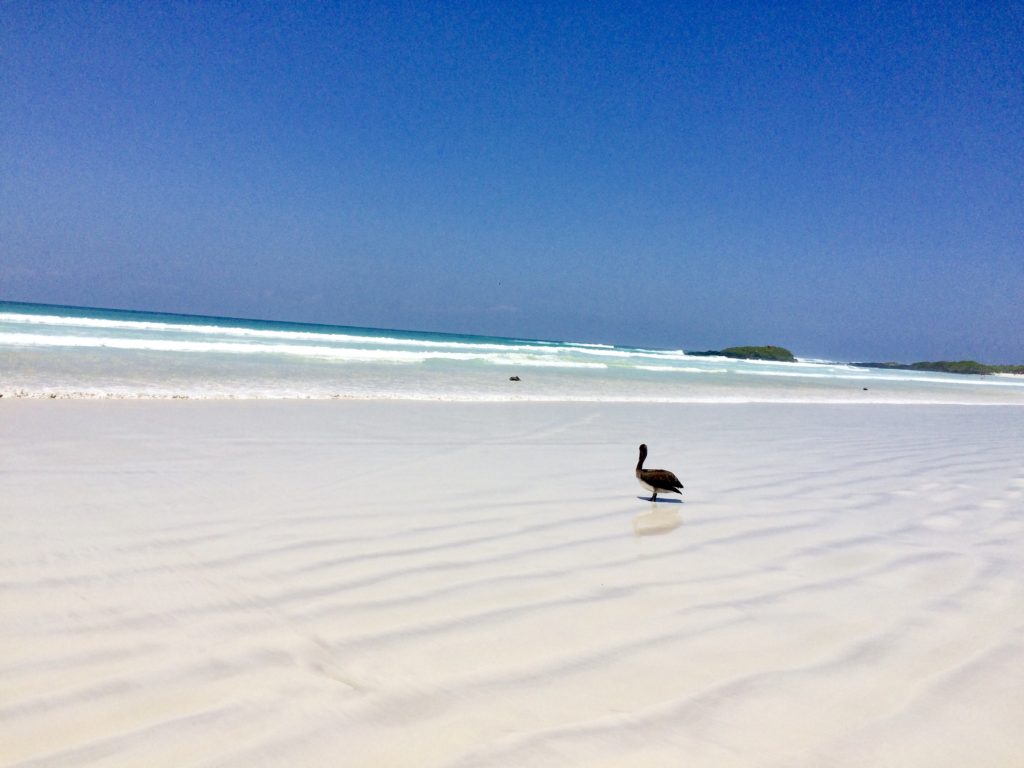 Whilst in Santa Cruz, we also swam in pretty cool waters in Las Tijeretas, sea water canals surrounded by huge rock walls.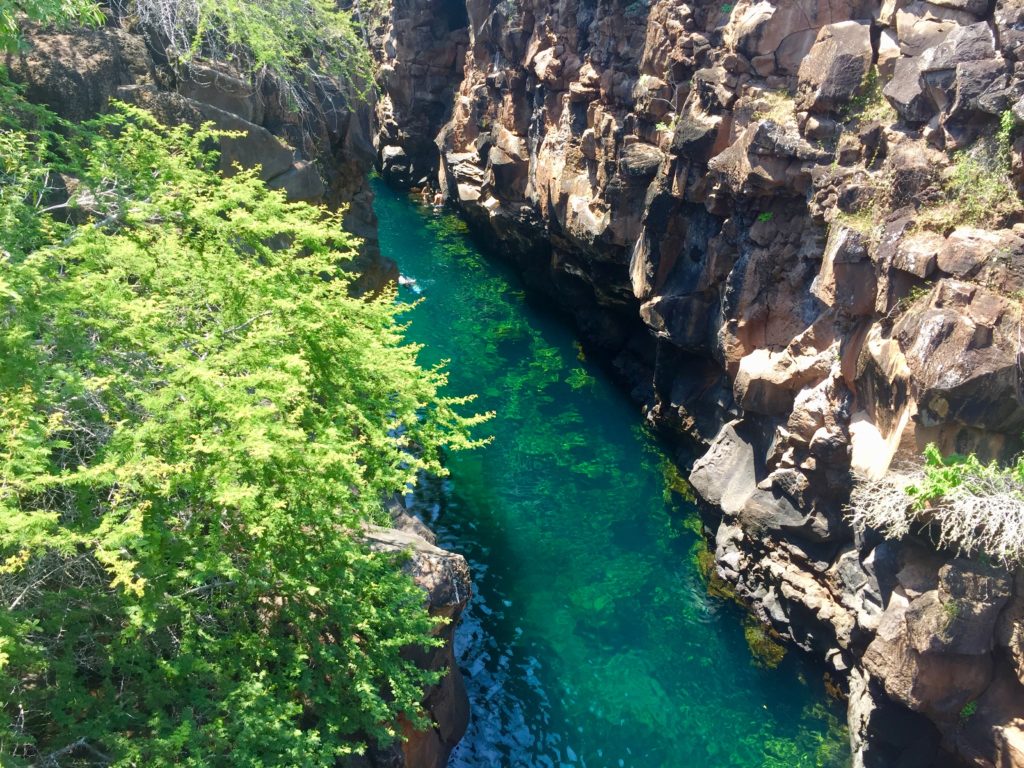 We spent some nice nights partying with our new Chilean friends, who are really a great fun, before heading together to our last stop island in Galapagos, Isabela.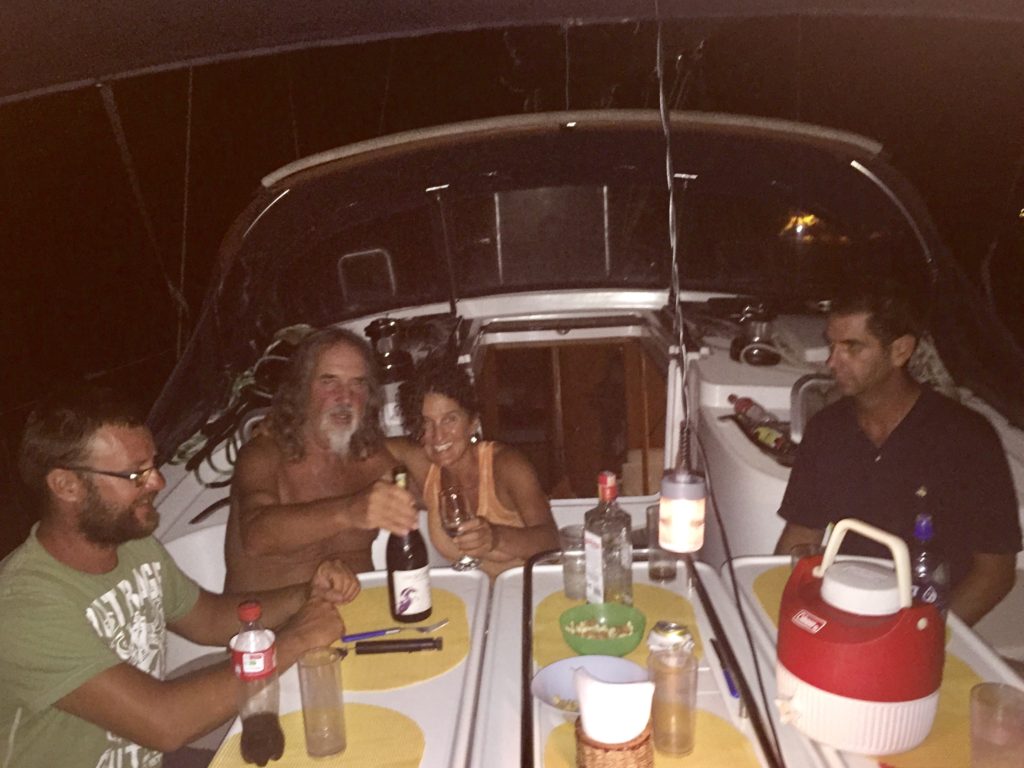 Unspoilt Isabela is pretty rustic and home to small penguins which were the last to see on our list. We were lucky to have them feed every morning under Mehalah's hull in the anchorage and retreating for the evening on the rocks nearby.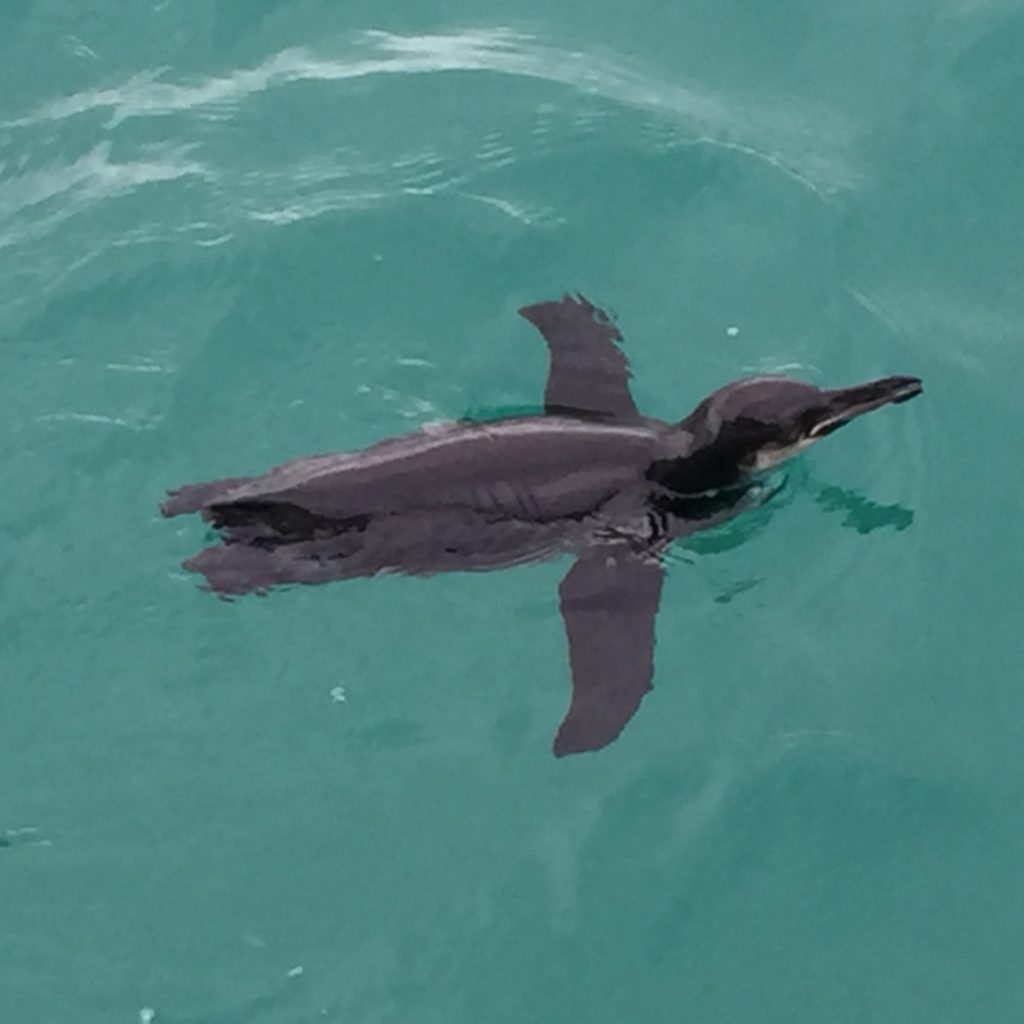 We snorkelled with turtles in Concha de Perla Lagoon, not far from our anchorage.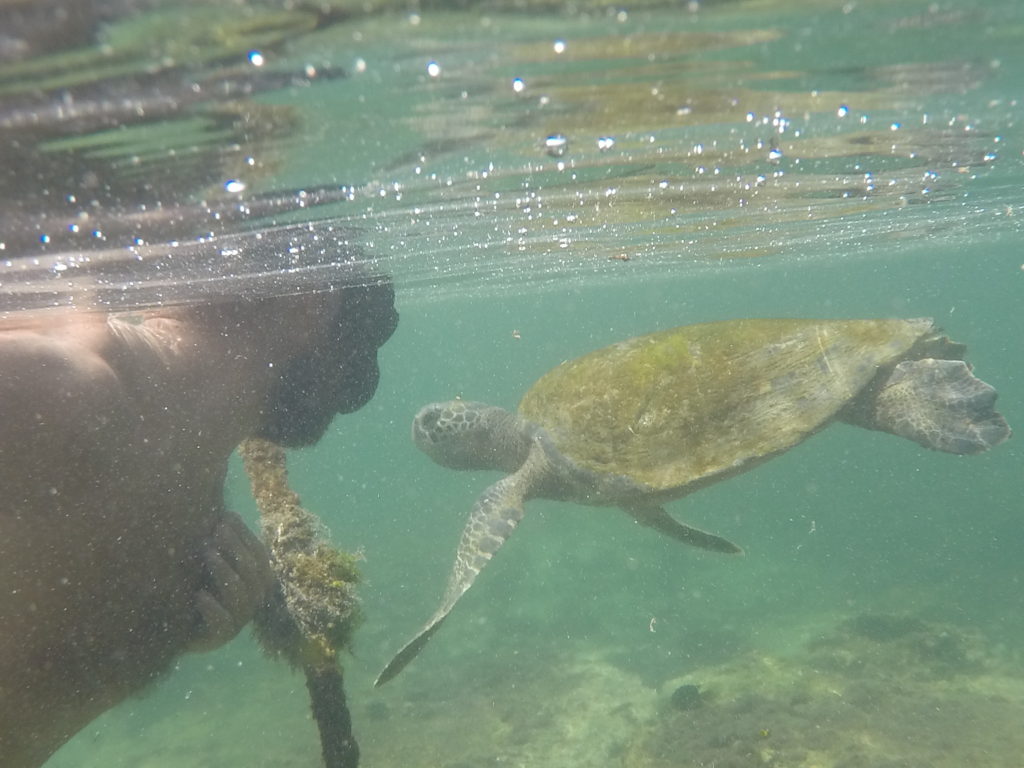 We also went for a day's walk with our Chilean friends to the Wall of Tears, crossing a few giant tortoises and some iguanas on our way. Many prisoners will have lost their lives trying to build a purposeless volcanic rock wall during the 1950s. It was a great day out. We washed it down with some refreshing beers at one of the local restaurants, that benefits of OK wi-fi 'El Velero'.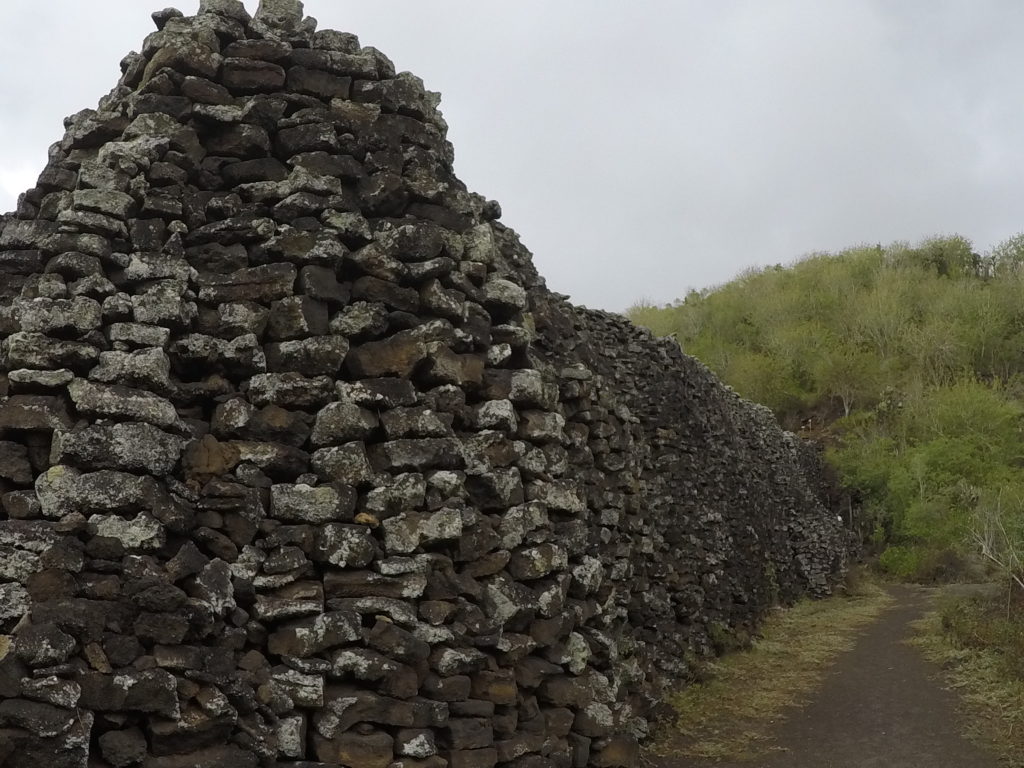 Since we did not come across the gracious flamingos that day, we walked the next day on an adjacent path to the Salina Lagoon where we found them. We were lucky to have the opportunity to admire again their unique beauty in close proximity.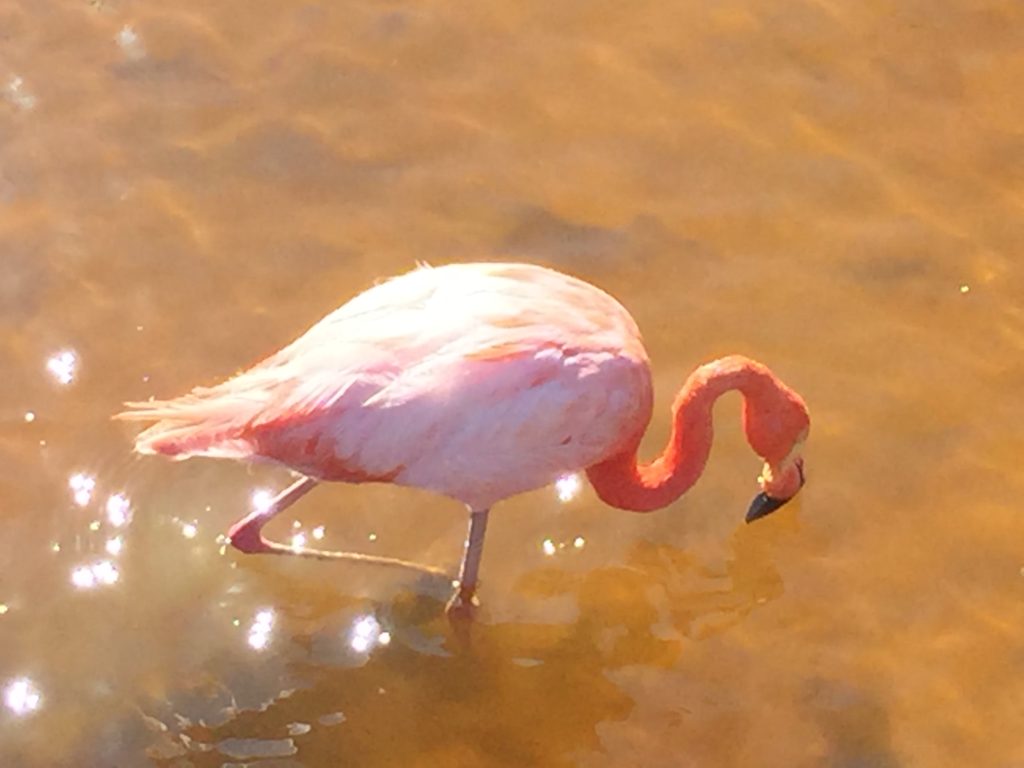 With all our targets ticked off and after making many friends amongst fellow cruisers (from Chile, Spain, Uruguay, Switzerland, North America and the UK) we left behind 'The Enchanted Islands' for a 3,000 nautical miles passage to The Marquesas in French Polynesia.