On Tuesday, 9 April 2019 at midday we set off from Isabela for the 3,000 nautical miles passage, sailing from Galapagos to Marquesas. Since there is no immigration office on wild Isabela, we had to pay extra for the immigration officers (including a search dog!) to travel to Isabela to complete the immigration procedure. We shared the cost with another sailing boat.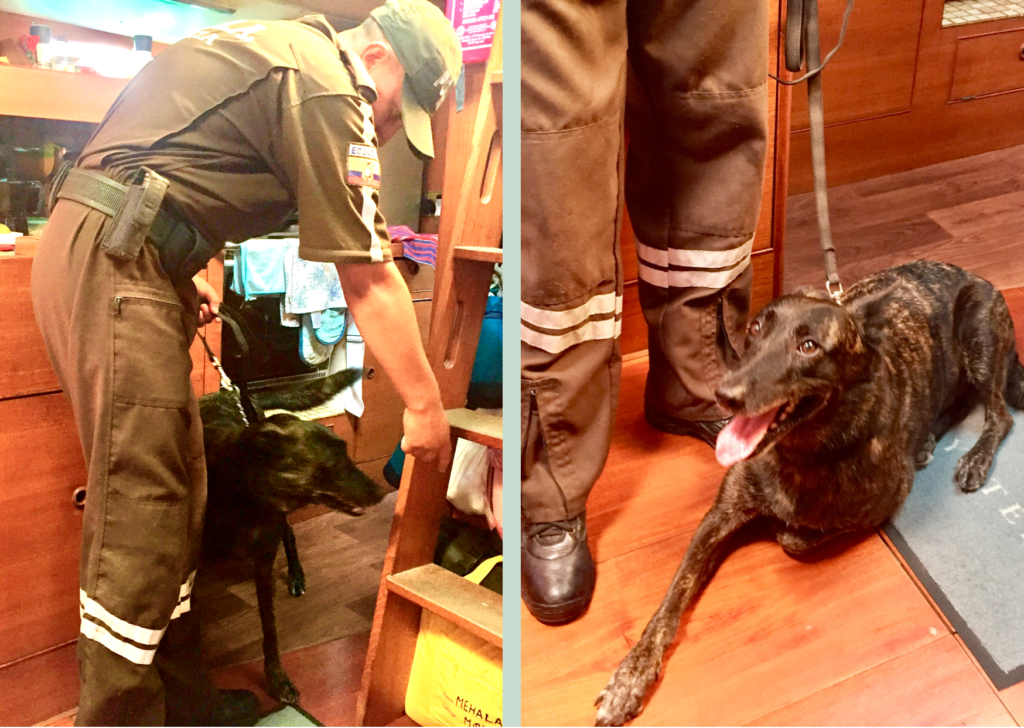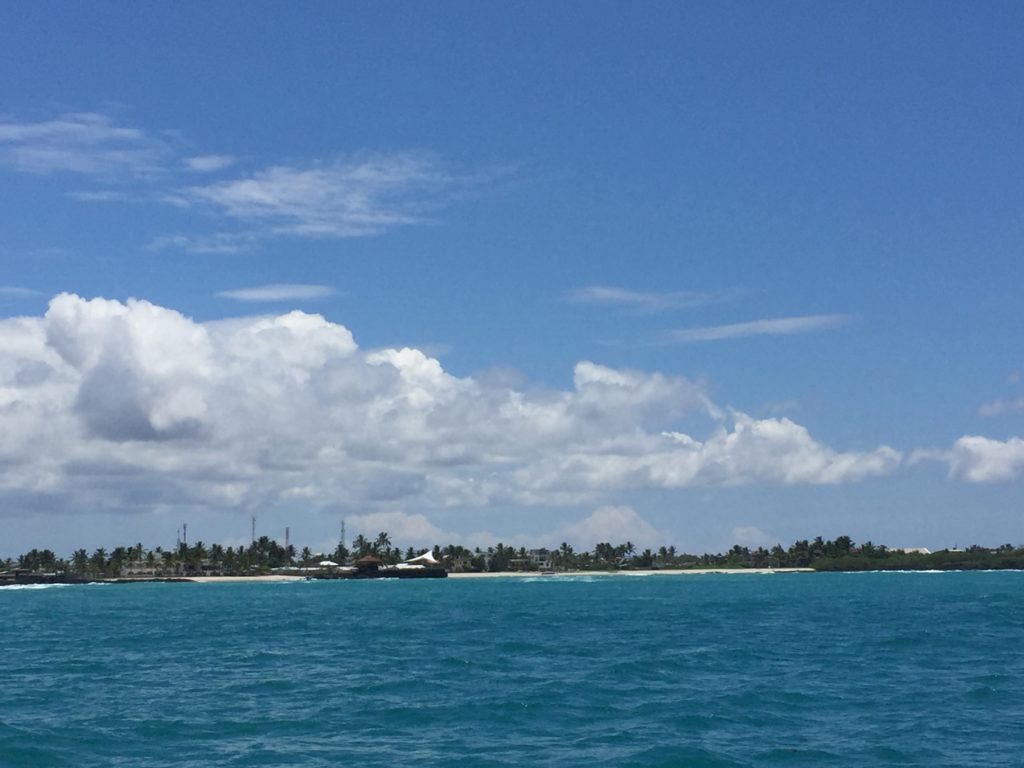 Although surely optimistic, Magellan called the immense body of water, which encompasses nearly one third of the Earth, Mar Pacifico. The very size of the Pacific presents unique challenges, let alone the currents, El Niño/La Nina phenomena, etc. Nevertheless, thanks Magellan for your optimistic approach and choosing such an inviting name. The South Pacific conceals many treasures that surely would have nudged any dreamer at some point in time…
We had very little wind for the first two days sailing across the Pacific in the Equatorial doldrums. We set a southerly course until we reached the Trade Wind belt and then we sailed south west towards the Marquesas.

Initially we kind of 'struggled' with the cruising chute. We turned on the engine when the wind died completely. The second night was particularly bad. The wind was light and fluky. Our cruising chute annoyingly flapped all night. In the morning we had no choice than to take it down and start the engine. Luckily till after midday when the winds nicely picked up to over 10 knots. We could sail again! The wind held.
On Sorin's watch that night, a big dark bird landed on our radar. After a full cleaning session, it closed in for the night. We were delighted to welcome our first ocean guest. Like children who wait impatiently all night to find the gifts under the Christmas tree, so we have waited to have a good look at our guest in the morning. Alas, at dawn it was no longer there…and the gifts left behind were lots of bird poo which we had to clean up!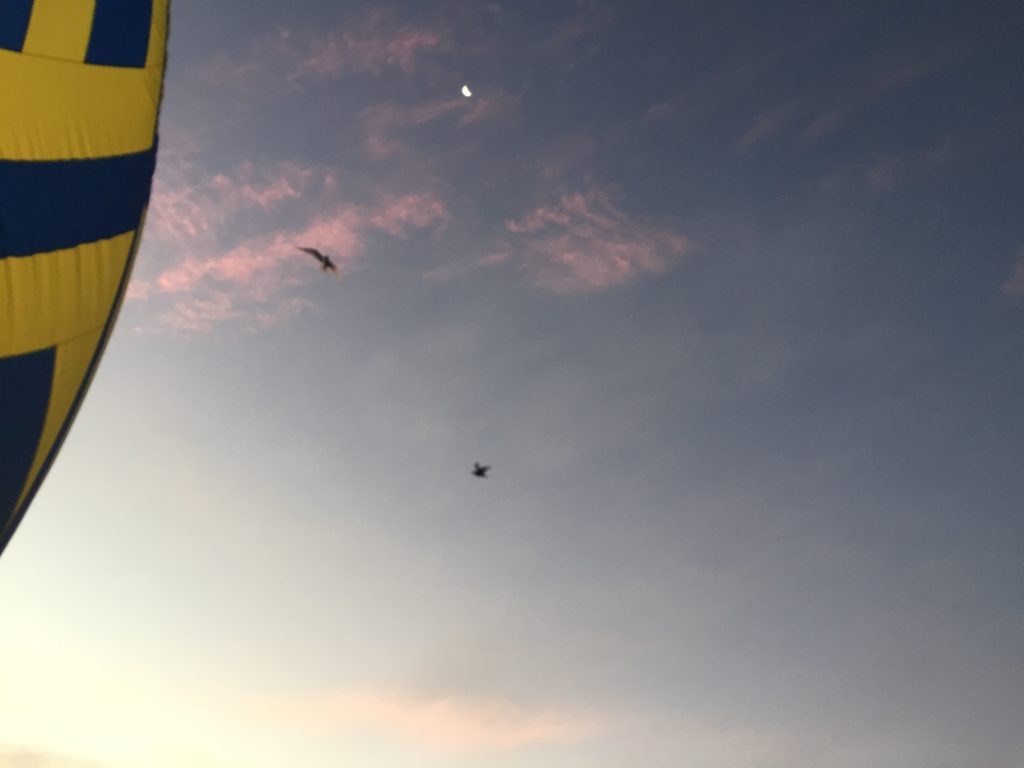 During the following few days we had light winds and rain. So much rain that it felt almost unreal. Rain is not an unusual occurrence in the doldrums where the North East and the South East Trade Winds meet. But it had become an unusual occurrence for us…We loved it! I had my first shower in the refreshing, yet warm tropical rain. We replenished our water stocks. Mehalah and the sails also had a good rinse.
The rain continued for days. With only short intervals of dry. Infernal rain. With lightening at night that made us jump off the bunk! And like anything in excess it started bothering us… As we progressed south west we have eventually got away from 'under the gutter' and the sun gloriously shone again.
In one of the dry spells we caught a beautiful Mahi Mahi, indication that there was nothing wrong with our bites. Perhaps the strong currents between Panama and Galapagos were to be held accountable for the lack of fish in that passage. Afterwards more dorada followed – unfortunately accompanied by not the most benign effects…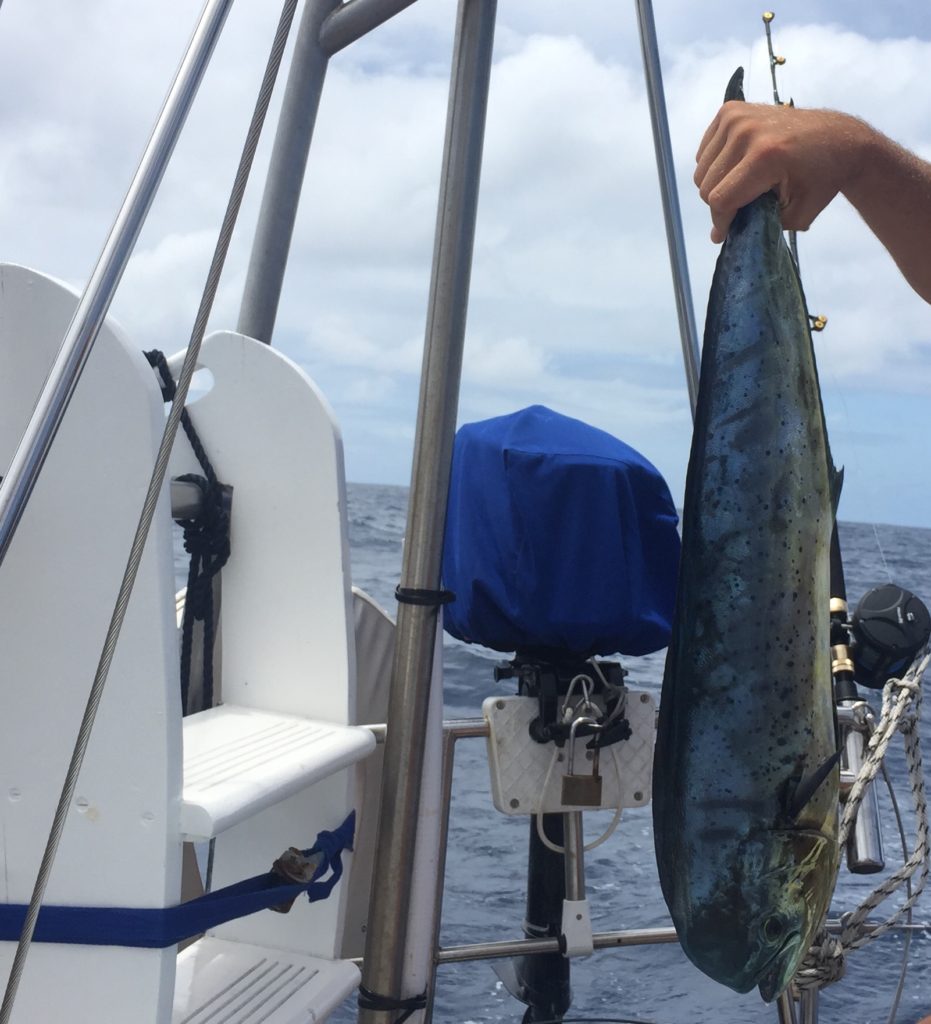 Compared with the Atlantic, once in the Trade Winds belt the wind was not as constant in terms of speed and direction. It kept shifting from south east (normal Trade Wind direction in the Southern Hemisphere) to south west and vice versa. The wind speed varied from 8 to 23 notes, with frequent changes. We were not sure whether 2019 has been deemed an El Niño year (last time we checked the probability was high), but these inconsistencies could have been related to the El Niño phenomenon.*
We experienced numerous squalls. Generally they were less violent than on the Atlantic. They were always accompanied by a sudden drop and shifting direction of the wind. No crazy wind speeds, but they lasted longer than on the Atlantic crossing and they were accompanied by lots of rain. The usual quick response was to furl in the Genoa and to center the main in order to avoid damaging sails flapping. We would also start the engine to maintain the boat's direction until the squall would pass and we could sail again.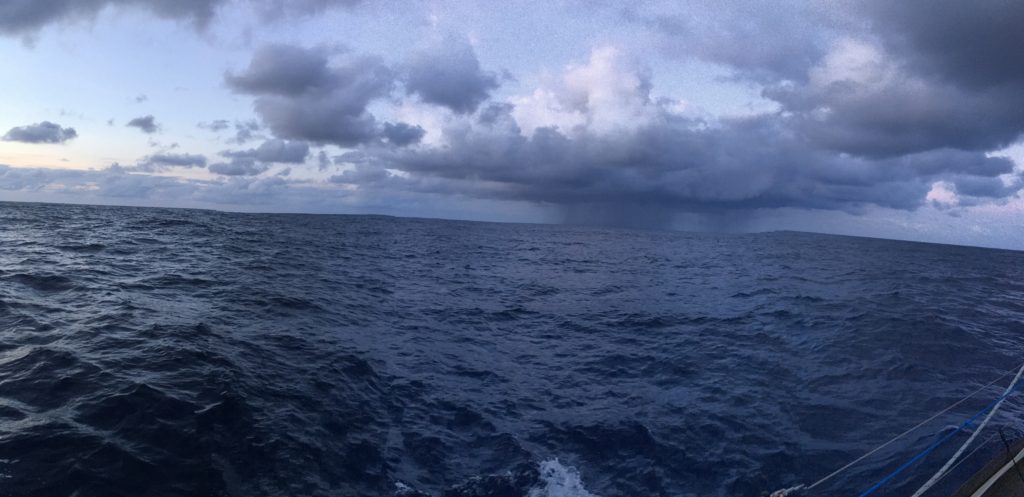 On one squally episodes, at night, the wind was shifting so violently that we had to get out in the cold rain to drop all the sails. In the pitch black without life jackets on (just because the response has to be immediate!) it is highly risky and nerve wrecking…
In tough moments we reminded ourselves that this is ocean sailing. We cannot expect it to be easy. As a good friend was saying when he heard we bought a boat:- "Sailing is not for children ".
During the trip we had a couple of hairy moments.
It was a beautiful sunny day when after lunch Sorin told me: "I will be at the bow" (front of the boat). Completely oblivious of what was happening I paused my dish washing to join him. I was gazing at the horizon when he asked me: "Do you feel hot?" I was not feeling hot. At contrary, we had a nice breeze that made me feel quite chilly. Surprised by his question, I turned around and I was shocked to see him boiling lobster red from hair to toe.

Those who know me well, will know that in situations of high stress I have the strange reaction of bursting into laughing. Of course Sorin is amongst the few who know me well, but my reaction, given how he was feeling, could not annoy him less! To cut a long story short, I was scared to death realising that something was terribly wrong and we were in the middle of the ocean.
Not long after I felt and looked the same. We took an anti-allergic each and after chills, stomachaches and headaches, we eventually returned to normal. We blamed all sorts from nuts to mayo. We could not imagine that the fresh dorado we had for lunch could be the culprit…Until after a couple of days when we had again dorado with similar, but much milder consequences. Now, those of you who know about ocean fishing would appreciate how odd this was. Poisoned fish feed normally on coral fish. We were in the middle of the ocean, with depths of around 4,000m, so no corals around. What was it, then?
Once we reached French Polynesia, with access to the internet, we investigated further. As expected, it had nothing to do with ciguatera. It was caused by the fact that, in order to save power, we were turning the fridge off at night, so we did not store the fish at adequate temperatures.
One relatively calm evening after watching a movie, we were getting ready for the night down below when we heard a very loud bang. Imagining the worst I was panic stricken. Sorin dashed on deck in the dark to check. It was only the boom preventer (a metal piece that prevents the boom from gibbing) that had snapped off. Under my close 'supervision' with his life jacket on and strapped this time, Sorin managed a hand made boom preventer. Sailing without a boom preventer with following seas is very dangerous as the boom can jibe and break, or even worse can break down the mast. Yet again, Sorin's temporary fix was fantastic, safely taking us to our destination.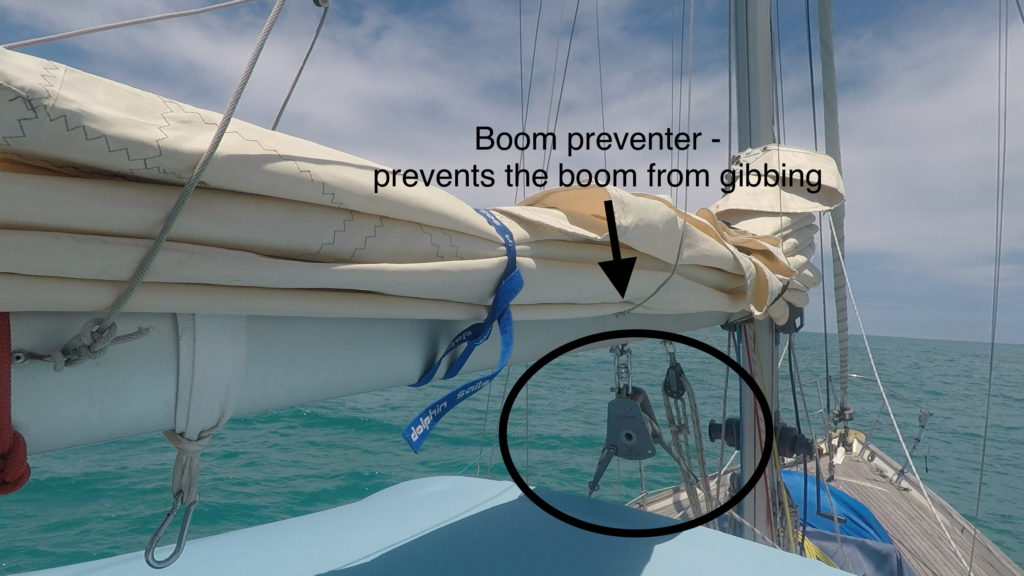 The last days sailing across the Pacific were somewhat painful. We were becalmed for more than 24 hours, whilst our Chilean friends (who left Galapagos at the same time) were already in Nuku Hiva. After using the cruising chute for a couple of days we had no choice but turning the engine on. Even so, our progress was slower than usual. When Sorin examined the hull he had a shock. It was completely taken over by barnacles that had grown since we left Galapagos – uninvited and pretty disgusting guests that we dragged along until they found their end in Nuku Hiva, where Sorin revenged Mehalah, scraping them all off.
At 14:45 local time (18:15 ship's time) on Saturday, 4 May we sighted the island of Ua Huku. It is always a good feeling to see land after a long time…just a tall shade rising above the horizon, so close and yet so far! From the time you see it to the time you reach it, you have to sail on for at least a few good hours…Nevertheless that dark shade on the horizon ignites a great deal of anticipation, but also melancholy for the limitless of the ocean that will soon be left behind.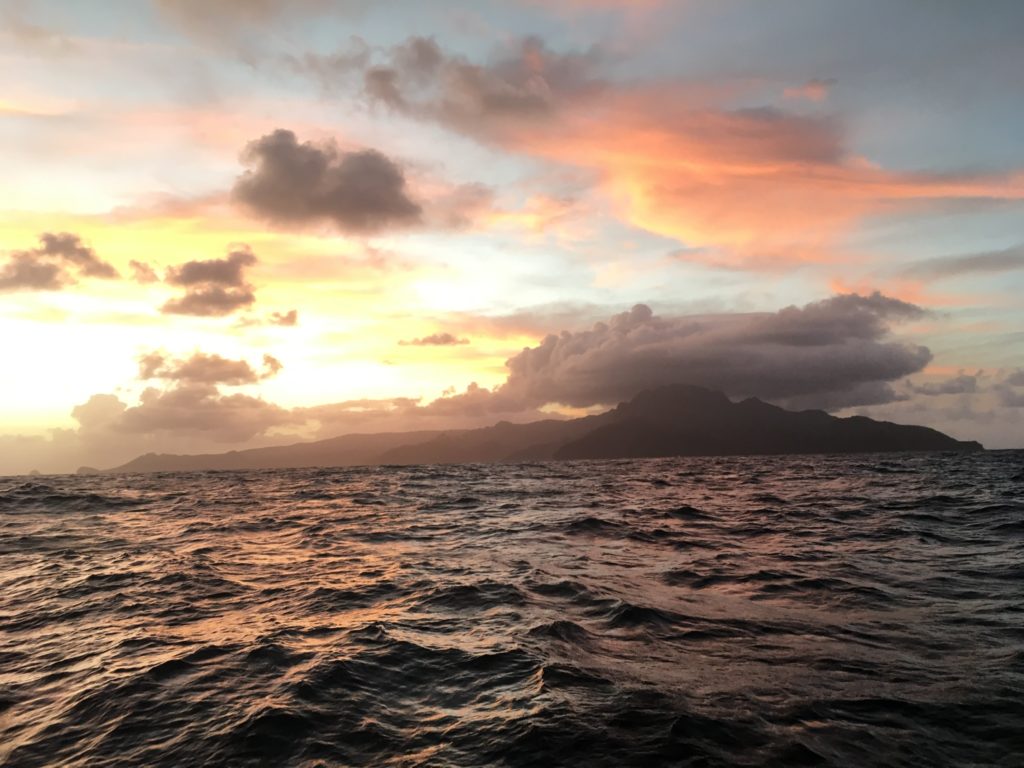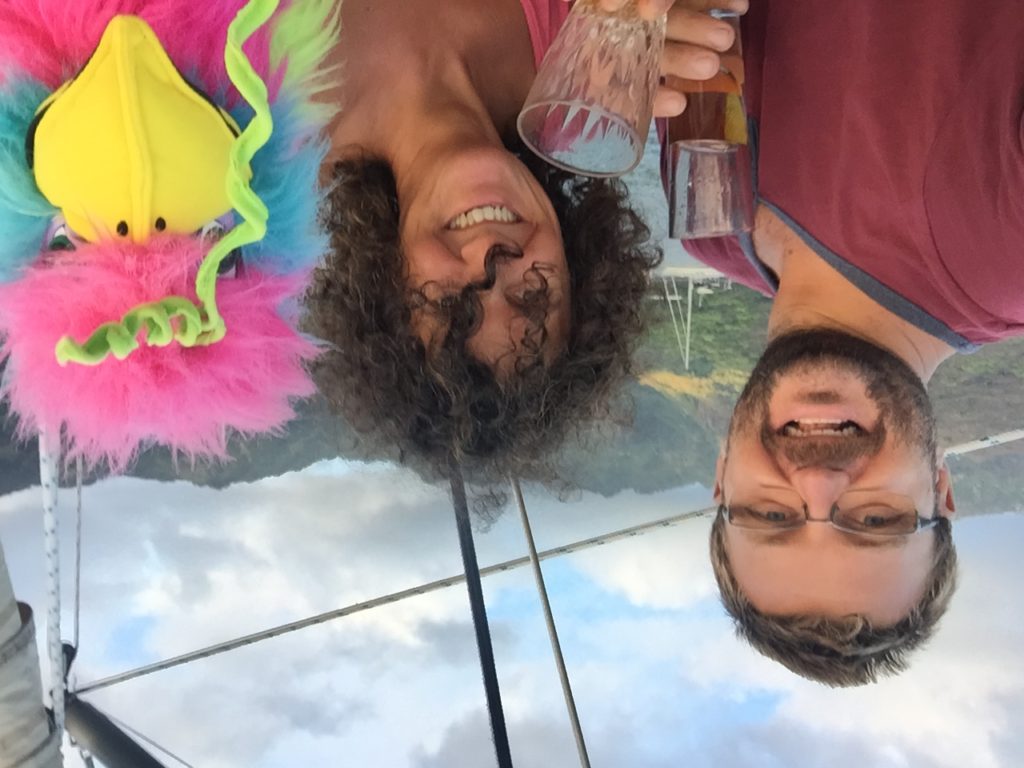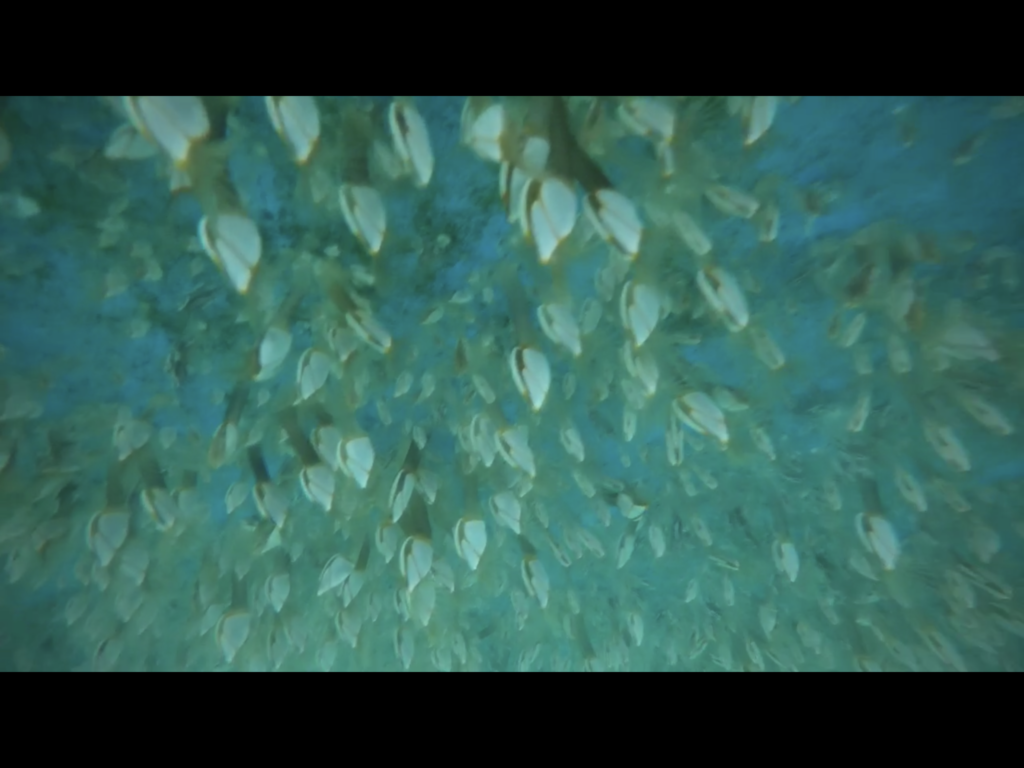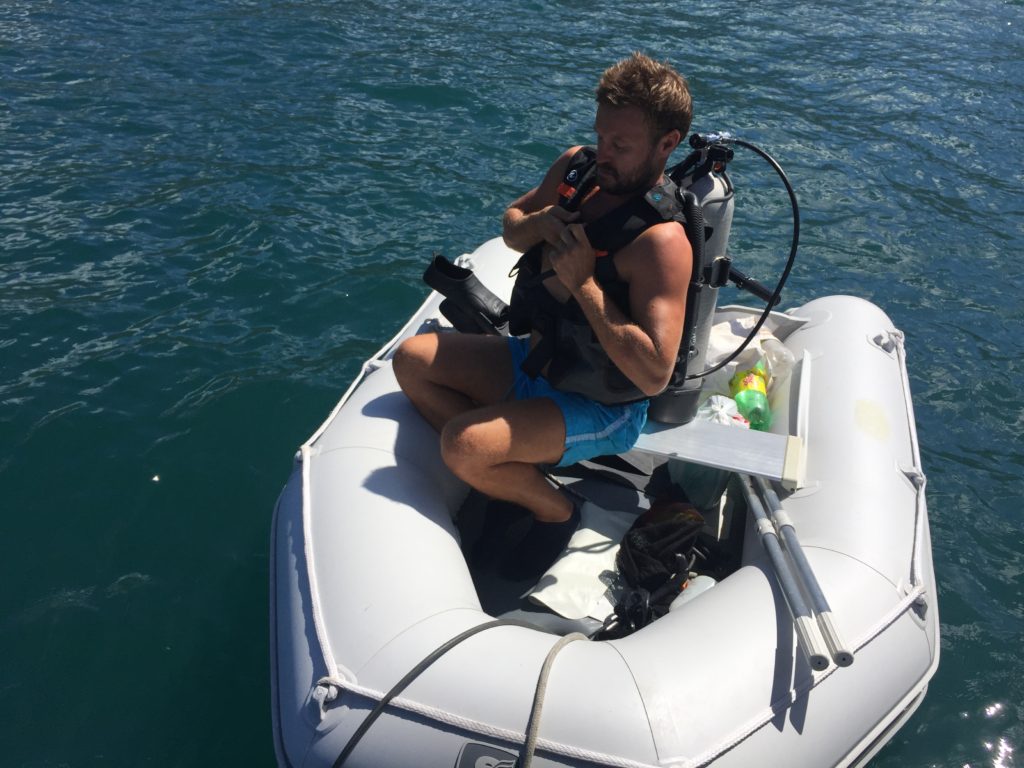 All in all it was a good passage. The more we do something the more we get accustomed to it, so generally life onboard during long passages became more natural to us. Even the flapping of the sails when there wasn't enough wind (albeit far less than on the Atlantic) became more tolerable.
————
* For Pacific weather updates and area specific phenomena please check:-
www.metbob.com
and/or
https://youtube.com/c/WeatherWatchNZ1