– We will pull this one through as well. We are a winning team.
– No doubt we will.
In a challenging situation, like the one we were finding ourselves in, it helps verbalising/visualising your positive thoughts. You almost want to make yourself believe in a positive outcome. And guess what? Having a positive attitude works.
We had left the pass to New Caledonia south lagoon behind that morning. Our Caledonian friends saw us out aboard their sailing yacht. It was pretty emotional. This warm goodbye left us in the highest spirits.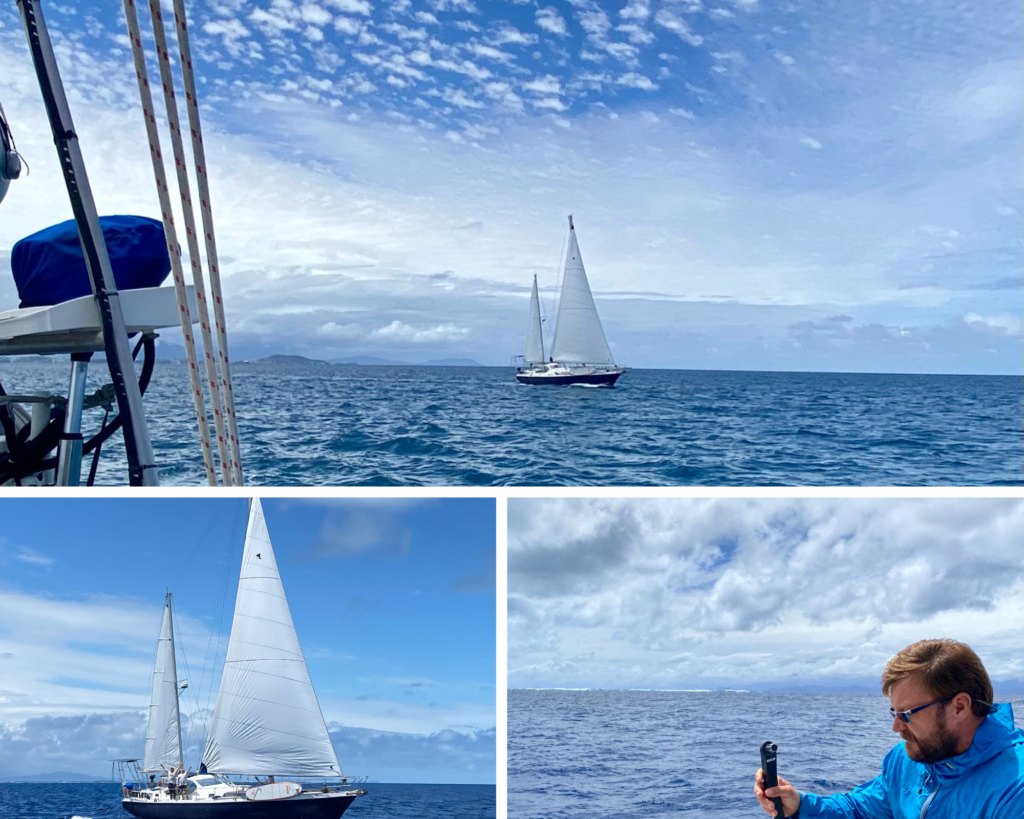 Sailing from New Caledonia to Australia we were on a high anticipating our upcoming encounters with the kangaroos, cockatoos, and crocodiles. We had no idea what was awaiting just around the corner.
The night had fallen on a calm but sturdy ocean. Mehalah was advancing resolutely under sail towards our new destination: vast Australia. I was dozing off in my bunk, when I am brought back to my senses by some intermittent muffled noises. Sorin was going around in circles trying to figure out where the bangs were coming from. Increasingly worried, I was waiting quietly in the dark for the outcome of the investigation being carried out, whilst the bangs were intensifying.
– We lost direction was Sorin's verdict.
Thoughts were rushing through my mind.What? How come? We had serviced the quadrant and checked our autopilot just before sailing off. We will not succumb to the first adversity. We will work it out. Whatever it takes.
Easier said than done. I had to jump out of my warm den into the cold night, without proper gear. I did not have any handy. Unfortunately I was not ready to deal with the unexpected. Lesson learned!
There I was on deck in a matter of minutes, half asleep and half sea sick, feeling cold and numb holding on the helm for dear life.
It is said that if the sea sickness is haunting you whilst sailing to feel better you should get on the helm. In my case the opposite happened. After a good while on the helm I had to make an emergency exit towards the nearest guard rail.
Reminded of my weakness and questioning my ability to hand steer for 7 days, Sorin suggested that we have the option to return to Noumea to fix the autopilot. We had only sailed away that morning so we shouldn't have covered a great distance.
I assured him that I'll be alright. I am the greatest advocate for stretching our limits, as human beings. Here I was putting myself to test once again. This time, sailing without autopilot on a long passage. It was hard work throughout, and especially before forming a routine. But, it worked.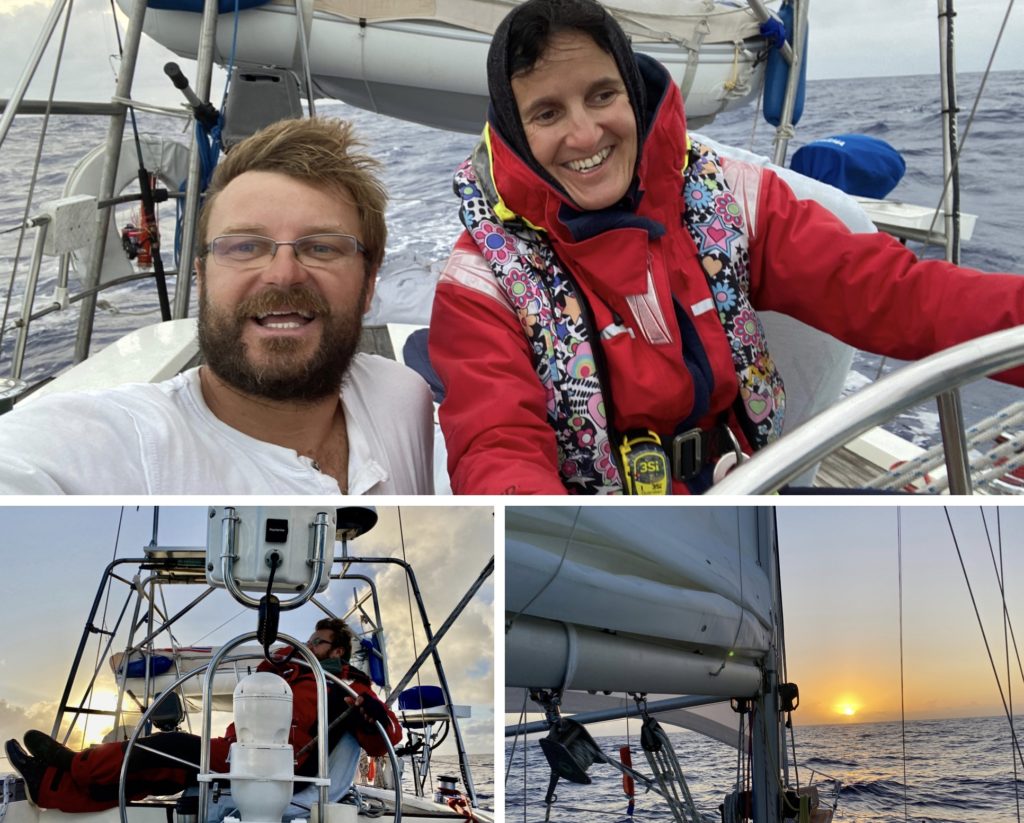 Once the routine was formed we did what we had to do naturally, trying to support each other the best we could. The most annoying, aside the unavoidable tiredness, was the inability to have a meal together. One would cook, eat and start the shift. The other having ended the shift would eat and go to sleep for a couple of hours. Then start again.
Depending on the wind strength and direction, sea state and point of sail, steering a course can be an exercise of strength and determination or a test of swiftness and finesse when winds are light. You become one with nature enabling its force to work in your favour. It requires full awareness and undistributed attention. Otherwise you can suddenly find yourself amidst a chaotic situation that is hard to regain control of and can cost you dearly.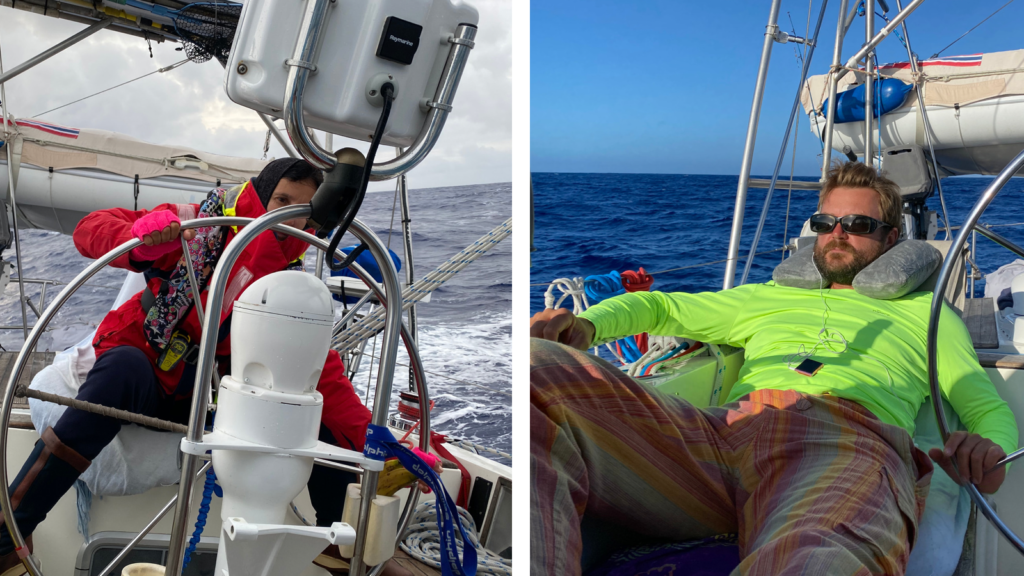 We were lucky with some moon activity. The lampshade stayed on every night, intermittently being turned off by a dark cloud rushing by. Its warm light was most comforting through the very long and lonesome nights. Perhaps the longest nights in our sailing life!
On the seventh day we made landfall in Brisbane just ahead of some strong southerlies that would have crossed our path shouldn't we have pushed on hard.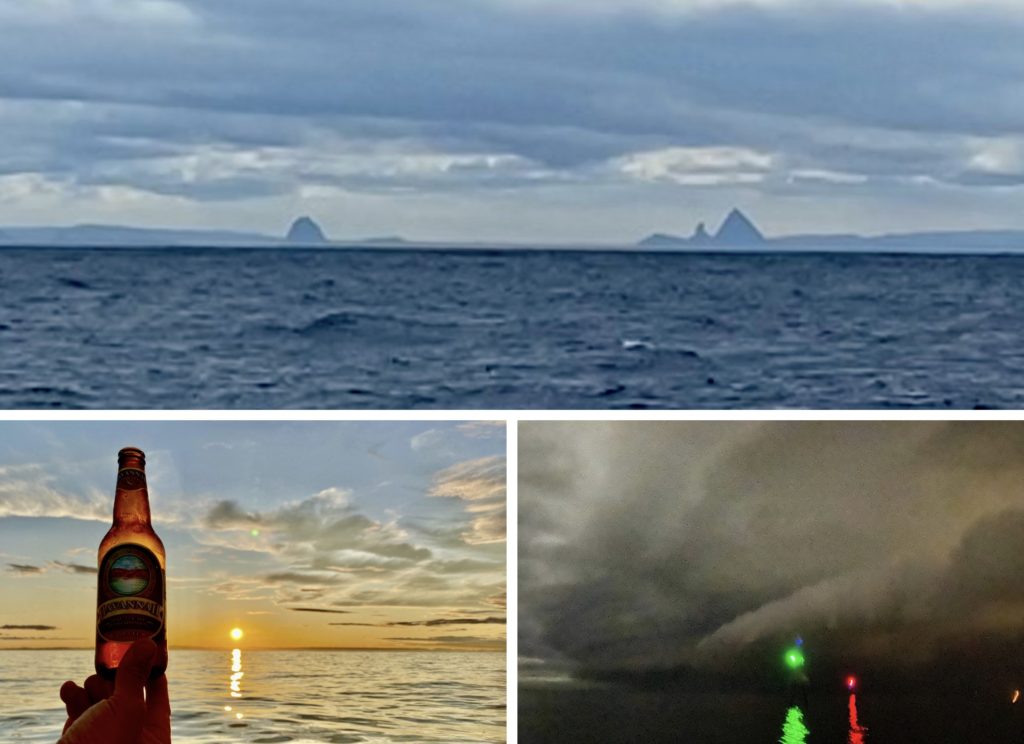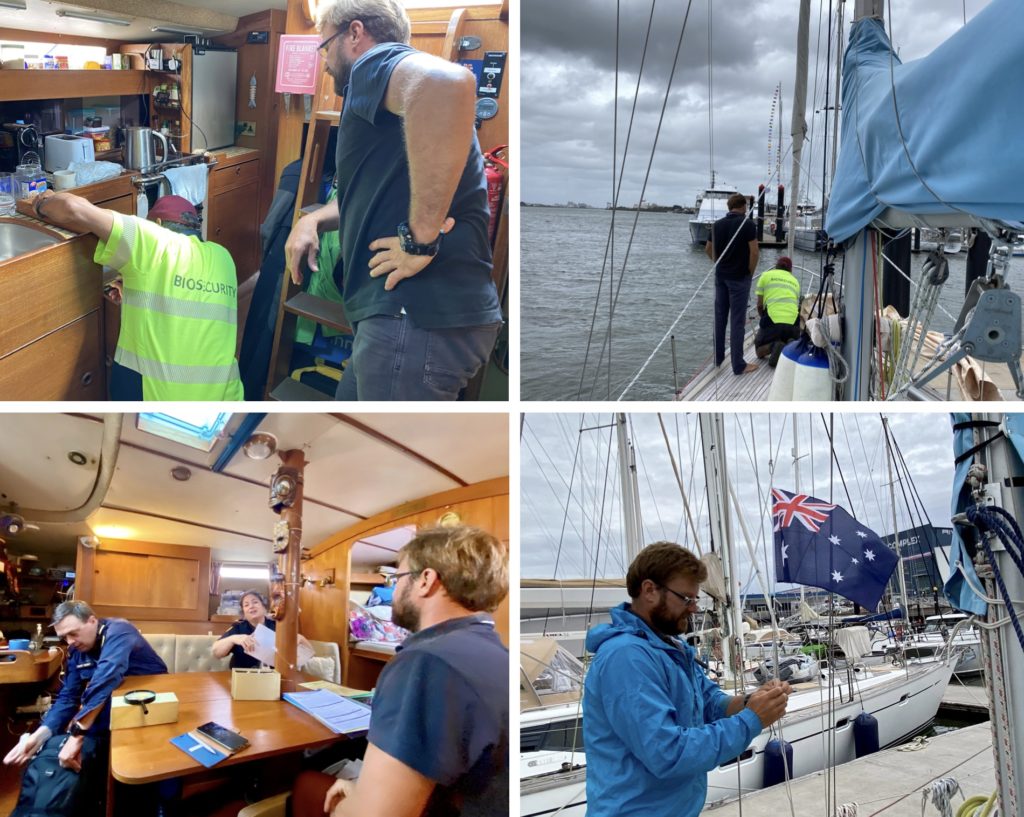 We feel a big sense of relief and gratitude. This undesirable experience, unique in our sailing around the world, reminded us of the value of a self steering system. We are now fully aware of the incredible hardship an autopilot puts in, in order to take a boat from A to B. To do it manually on a long passage short handed is extremely draining. Only love can power such an exhausting endeavour.