We had Music Maker for a year. We spent many weekends sailing her in the Thames Estuary, on the River Medway, around the East Coast of England and we crossed the channel to France and back. We met interesting people and we've seen interesting places. Very light, fast and with enough room down below to spend the weekend or even a week or two, it was a true delight sailing her. She brought us many moments of joy…along with the much needed experience for novice sailors and boat lovers.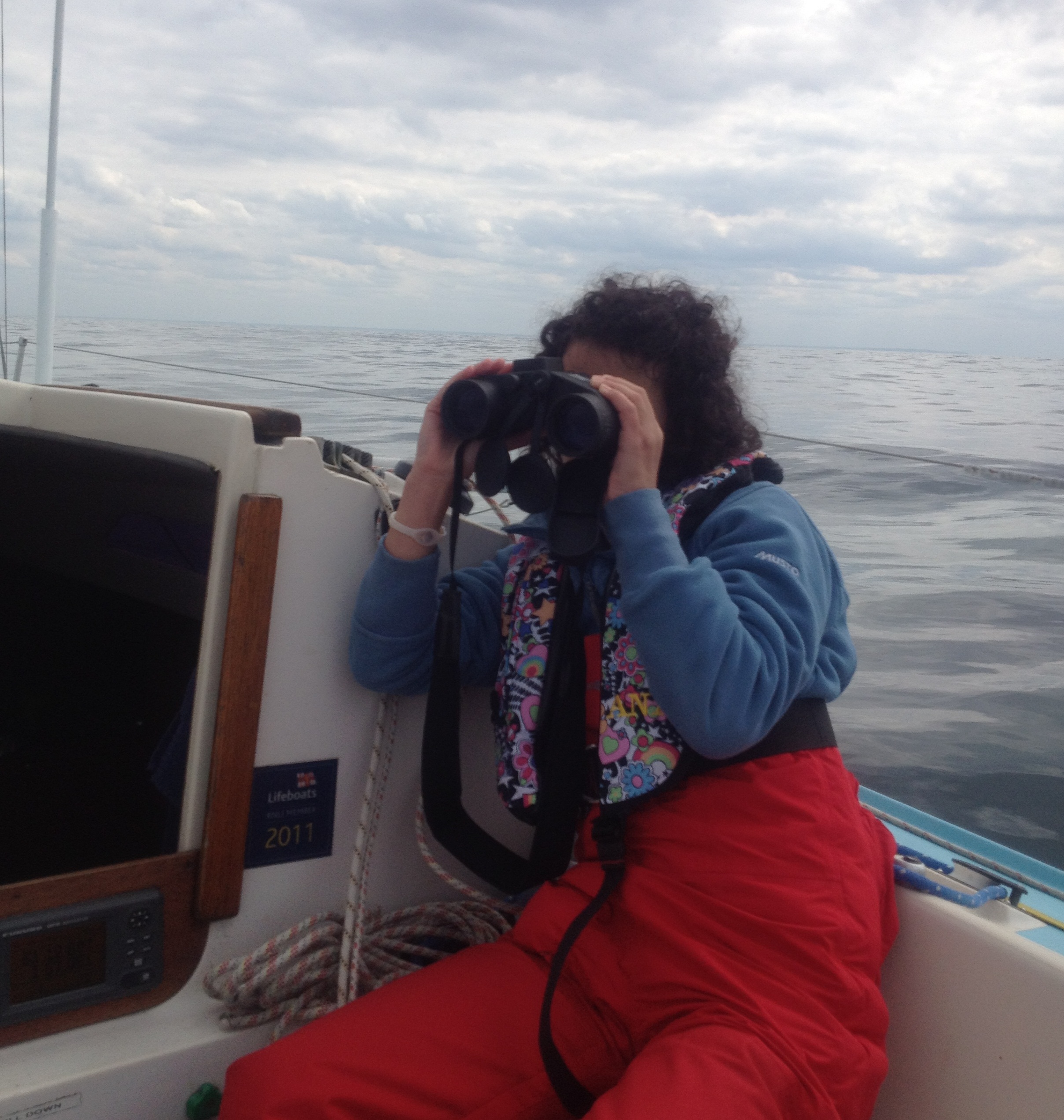 Until one day when Sorin tells me that he would like a bigger boat – a boat that would have enough head room down below. I replied that I was not keen on a bigger boat, unless we could live on it. Unknowingly I set Sorin on the secret mission of buying a sailboat to live on – again with no money in our bank accounts. But, Sorin can dream big!
In his online search Sorin came across a sailboat moored in Almerimar, Spain. He thought that sailing boat was exactly what we needed. Next day Sorin went to the bank and took a personal loan.
Now, with the money in his bank account and ready to fly to Spain, he had to share his secret plan with me. Of course I was revolted to hear that he had borrowed money behind my back! But when you love someone you need to get over the things that you don't like. Especially since it was a 'fait accompli'!
Sorin booked his flight, hired a car and met the sellers at the marina in Almerimar. To his disappointment, the sailing boat he took a loan for and hoped to be of a '5 star standard' was far from what he had expected! She had been hauled ashore for many years, covered in osmosis, dust and dirt. With a poor layout, the interior resembled very much with a cave – dark, mouldy, and overall very dated. There was sadly a huge gap between the online description and the reality! Deflated Sorin flew back to England to a bitching girlfriend who kept insisting we should give the money back to the bank.
Of course that was not an option, and luckily the Southampton Boat Show was just around the corner… We had been going to the show every year with no particular reason. Yet, that year we had a purpose. We had some money in the bank account for which we were paying interest and so we had to spend it. Not unwisely though! Before heading to the boat show we went to the used boat show, in Swanwick Marina on Humble river. This time, there was every chance to find the dream boat that we could afford!? Once we've got there we realised that our hopes where wishful thinking again! Every boat on display was far beyond what we could afford. Until Sorin's keen eye fell on Mehalah.
An Oyster Mariner 35, she looked like a true ocean going live aboarder. She had a strong built in keel and a solid mast, clean hall and well calibrated rigging. The teak deck was worn out, though. Unlike Sorin, I was overall not impressed…But when I went down the companion way and I sat in the saloon, looking around and through the stern window, I told Sorin: "I could live here."
That was the beginning of another adventure! We thought we were buying a sailboat to live on, when in fact we were buying a sailboat to sail around the world. But how could we have seen the future?
It is true that when Sorin was offered his Day Skipper course as a birthday present, shortly after our first sailing holiday with friends, I had planted the seed for this big dream. Purely speculatively, I had hinted that the sailing course could represent the first step towards sailing a sailboat around the world?!
We had to sell our beloved Music Maker, raise more funds, put Mehalah in the water and sail her to the Thames Estuary. Failed attempts to borrow the outstanding amount from marine mortgage brokers led to me taking a home improvement loan from my bank. We sold Music Maker in record time online to a Czech buyer. Sailing Mehalah to the Thames Estuary had to happen very soon. Marinas in the Solent are expensive and the autumn was well underway! We had to plan and make things happen around the clock. Surveying the boat. Servicing the engine. Checking all electronics (most not in working condition!). Finding crew. Dropping Mehalah in the water.
A young chap from London joined Sorin in the Solent the evening before the scheduled launching. The first hurdle came when Mehalah was in the water and the engine did not start.
Now I will need Sorin to help me out with the story!