– Shall we have a look?
By the time I could answer (and my answer would have been "no"!) Sorin grabs the torch and unzips the rooftop tent.
Surprisingly the dingo was not in such close vicinity as the howling sounds were suggesting, but a mere 10-15 metres away. It was sitting, looking straight in our direction, where the light was coming from. It eventually went on a final howling round, like to say "hey, this is my territory!" and wondered off.
It took us a long while to fall back to sleep. What a shame not having a camera with us in the tent! Towards dawn we heard another long howling, but in much greater distance this time.
We were camped at Toddy's bush camp, 300 km south east from Uluru.
We were going to revisit the same spot on our way back after about three weeks, hoping for a second encounter. To our big delight, whilst having dinner by the fire, what do we see glaring in the dark? Two pairs of red reflecting eyes. They were there. We were most amazed and grateful for this second brief encounter, that offered us the chance of a couple of snap shoots.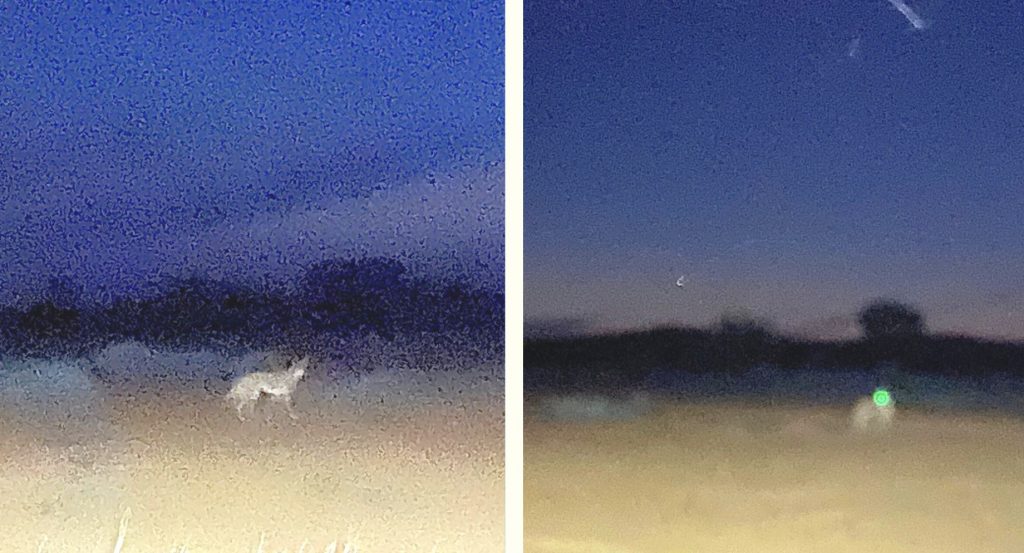 ——————————-
The scenery is getting drier and drier. The ground reder and reder. The insects omnipresent. Flies increasingly annoying. No human habitation, just regular roadhouses or homesteads where we could fill up and/or grab a bite. We were eager to reach our destination.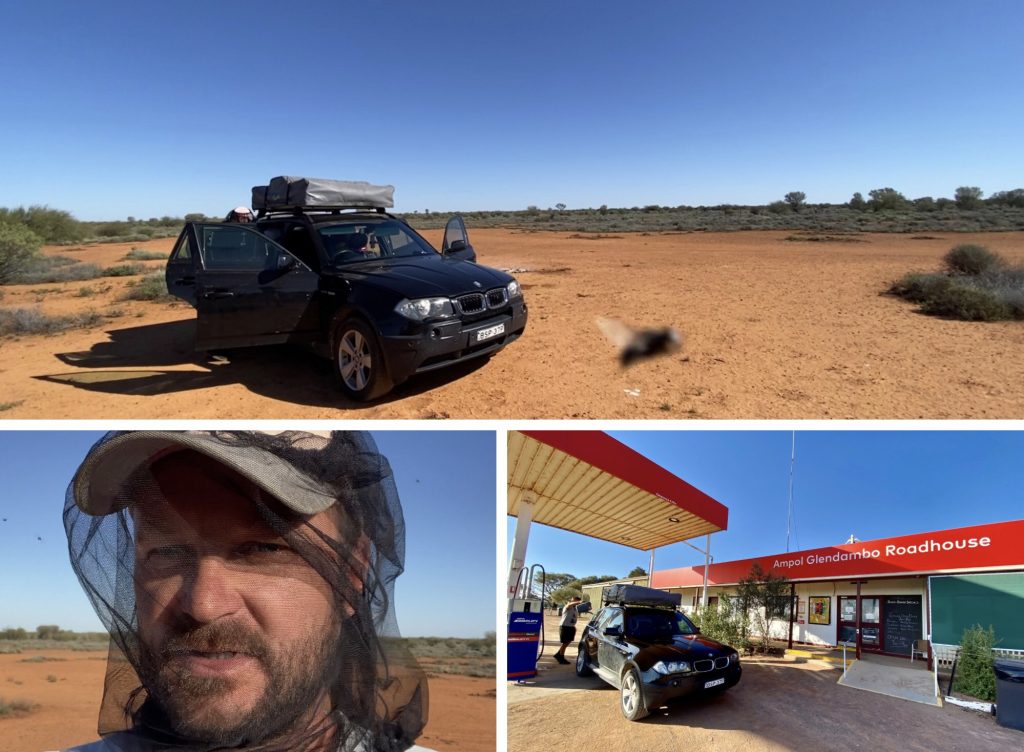 As we advance north on Stuart Highway towards the very red hot centre of Australia the single lane highway starts melting on the elusive, ever expanding horizon. We can easily see the curvature of the Earth.
Less waterholes. Less emus. Bilbies become the usual road casualties. We spot wedge tail eagles waiting for a road kill to happen for a fresh meat treat, whilst roadside snakes are looking futilely for a 'pedestrian crossing'.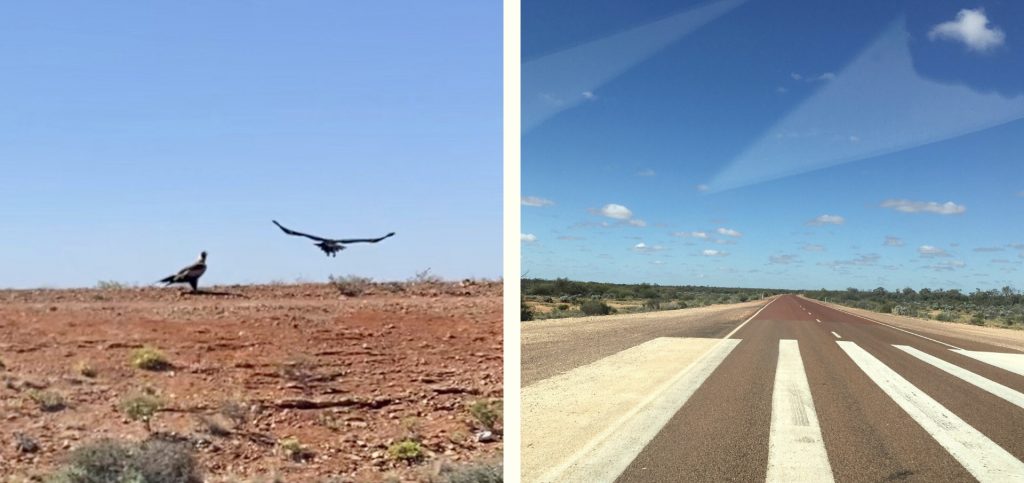 Physically and figuratively, it was getting hotter with every mile. Our impatience was growing with the heat. When approaching Mount Connor, 150 km from Urulu, despite the view being impressive, we had no time for it. We knew 'the king' is awaiting its devoted and humbled 'soldiers'. We were going to be promptly reporting!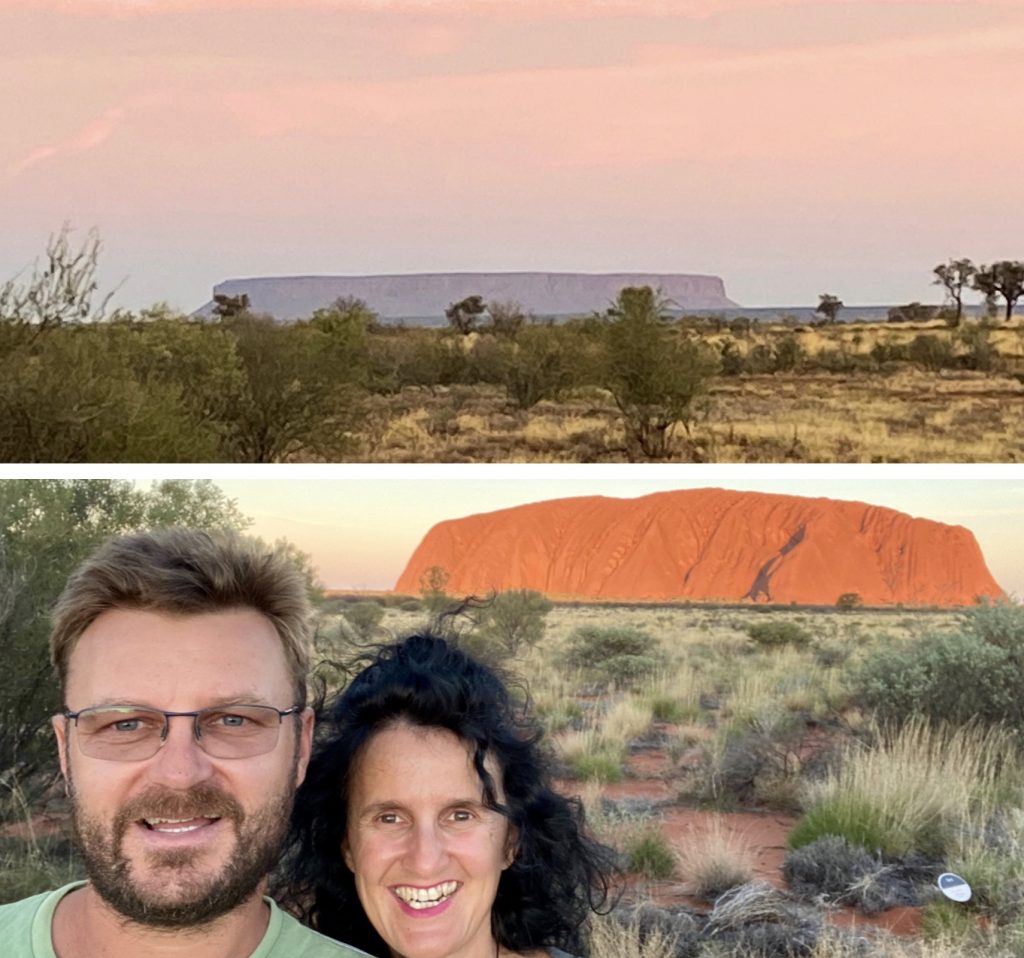 Uluru-Kata Tjuta National Park, right in the Red Centre of Australia, is recognised as a World Heritage Area, being dual-listed by UNESCO for outstanding natural and cultural values. Spectacular geological formations of exceptional natural beauty, rare plants and animals, and the traditional belief systems belonging to one of the oldest human societies make this a unique place on Earth.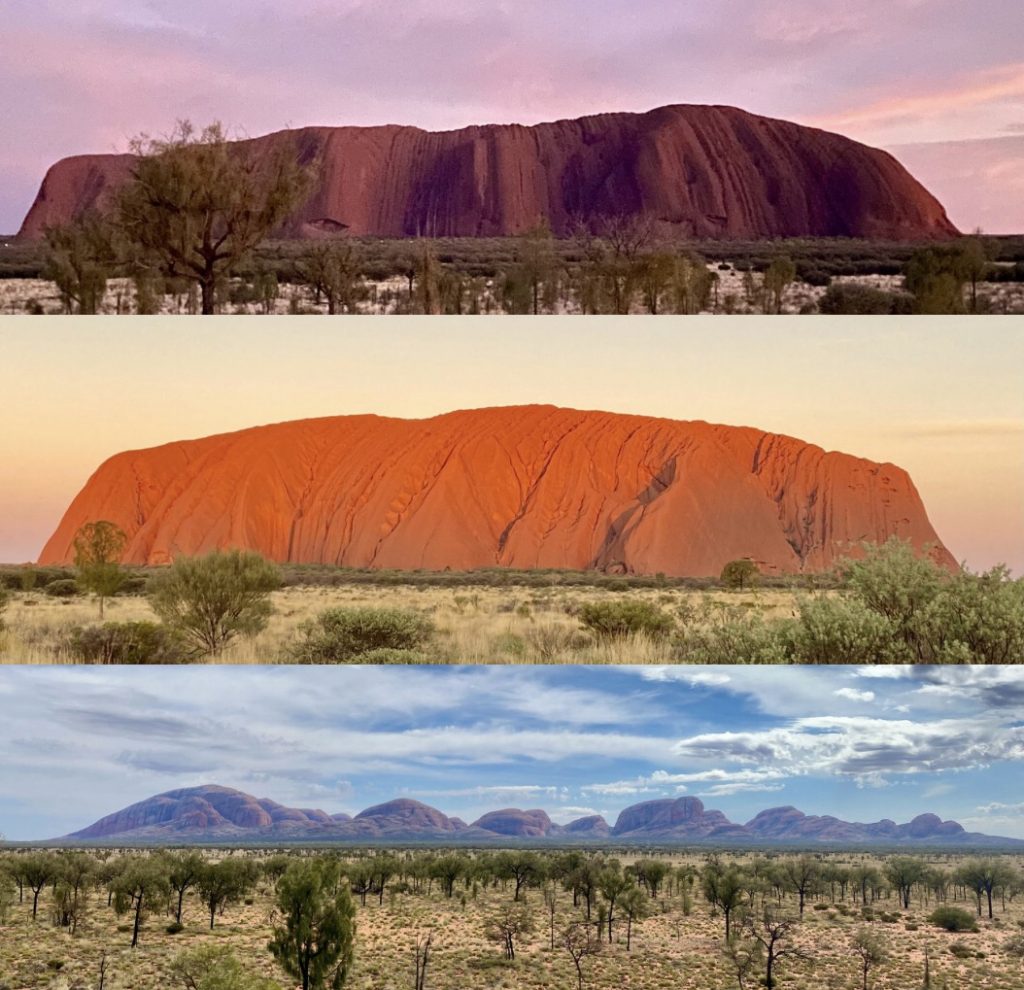 In 1985, after lengthy discussions and negotiations, the land that hosts Uluru-Kata Tjuta National Park was handed back to its bare foot traditional owners, the Anangu people. In turn the land was leased back to the Federal Government. Ever since the National Park is managed jointly, combining scientific insight with ancestral wisdom to offer its visitors a unique experience and a sustainable future for this fragile ecosystem.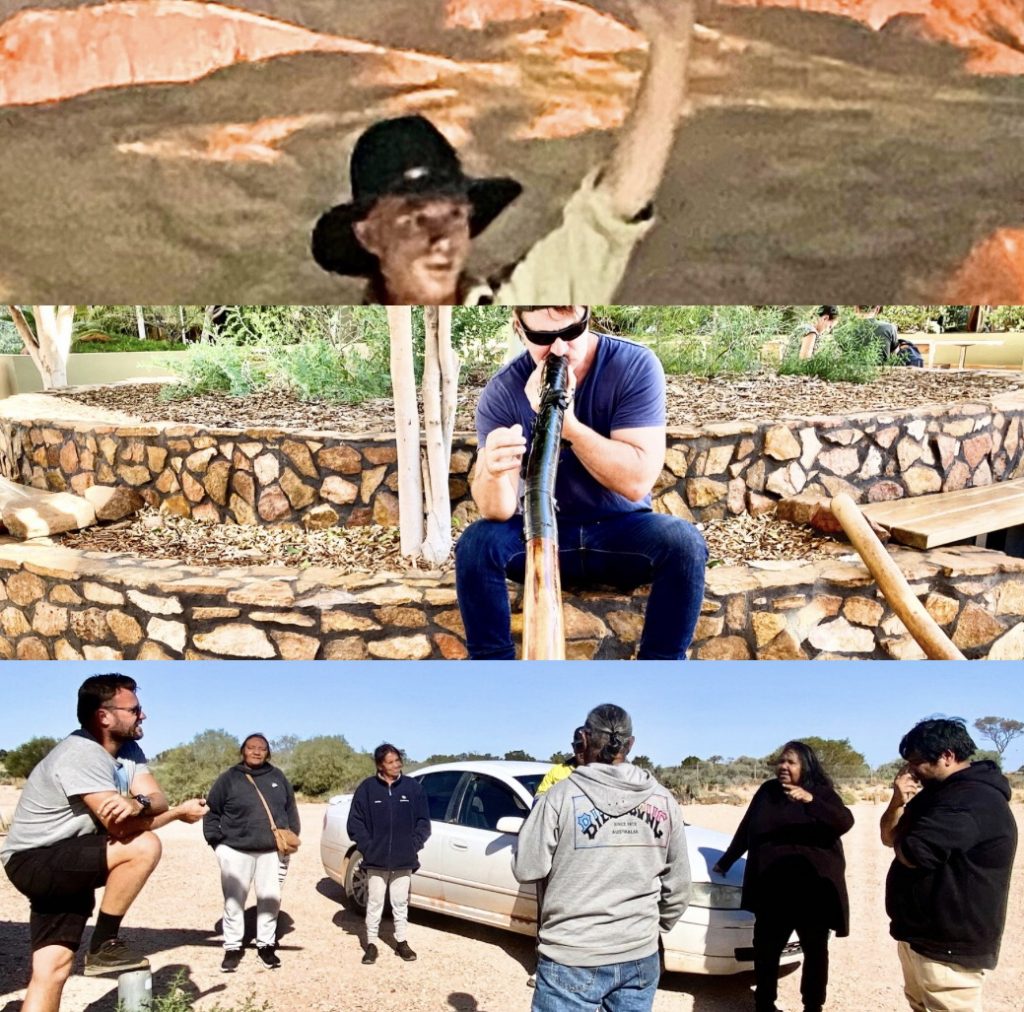 The story of joint management was shared by the park rangers. However, during our 3 day stay in the National Park, we never came across any aboriginal park rangers. It was disappointing to see that all activities that are meant to impart the aboriginal culture were carried out by white park rangers. Our feeling is that their participation is encouraged for the benefit of visitors, but they are not willing to get involved, to commit in any shape or form. this is just an assumption and it may be wrong.
Urulu is most spiritual for the aboriginal people. It represents the setting of their creation story or 'dreaming' how the European settlers like to call it.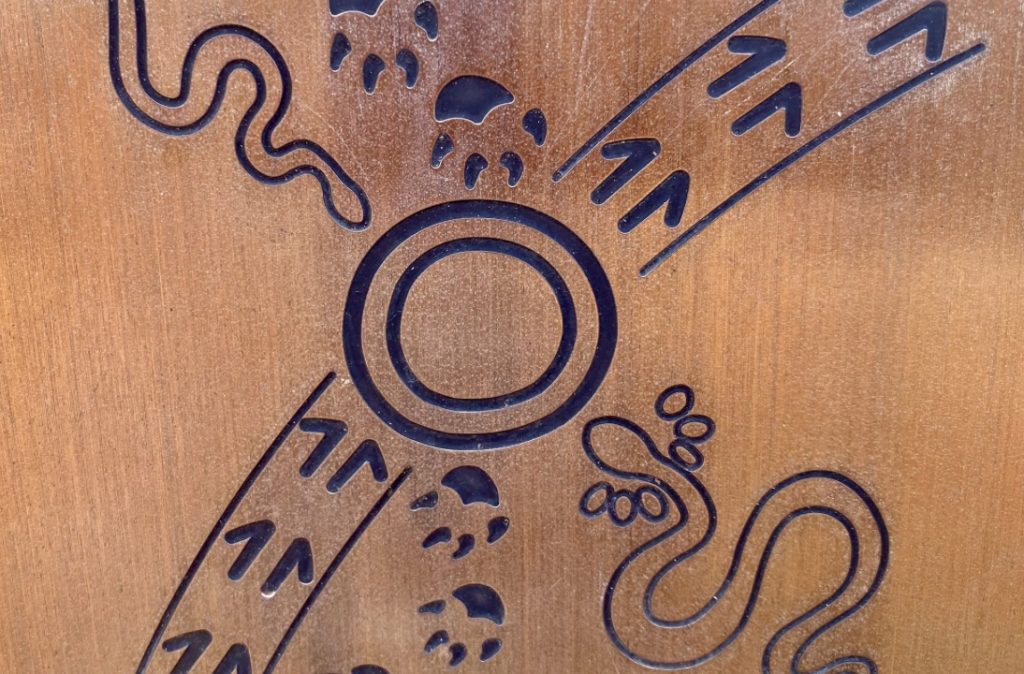 Tjukurpa is the foundation of aboriginal culture. It is a set of values and beliefs, guiding daily life, that are passed on from generation to generation since beginnings of creation. Tjukurpa teachings, in the oral form, reflect the special relation the aboriginal people have with the land, plants and animals that have sustained their existence for tens of thousand of years, in an environment that is most hostile for most people.
The Rock rises 348 metres from the red desert and has a girth of 9.4 kilometres. It is the world largest single rock monolith. It is estimated that 2 thirds of the weathered Rock lies beneath the surface.
Urulu is made of arkose sandstone, a sedimentary rock rich in the mineral feldspar. The red colour is given by the weathered iron minerals in the rock. The unweathered rock is a grey colour.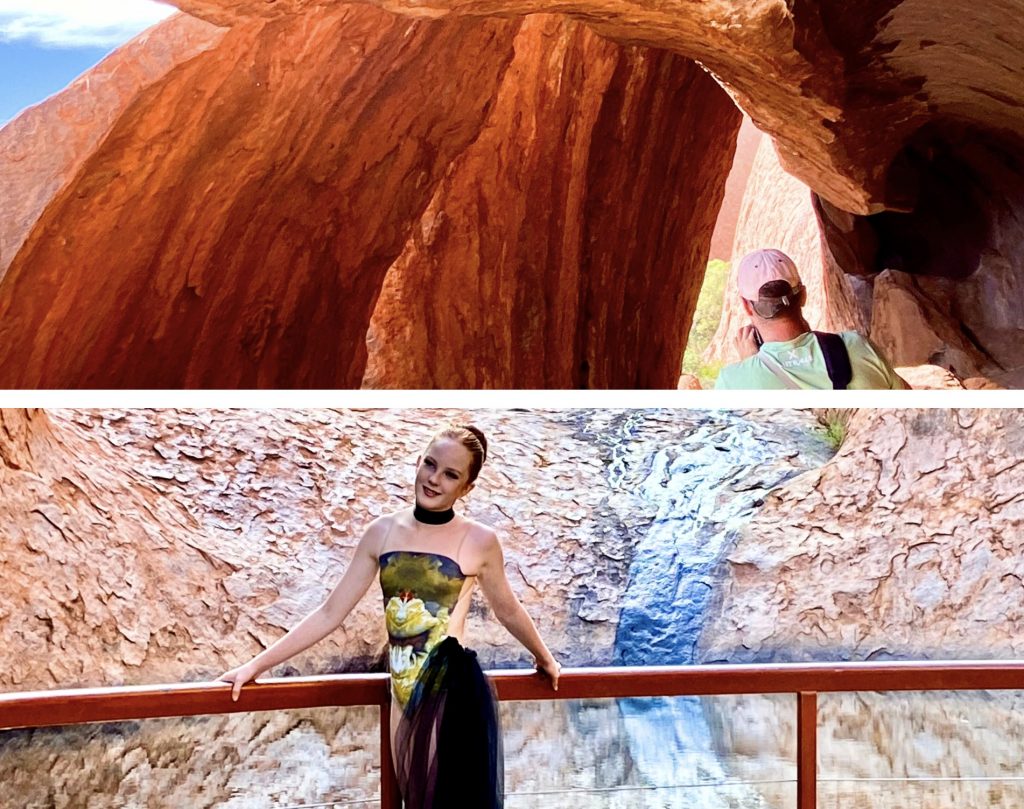 We continued our epic adventure around the Australian Red centre with a day's drive to Watarrka National Park. After Urulu we thought that nothing can impress. Kings Canyon proved us wrong. We walked the 400 million old Canyon Rim amongst rocks dating back to a time when the Earth was bare, with hardly a patch of green. A windswept plain covered with sand dunes. That sand has become sandstone, that overtime weathered to what is today a scenery to behold, an agglomeration of layered rocks, rising a hundred metres from sea level and concealing an oasis of calm and cool, where songbird caresses our hearing and a gentle breeze cools off our steeming body. The Garden of Eden is one of the most picturesque little corner of Earth we ever came across.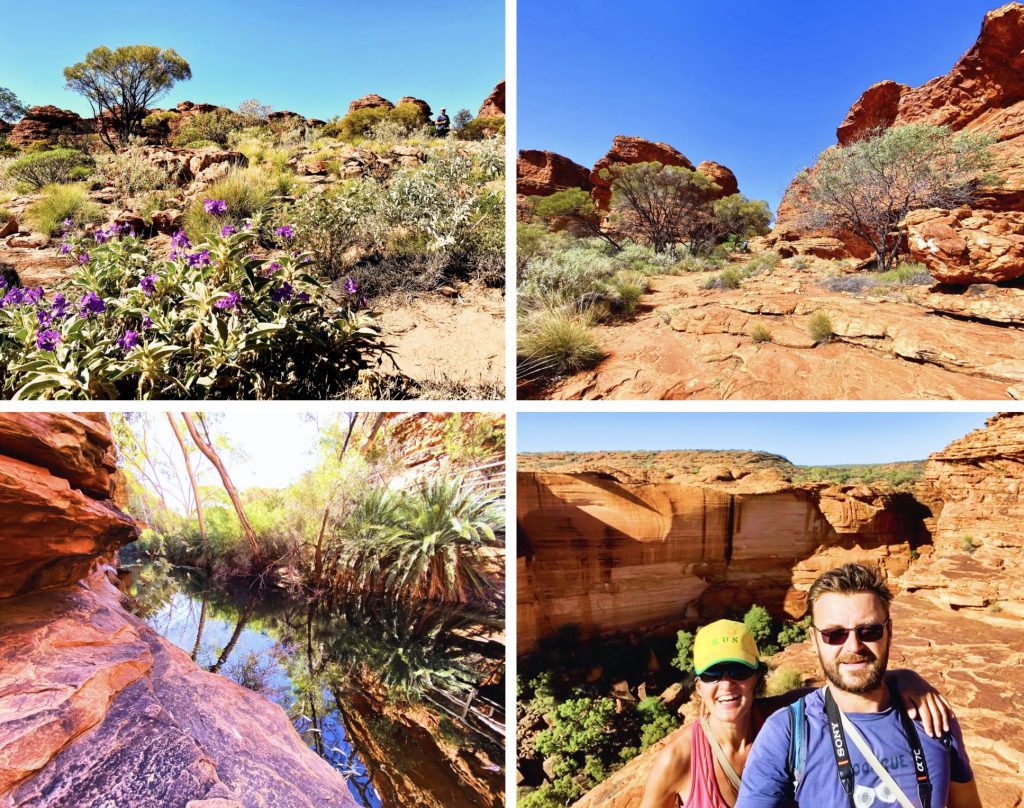 With this amazing experience we concluded our outback adventure. Or so we thought.